Can't troll Hawks after 3-0 start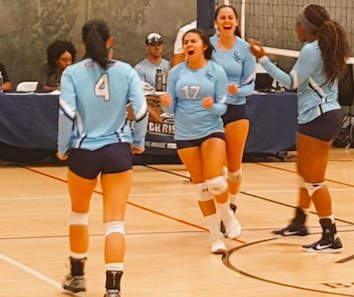 San Diego Christian's Michelle Mercado (17) celebrates a point with teammates Saturday night.
2017 SAN DIEGO CHRISTIAN HAWKS WOMEN'S VOLLEYBALL
Special to EastCountySports.com
SANTEE — Just a day earlier, the San Diego Christian women's volleyball team made quick work in their first two games of the season sweeping Providence Christian and Saint Katherine.
Their opponent on Saturday tested them for the first time this season but the Hawks prevailed.
SDC defeated Trinity Christian in five sets, 25-20, 19-25, 25-17, 16-25, 20-18 in their home opener.
With the win, the Hawks move to 3-0 while the Trolls head back to Illinois with an 0-5 record after a trip to Southern California.
SAMANTHA TAGO led the team with 20 kills. JEYCI KAILI was next with 11 and TAYLOR BRYDEN and ANEKKA GUY each had 10 apiece. NINA WYER tallied 32 assists followed by KATIE PATTERSON's 22.
The first set set the stage for what was to come in the next four. The Hawks and Trolls were tied eight times. SDC took advantage towards the end thanks to three Tago kills en route to a 20-25 win.
Trinity Christian took control of the second set. After taking a 2-1 lead, the Trolls led the rest of the match. SDC came within a point multiple times throughout the set but were unable to tie or take a lead.
In set three, there was a total of six tied scores for the first 14 points, though 7-7 was the last tie in the set. The Hawks were able to take the 8-7 lead and lead the rest of the way. SDC's biggest run came at the end. Up 16-14, the Hawks rallied to go on a 9-3 run to close it out.
With the Trolls taking the fourth set, the stage was set for a theatrical ending.
Trinity Christian came out strong, running to a 7-1 lead that forced an early timeout from head coach RACHEL MINTON. The Trolls would still keep up the pressure and led 11-7 before the Hawks recharged.
Seven-straight kills later, the Hawks suddenly held a 14-11 lead, staring at match point. But the Trolls weren't looking to go home with an 0-5 record to start the season. They rallied off four-straight points and Trinity Christian led 15-14. The score was later tied at 15-15, 16-16, 17-17, and 18-18 before the Hawks claimed the last two points. KELSEY HENDERSON tallied the 18th point before a service ace from Guy and an attacking error from the Trolls clinched the game for SDC.
The Hawks get a 10-day break from match play before they hit the court against Life Pacific on August 29 at the Santee Boys and Girls Club. First serve is scheduled for 7:30 p.m.