Patriots continue aerial assualt
Updated: September 16, 2017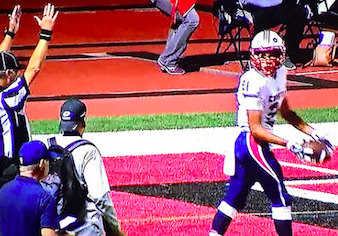 JESSE MATTHEWS scores a touchdown Friday night for Christian High.
2017 EAST COUNTY PREP FOOTBALL
CHRISTIAN 39, FALLBROOK 0 
EastCountySports.com staff report
FALLBROOK – The Christian Patriots minded their own business Friday night in Fallbrook against in winless Warriors.
The Patriots confidently and precisely dismantled the hosts here 39-0 to improve to 4-0.
Christian High ran the ball just five times on the night.
Christian quarterback BRAD JEREMIAH and the Patriots turned in two quick big plays, then he threw an 11-yard touchdown pass on an inside slant to sophomore ALONZO RICHARDSON, who snared the high pass down for a 7-0 lead.
After a quick three-and-out, Jeremiah threw an 11-yard touchdown pass to JESS MATTHEWS for the Pats' second score on a well-timed fade to the back right corner, in which Matthews would turn back around to face the ball to nicely follow it in.
Jeremiah and Matthews would hook up again for an 8-yard touchdown for a 20-0 lead when Matthews caught a short pass around the 5 and dove to the line near the pylon.
Matthews finished with 10 receptions for 154 yards.
Christian recorded a pair of sacks on the Warriors' final drive of the first half.
In the second half, Jeremiah connected with ALEXANDER GONZALEZ for a 26-yard touchdown when Gonzalez easily slipped behind all the defenders and the senior QB laid it in perfectly.
Gonzalez, the Patriots' primary back, had nine receptions for 57 yards.
Jeremiah, announced on the KUSI PPR Silver Pigskin Watch List as one of the county's top players earlier in the week, took a late shot following the play, which drew a roughing-the-passer call. He was slow to get up from the hit.
Jeremiah was 29-of-39 for just a 9.1 average, as the Patriots seemed to use the game to work on their short passing game.
The Patriots recorded another sack to halt an ensuing Fallbrook possession.
Christian's BRYCE RIEPL scored on a 65-yard touchdown run, rumbling down the left sideline.
Christian senior NASHOM CARTER had six catches for 68 yards. He has 25 receptions on the year through four games.
Christian, which had four sacks and a fumble recovery, will host Santa Fe Christian next week.
The Patriots have scored 199 points in four games so far. Jeremiah has 22 touchdown passes on the season.