Wolf Pack dreams up win with Weaver
Updated: September 16, 2017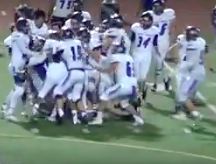 West Hills players celebrate Friday night.
2017 EAST COUNTY PREP FOOTBALL
WEST HILLS 23, MOUNT MIGUEL 20
By Ramon Scott
EastCountySports.com
SPRING VALLEY – The West Hills High players weren't even in grade school the last time the Wolf Pack football team won a game at Mount Miguel High.
It was 2005 the last time the school from West Santee came here and won, and Friday's Grossmont Conference cross-over contest was in the balance throughout until the Wolf Pack's CADE WEAVER capped a memorable night by kicking the game-winning field goal with three seconds left, lifting West Hills to a 23-20 win over the Matadors.
Weaver also caught a pair of touchdown passes for West Hills (3-1).
Early in the second quarter, West Hills recovered a fumble at the Mount Miguel 13 and then junior QB JORDIN YOUNG threw the first touchdown pass to Weaver for a 6-0 lead.
The Matadors' MUGABE MILLER stood tall and confident in the pocket and threw a 17-yard touchdown pass to a wide open JAHEIM ALLEN in the middle of the end one for a nice grab, but West Hills blocked the PAT and the score was tied 6-all at halftime after the Matadors missed on a late field goal attempt.
In the second half kicked off, West Hills put together a nice drive following a big fumble recovery, as Young rushed for a 1-yard keeper to make it 13-6.
The Matadors recorded an interception, and then Miller ran 28 yards for a touchdown on a keeper at the end of the third, as the score remained tied, 13-all, heading into the fourth.
West Hills took the lead 20-13 when Young and Cade connected on a 37-yard touchdown down the right side in a well-placed and timed ball up and just beyond the close coverage.
Miller threw a long, 32-yard touchdown pass to JARVIS HEARD on fourth and long to tie the game once again, 20-20.
Heard was behind the defenders, who seemed to be in a position to defend the ball, but it got past the swipe of the safety and seemed to fall into Heard's waiting arms.
The Wolf Pack were running an efficient last-minute drill, getting down into field goal range.
With three seconds left, the Pack lined up for a field goal, but the Matadors tried to freeze the kicker with a series of timeouts.
After some confusion, the clock was reset to :03.0 remaining and Weaver made the game-winner before being mobbed by his teammates.
West Hills defense prevented the Mount Miguel (1-3) offense from finding the end zone in the second half, as their strong play continued.
"Jordin had a couple of long runs on scrambles on our last drive to get us into field goal position," West Hills coach CASEY ASH said. "Obviously, Cade made a huge field goal.
"PEDRO LOZANO, JARED HUDSON, JAKE HALLAHAN and RYAN JEWELL played well defensively for us."
Jewell, a free safety, recorded an interception and returned in 37 yards, while Wolf Pack defensive tackle JEREMY THOMAS also displayed impressive tackling.
Young had 84 yards rushing, while sophomore fullback JAKE MAHEU had 52 yards on 11 carries.
Mount Miguel had a strong rushing game once again from SHEMAR GREENE, who rushed for at least 120 yards, while Miller had 104 yards on the ground.
Heard had three catches for 68 yards, while Allen had three receptions for 39 yards.
"We moved the ball really well on offense," Mount Miguel coach SHAUN MCDADE said. "We had one field goal blocked and missed another. We also threw an interception on the 1-yard line going in. Their quarterback made two big third and long scrambles on their last drive, as well as a 15-yard face mask penalty on that kickoff.
"On, defense SANTINO (PACHECO) played really well so did ERIK GRAHAM. LARRY YZAGUIRRE also played well at middle linebacker. Overall, we made a lot of improvement from last week. We did what we wanted to do on both sides of the ball but just didn't quite finish. It was a great game and the kids on both sides played their tails off."
Pacheco led the Matadors with 10 tackles, while Yzaguirre and ULICES MONJE both added eight total stops.
Next week, the Matadors travel to Imperial High to face the Tigers.