Pack pressures upset-minded Q's
Updated: September 23, 2017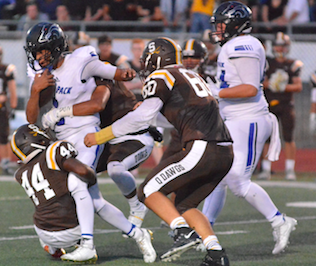 West Hills' JORDIN YOUNG is tackled by Serra on Friday evening. / EastCountySports photo
2017 EAST COUNTY PREP FOOTBALL
WEST HILLS 31, SERRA 14
By Ramon Scott
EastCountySports.com
SAN DIEGO – The West Hills Wolf Pack won their fourth-straight game, shutting out the Serra Conquistadors in the second half for a 31-14 road victory Friday night.
Wolf Pack junior quarterback JORDIN YOUNG accounted for three touchdowns, including a pair of long touchdown passes to "Mr. Friday Night" CADE WEAVER.
West Hills came in as the expected favorite, but the Conquistadors were thinking their upset bid was possible by halftime.
Serra got the first score with two minutes left in the first quarter on a 30-yard touchdown pass from quarterback Timmy Zebroski to B.G. Gambles to open the scoring.
Serra's Zambroski 30-yd TD pass to Gambles with 2 min. left in 1st. Conquistadors lead 7-0 here at Serra High… pic.twitter.com/2WL9gTDGq7

— Nick Pellegrino (@GTPellegrino) September 23, 2017
In the second quarter, West Hills got a 65-yard bomb from Young to Weaver, tying the game with 10:29 left in the first half.
West Hills touchdown pass from JORDIN YOUNG to CADE WEAVER with 10:29 left in second quarter, ties Serra, 7-all. pic.twitter.com/fSOKkebSpw

— Ramon Scott (@RamonScottPoker) September 23, 2017
Zebroski connected with Timmy Silvestri for a 35-yard touchdown, as the Q-Dawgs re-took the lead, 14-7.
Serra's Silvestri TD reception from Zebroski with just over seven minutes left in first half… Q-Dawgs lead, 14-7… pic.twitter.com/6SHwkrFU9f

— Ramon Scott (@RamonScottPoker) September 23, 2017
With 1:41 left in the second quarter, the Conquistadors fumbled a handoff and West Hills senior JARED HUDSON picked it up and rumbled into the end zone to tie the game at 14-all with a 40-yard scoop-n-score.
Jared Hudson scoop n score TD for West Hills with 2:45 left in first half tied game with host Serra, 14-all… pic.twitter.com/xsnWhMuShl

— Ramon Scott (@RamonScottPoker) September 23, 2017
Hudson almost turned in more heroics before halftime, immediately stopping the ensuing drive with an interception in Serra territory, but the Wolf Pack couldn't capitalize.
Early in the third, Young scored on a quarterback sneak from a yard out for a 21-14 lead, ending a good Wolf Pack march.
Later, Young and Weaver made another connection for a long-distance score, as the pair hooked up for a 78-yard touchdown.
Weaver also booted a 40-yard field goal.
The Wolf Pack meet the Valhalla Norsemen on Oct. 6th, following a bye.
Weaver had another big night, finishing with five receptions for 153 yards.
West Hills' JAKE MAHEU and AUSTIN DILL combined for 115 yards rushing.
Jordan threw for 165 yards and rushed for 41 more.