Scotties make foes want to leave game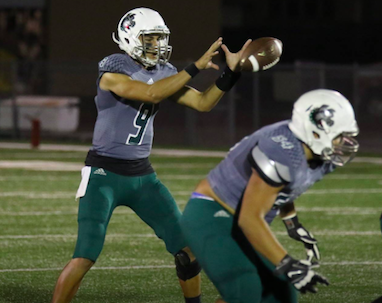 Carson Baker takes a snap against Bonita Vista. / photo by Antonio McIntyre
2017 EAST COUNTY PREP FOOTBALL
HELIX 61, BONITA VISTA 0
EastCountySports.com staff report
LA MESA – Give Bonita Vista Barons credit is this respect. They aren't afraid to match up against some of the county's top programs year-in and year-out.
The Helix Highlanders were the Barons' latest beneficiary of their desire to get back to the ranks of the elite.
The third-ranked Scotties drilled the visitors, 65-0, in video game-like fashion Friday night.
Except the gentlemanly Barons couldn't, nor ever would, hit the quit button and leave the game.
The Highlanders' defense set the tone, as senior ISAAC TAYLOR-STUART had an early interception in Helix territory.
CARSON BAKER then threw a 33-yard touchdown pass to Rashad Scott to make it 7-0. A big run by Taylor-Stuart ran the ball across midfield and down to the BV 36.
RASHAD SCOTT had a 50-yard interception return for a touchdown to make it 13-0.
Helix defensive interrupter MICHAEL SHAWCROFT had a sack to force a punt, which set up a 4-yard touchdown reception by Taylor-Stuart with three minutes to go in the first. ISAIAH WOODEN had caught a long pass from Baker to take it down to the BV 32.
Helix (4-1) recovered a fumble with under a minute to play in the first quarter.
Another Helix sack – this one by AUNDRAY HILL – set up Helix for another possession, which ended up in a 25-yard touchdown reception by Taylor-Stuart from Baker, making it 27-0. The drive was aided by a long pass to Taylor-Stuart.
Scott's second interception of the game – and sixth of the season  – set up Wooden, who had a 5-yard rushing touchdown to make it 36-0.
The Highlanders' JAYDEN TAUANU'U had an interception return for a touchdown to make it 44-0 with four minutes left in the second quarter.
Senior CHASE KEATON, the Highlanders' usually perfect kicker that attempts PATs like he's in a batting cage, made up for an early miss by rushing in a two-pointer.
Helix scored another TD before halftime to make it 51-0 following a fumble recovery by Helix at the BV 12.
Sophomore DELSHAWN TRAYLOR scored three touchdowns after receiving Baker at QB. He scored his first TD from 4 yards out late in the second quarter.
His first score from 25 yards away made it 57-0 four minutes into the second half, then he had a 45-yarder in the final minute of the third quarter to make it 64-0.