Eagles in a rush to beat Sultans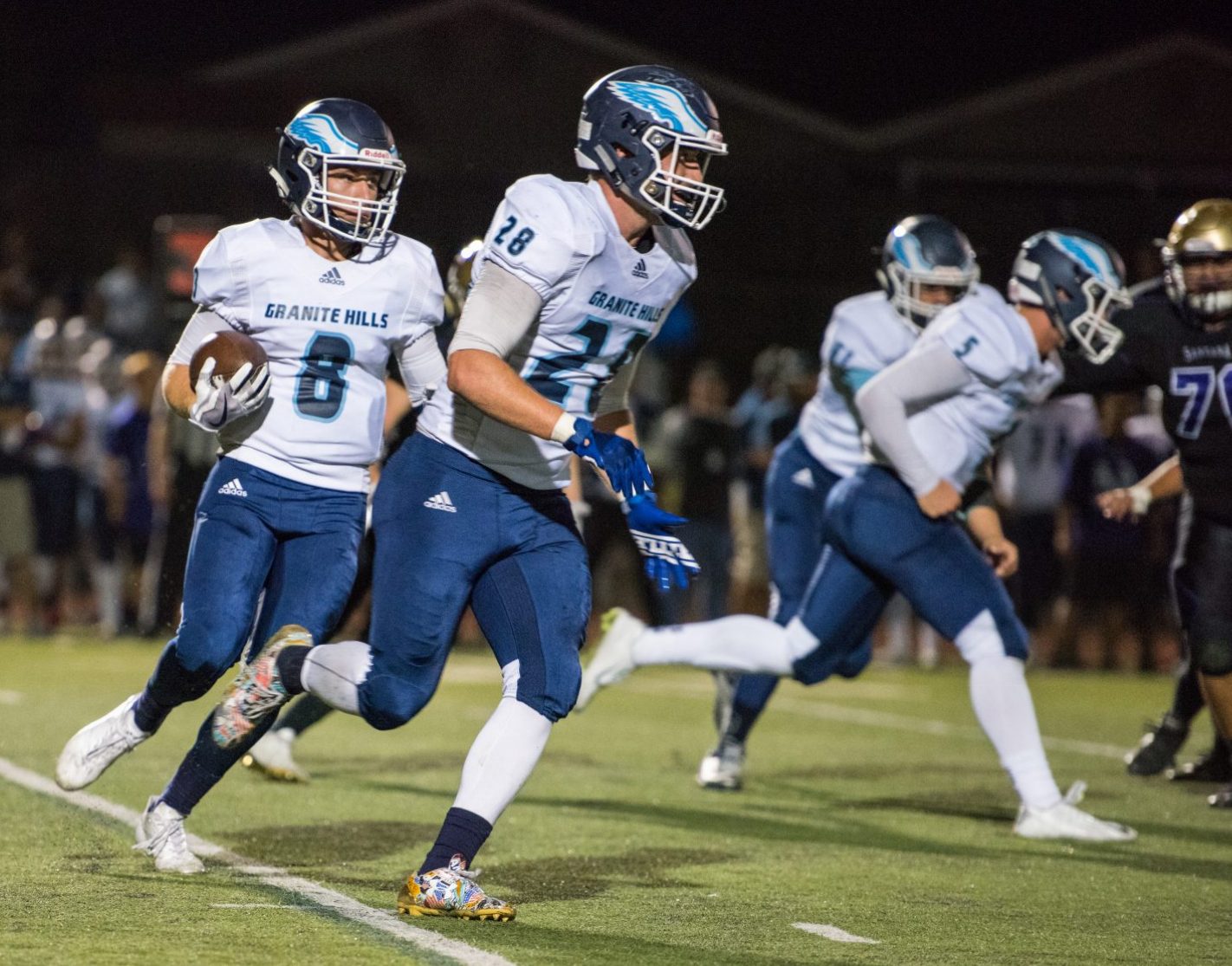 Granite Hills' Chris Ostreng runs behind teammate Tyler Gonzalez Friday night. / photo by Tammy Ryan
2017 EAST COUNTY PREP FOOTBALL
GRANITE HILLS 40, SANTANA 10
By Jim Lindgren
Special to EastCountySports.com
SANTANA – Making his varsity debut, sophomore KEYVON MARTIN provided the key that opened the door to Granite Hills' 40-10 win over Santana on Friday night in their Grossmont Valley League opener.
"He was our go-to guy tonight," Granite Hills coach KELLAN COBBS said. "He did a great job."
Martin, a transfer from Helix who had to sit out the Eagles' first five games, rushed for 186 yards and two touchdowns on 20 carries to lift the Eagles (4-2, 1-0) over the Sultans (3-4, 0-1).
"He's good," Santana coach TIM ESTES said. "He's got some wheels."
After an interception by JACK SIEGFRIED near the end of the first half, Martin put Granite Hills ahead 14-7 on a relatively easy 7-yard run straight up the middle behind crushing blocks by GARRISON KRUSE, JUSTIN KELLY, NOAH ESPINOZA, GARRETT CURRAN, LIL CHRIS HAMILTON and tight end WILL BURTON.
Santana knotted the score on a 68-yard touchdown pass from JOSH OEDEWALDT to CAMERON KANE.
Martin added an impressive 41-yard touchdown run in the third quarter to make it 20-7.
JAKE SIEGFRIED tossed a perfect lob pass to CHRIS OSTRENG to open the scoring, Ostreng making a terrific catch over a defender in the back left end zone.
"Those were big plays for us before the half," Cobbs said. "It was nice to go into halftime with some momentum."
Jake Siegfried was 7 of 13 passing for 87 yards and two touchdowns without an interception. He also rushed five times for 35 yards.
TYLER GONZALEZ posted 60 rushing yards on six carries, including a 45-yard TD run. SETH ALLISTER added 54 yards on six carries, including a 44-yard scoring scamper.
"We popped a couple of big runs in the third quarter that opened things up for us," Cobbs said. "It was a good third quarter for us.
"Offensive line coach CHRIS HOLMES did a good job of making adjustments at halftime, and the kids really responded."
Burton caught a 9-yard touchdown pass in the fourth quarter for Granite Hills and finished with two catches for 15 yards. Ostreng had three receptions for 38 yards.
On defense, Siegfried and ETHEN BISHOP had interceptions.
Oedewaldt was 9-for-21 for 116 yards and a TD for Santana. TIM TISCHER had a 36-yard field goal.
On defense, LANDON WOOD and DAVON CHESTNUT both had eight tackles, and Wood added a sack.
"They're a big, strong physical team," Estes said. "They're a force. The first half was a dogfight, I thought.
"Eventually their size and their ability to platoon a little bit wore us down.
"They deserved it. They got us. I expect them to do very well in the Division II playoffs."
Granite Hills plays a nonleague game at Hilltop (3-3) next Friday.
Santana plays at Monte Vista (3-3, 1-0) next Friday in a Grossmont Valley League showdown.