Helix seniors put on senior night display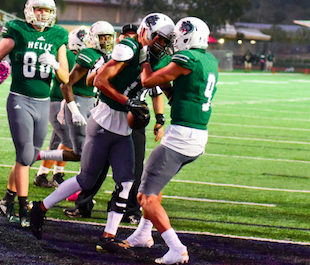 Helix's CARSON BAKER congratulates MICHAEL SHAWCROFT. / photo by Chris Parks
2017 EAST COUNTY PREP FOOTBALL
HELIX 58, EL CAPITAN 7
By Ramon Scott
EastCountySports.com
LA MESA – Helix senior ISAIAH WOODEN kept up his highlight-reel performance for the second-consecutive week and senior CARSON BAKER threw five touchdown passes in the first half on Senior Night, as the second-ranked Highlanders defeated Grossmont Hills League foe El Capitan, 58-7, Friday night.
Wooden, who had a pair of 60-yard punt returns for touchdowns a week ago, nearly returned the opening kickoff into the sunset before the Vaqueros tracked him down already just inside the red zone to open the game.
Helix's CARSON BAKER threw an 11-yard touchdown pass to junior MICHAEL SHAWCROFT for a 7-0 lead in the game's first minute.
El Capitan punted to Helix and Wooden had another long return, this time a punt return, which was halted at the El Cap 14.
Senior KEATON CHASE kicked a 36-yard field goal for a 10-0 lead four minutes in.
Wooden also had a return for touchdown called back for a penalty in this contest.
With 6 minutes to go in the first quarter, senior ISAAC TAYLOR-STUART had a 46-yard rushing touchdown down the right side and at the pylon making it 17-0.
Following another El Capitan punt, Helix had the ball on their own 40-yard line.
With 2 minutes to go in the first, Baker threw a long pass to senior RASHAD SCOTT down to the El Capitan 9-yard line.
With under a minute to play in the quarter, Baker passed for a 15-yard TD as Helix went up 24-0.
Following an El Cap punt in the second quarter, Helix took over the ball on their own 40-yard line.
Baker threw a long pass to Shawcroft down to the El Capitan 24-yard line, then another completion to Shawcroft put Helix at the 10.
Baker threw a 10-yard pass completion to Wooden for a TD, making it 31-0, with nine minutes to go before halftime.
Mid-way through the second quarter, Helix senior WILLIAM PAYNE recorded a sack back to the El Cap 24.
Following a punt, Helix took over at the Vaqueros' 36.
Baker then threw a 36-yard pass completed to Wooden for another TD, making it 38-0.
Baker finished 11-for-18 for 200 yards through the air. His protection was aided strongly by seniors MATT AVII and LOUIS BECKER, and junior CHRISTOPHER ALVARADO.
El Capitan's next punt left Helix near midfield.
Shawcroft had a long run down to the El Capitan 5-yard line.
Late in the 2nd quarter with 3 minutes to go, Baker had a 5-yard pass completed to TERRANCE TOLBERT, extending the lead to 44-0 after El Cap blocked the extra point.
Helix's defense held El Capitan to under 50 yards in the first half.
El Capitan's CONNOR ROOSA threw a long pass to CHASE LOVATO to give the Vaqueros' their first big play of the game.
The duo immediately hooked up again for a 30-yard touchdown with 8 minutes to go in the third quarter, making it 44-7.
Helix's KEVIN OLSON had a long run to take the ball past midfield to the El Cap 46 late in the third quarter. He then had another big rush down to the 23 with a minute to play in the third.
Early in the fourth, Helix sophomore quarterback DELSHAWN TRAYLOR threw a 40-yard touchdown to exciting sophomore ERIC PARKER, giving Helix a 51-7 lead.
Parker turned in a big punt return after a stop, taking the ball down to the El Cap 19.
Traylor had a 15-yard rushing touchdown with four minutes to play for the final margin.