Championship Friday verdicts await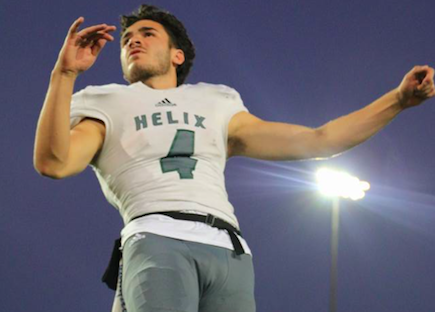 Helix senior kicker KEATON CHASE / country boi photography
2017 EAST COUNTY FEARLESS FORECASTER
WEEK TEN
By Dave Dickens
EastCountySports.com
LA MESA – Describing this contest as a marquee matchup does not do it justice.
Helix (7-1, 3-0 Grossmont Hills League) and Grossmont (6-2, 3-0 Grossmont Hills League) are definitely two very similar teams, heading in the same direction.
Both of them want a league title and a number No. 1 seed. The championship will mostly be decided Friday night at 7 p.m. at Grossmont High.
Helix has been the favorite every year, but Grossmont has made a statement this year.
Grossmont QB JAMIE ODOM is 92-of-188 for 1,653 yards, 14 TDs to 12 interceptions this season, as well as, 61 carries for 327 yards and 6 rushing TDs. let it be
But let it be known, the last 4 games have not included a single pick thrown by the young gunslinger.
The Grossmont ground assault is led by RB SHEVELLE STERLING JR., who has 126 carries for 764 yards and 16 TDs.
Grossmont also has a slew of receivers, including WR JOSH MOALA (22 receptions, 377 yards, 6 TDs) and WR THOMAS MANGUM (18 catches, 465 yards and 4 TDs).
Foothillers LB DAISEAN CRAWFORD leads the defense with an astounding 94 tackles, while DL JULIAN SANDERLIN has 12 sacks thus far, and last but not least, DB/PR ANDREW LIRA leads the team in picks with 5 for 91 yards .
HELIX, on the other hand, has a lot of speed and precision.
The advantage should go to Helix, and Helix did win last year at Helix, 45-21.
Hopefully for the Hillers, the home field is the advantage, as these two tangle once again for the Musket.
Helix QB CARSON BAKER will be at his best for this one whether he carries the rock himself or shows off why is one of the league's leading arms.
Baker is 94-for-135 for 1,474 yards 23 TDs and a mere 3 interceptions. He is also one of Helix's leading rushers with 36 carries for 146 yards and 1 TD.
Highlanders' RB ISAAC TAYLOR-STUART has 28 carries for 365 yards and 6 TDs, while DB/WR RASHAAD SCOTT has 17 catches  and 6 TDs, along with 7 interceptions for 120 yards and 1 sack on defense.
Helix WR ISAIAH WOODEN has 21 catches for 458 yards and 7 TDs. He also had two big returns against Steele Canyon.
Let's not forget about LB/TE MICHAEL SHAWCROFT, who was the overall player of the game against WEST HILLS last week with a fumble recovery and a TD.
The last time Grossmont defeated Helix was in 1991, led by then-quarterback and now Hiller head coach, TOM KARLO. The Highlanders came into the game ranked No. 1 in the county, but the Foothillers stunned the crowd of 5,000.
This should be high scoring, hard-hitting and fast-paced affair… HELIX, 38-22.
MONTE VISTA (5-3, 3-0 GVL) at GRANITE HILLS (6-2, 3-0 GVL) – Two-time defending Grossmont Valley League champ Granite Hills has 12-straight league wins, including last year's 35-14 triumph at Monte Vista.
Granite Hills quarterback JAKE SIEGFRIED had 287 yards of total offense in last year's tilt, with 2 TDs rushing and 1 TD passing to WILLIAM BURTON.
Monte Vista running back JAHMON MCCLENDON scored the 2 TDs in last year's game, while East County Sports Offensive Player of the Week last week, ELSHADDAI LEVI, had three touchdowns in the Monarchs' 50-0 tuneup win over El Cajon Valley.
he Eagles will have to look out for the second emerging star
back.
Despite the Monarchs' resurgence under legendary coach RON HAMAMOTO, Monte Vista still hasn't won a league title since 2004.
Hamamoto is tied with former Torrey Pines coach Ed Burke for 6th in all-time county coaching victories with 215.
If Monte Vista upsets Granite Hills, he would tie Gil Warren for 5th.
This one should be a knock-down, drag-out affair, a real battle in the trenches between the Eagles big men – Burton, TYLER GONZALEZ and GARRETT CURRAN against the Monarchs' underrated trench men EMMANUEL MENDES, CHRISTIAN DE LA CRUZ and BLAKE SCHMIDT.
If the cast of Burton, Gonzalez and Curran turn around and wreak havoc off the edges and overpower the offensive line of the Monarchs creating sacks and turnovers, the Eagles are soaring towards the finish line.
Hamamoto is the Peyton Manning of prep football, as far as coaching and preparing a football team.
This coach will find a crack in the armor, exposing every team's weakness, it's just whether or not the players can execute the plan of action on the football field.
Coach Hamamoto has his Monarchs primed for the finish line.
Definitely look for a heavy dose of McClendon this year as well.
Making way for the young power back are O-linement GERARDO ARELLANO, ANGEL VILLANUEVA and CARLOS
ESPARZA.
The Eagles' front will be creating lanes for newcomer RB/DB KEYVON MARTIN, a Helix transfer who has 41 carries for 351 yards and 4 TDs in just 3 games.
Leading rusher Siegfried has 118 carries f0r 791 yards and 12 TDs, while Gonzalez has 70 carries for 562 yards and 5 TDs.
Burton, with his size and athleticism, has 22 catches for 203 yards and 4 TDs which leads the receiving core.
The Eagles' streak should continue… GRANITE HILLS, 28-23.
WEST HILLS (5-3, 1-2 GHL) at EL CAPITAN (3-5, 1-2 GHL) – These two teams have gone in different directions, however both of them must win their next two games.
There are no easy ways about it for either team.
West Hills QB JORDIN YOUNG is 54-of-95 for 627 yards and 11 TDs to only 2 interceptions this season. You g has also used his legs with 79 carries for 287 yards and 4 TDs.
West Hills WR CADE WEAVER (21 receptions, 340 yards, 6 TDs) and WR/DB RYAN JEWELL (18 receptions for 147 yards and 1 TD) are Young's favorite targets.
They will both definitely keep the Vaquero secondary busy and I'm sure the Vaquero linebackers will be trying to flush Young honest.
The Pack have had back to back shellackings at the hands of two playoff-bound powerhouses.
The next two games for the Pack must be won to even qualify for postseason play.
Interestingly, because of strength of schedule, El Capitan is ranked 11 th and West Hills is at 14 in
Division 2.
West Hills needs to score fast and often to beat this defense and play tight defense along with flawless special teams and win the turnover battle.
Just last week, the Vaqueros got back two of the special ingredients that make this well-oiled machine go.
Last year these two teams met at West Hills and El Cap won, 24-17.
This is a rivalry game and their will be added energy from the El Cap homecoming crowd.
It appears more than likely fill-in QB ANTONIO OLIVIERI (42-of-84 for 605 yards and 3 TDs with no picks, along with 26 carries for 100 yards and 2 rushing TDs) will be back behind center.
However, they still have a healthy WR YAPHET YOKELY, who has 12 catches for 196 yards and 2 TDs in just 3 games this season. He scored those touchdowns last week.
El Cap coach RON BURNER stated, "No matter what field we play on, gold for the Vaqueros and black for the Wold Pack, so it works out great for the kids."
El Capitan RB CONNOR ROOSA has 65 carries for  268 yards (4.1 yards a carry) and 1  TD this season. He will be called on to keep the clock rolling and to wear down that Pack defense.
Look out for a surprise Roosa pass, as you never know if coach Burner will pull out all the stops to win this one.
We can't forget Olivieri's favorite target, WR STAR IULI, who has 21 catches for 311 yards and 4 receiving TDs along with 2 rushing TDs.
The LOVATO brothers – CHASE and CHANCE – will make life difficult for the Pack receiving core.
CB Chase Lovato has 22 tackles, a half a sack, 3 interceptions and 1 forced fumble this season, while Chance Lovato has 43 tackles, 1 sack, 4 picks and 1 forced fumble.
Let's not forget leading tackler MLB/FB CHRIS MCDONOUGH, who has 51 tackles, 2 sacks, 1 forced fumble and 1 fumble recovery.
The Vaquero defense has kept them in a lot of tough ball games.
Coach Burner and his group know this is a playoff game and if they take care of the football , the nod goes to… EL CAPITAN, 36-34.
VALHALLA (2-6, 0-3 GHL) at STEELE CANYON (4-4, 1-2 GHL) – Will the JAMACHA HELMET stay put or head down to Campo Road?
The coveted Jamaica Helmet has been safe and secure down off of Hillsdale road in El Cajon for 5 years now, including a 21-14 Norsemen win last year that they held on for dear life and were ranked
The tables have turned this year as the Cougars are ranked 6th above the 6-2 Granite Hills Eagles in Division 2
Make no mistake, because it is in Division 1, Valhalla is going to make the playoffs.
Steele Canyon skipper SCOTT LONGERBONE is one of the many coaches in our county that truly care about having their kids scouted.
Case in point, QB THOMAS FISHBURNE, who is not only a three year starting QB, but also has punting, kicking, and safety duties.
According to Longerbone, "I put 'Fish' into so many other spots as I know he is a spectacular athlete and I want to get him as many looks as possible."
Fishburne will be lighting up and testing the Norsemen secondary with his receiving core of WR JORDAN ANDERSON, TE/DE MIKEL OLIVER, RB DEONTAE MCKINNEY and WR VALON MARTINEZ.
As mentioned last week, let us see if Coach Longerbone unleashes DAVID "COWBOY" LIPSCOMB and let the "TSUNAMI" take over the special teams and drown the Norsemen.
Defensively the Cougars' front – MIKEL OLIVER, DARIN WALTON,S UMMER AUDEH, BILLY TELLOUS, THOMAS MAROKI and IAN MILLER – will promote quite a challenge for the men in orange up front.
The Cougars are favored, but with a rival game, anything can happen.
The Norsemen definitely have to play a flawless 4 quarters to hang on to the coveted helmet.
Most of the offensive workload this season has been issued to QB BRIAN MADRIZ, whether it be evading tacklers to pick up a first down with his speed and quickness or his prowess to read the defense and sling it between two defenders into the arms of the intended target, even filling in at times as the WR.
Look for WR JESAI BENNETT to be a part of the offensive attack, along with TE JOSH McNISH-HEIDER, RB DONNY GREEN, and TY SCHIMKE.
The Norsemen started off the season with a stingy defense and a decent offense.
What went wrong with the men in orange?
They have one of the better coaches in the county in coach CHARLES BUSSEY.
The Norsemen are due but the nod goes to… STEELE CANYON, 31-21.
EL CAJON VALLEY (2-6, 0-2 GVL) at SANTANA (3-5, 0-2 GVL) – Both teams are battling for a playoff spot in their respective section divisions.
Santana is in Division 3, while El Cajon Valley is in Division 4, and both are currently sitting in 11th in the division rankings.
Santana, who has lost 3-straight and are off their bye, will be celebrating Homecoming at Santee Community Stadium.
The Sultans are expected to be able to handle the Braves and then get a chance to clinch a playoff berth as an underdog next week at Mount Miguel, although they can still clinch with a two-game season-ending split if the division's form holds true.
The Braves' playoff fate is likely resigned to just that – fate. El Cajon Valley could still get in to the postseason if they can't upset the Sultans here.
With Madison Ave. foe Granite Hills next, this is ECV's most competitive remaining game, including any potential playoff matchup.
The El Cajon Valley Braves have gone through a coaching change, and a few injuries to an already depleted roster.
The Braves defeated Clairemont in their 3rd game of the season and most impressive game to date.
Their second win on the season was a forfeit win against Sweetwater.
The Braves do have a shot at making the playoffs, however do need to beat the Sultans this week.
El Cajon Valley RB MAQUEL GARNER (80 carries, 404 yards and 2 TDs) and RB DARREL DAVIS (38 carries, 307 yards and 3 TDs, along with 3 receiving TDs) are also ideal in the secondary.
Defensively, however, the leading tackler for the Braves is OLB MICHAEL MALONE with 64 tackles and 3 sacks.
Let us not forget OLB MARIO JACOBS (33 TACKLES and 3 fumble recoveries).
The Santana Sultans have been quite impressive at times this year, but not quite the squad we thought they would be coming out of the gate to start their season.
Though they lost many of their key starters to graduation, coach TIM ESTES was very confident that his defense would be stellar and the young line would come up to par by mid season under returning senior starter QB JOSH
OEDEWALDT.
The Sultans can make the playoffs.
Mount Miguel (3-6)sits at the No. 9 spot and has a bye this week. Santana could lock up a playoff spot with a win over the Braves and a defeat of the Matadors next week.
The key to finishing strong will be on the shoulders of Oedewaldt (90-of-183 for 1,345 yards, 11 TDs to 7 interceptions, along with 36 carries for 86 yards and two TDs) as the Sultans' 3rd leading rusher.
The Sultan ground game when all are healthy can be lethal to opposing defenses.
The key backs are on the mend at the right time.
Leading rusher sophomore RB BROOKS MOUTAW has only played 4 games but has been very effective, with 30 carries for 200 yards and leading the Sultans with 5 TDs via the ground attack.
OLB/RB IAN LITTEN has also been a great part of the Sultan ground arsenal, with 39 carries for 186 yards and a pair of TDs.
Defensively the Sultans , MLB LANDON WOOD leads in tackles with 86, and also had 7 sacks, 2 caused fumbles and 1 fumble recovery.
The Sultans have 5 picks as a team, with a very quick secondary.
Let us not forget the key to the success of Oedewaldt, and the go-to WR DAVON CHESTNUT (37 catches for 539 YARDS and 5 receiving TDs along with 1 rushing TD) is without an offensive line none of the operation would be a success.
Santana played a close one with a great Monte Vista team, losing 24-17. Santana won the last meeting with the Braves at El Cajon Valley last year 45-14. The
Santana won last year 45-14 in El Cajon so expect a similar result here… SANTANA, 35-12.
CHRISTIAN (6-2, 2-1 Eastern) at SCRIPPS RANCH (1-7, 0-2) – Lincoln manhandled the Patriots in the would-be Eastern League title game last week at Valley Stadium, limiting them big time in 20-7 final that had very little drama once the teams settled in.
Christian's offensive designs were snuffed out by the speedy Hornets, who seem to have earned their county-wide ranking.
The Patriots still has big games left, including next week versus Point Loma, as it is important for Christian has to prove it can beat a higher ranked team.
The Patriots are ranked eighth in Division 2 and could get a first-round home game. Right above Christian, is Granite Hills, which shares the same home field on the Granite Hills campus. A little jostling in the rankings could have those two teams meeting in a first-round playoff game.
Patriots' QB BRAD JEREMIAH, and his usually wide-open aerial game, still have milestones to achieve, so look for Christian to take opportunities to score against the struggling Falcons.
The Patriots were moving right along before they met their match last week at the hands Lincoln High (7-1, 3- 0), but this week's opponent should be a great way to sharpen themselves up and prepare for the big season finale against Point Loma to prove to the prep football world that they can compete with the big
dogs.
Jeremiah is 191-of-283 for 2,507 yards 32 TDs to only 4 picks.
The pro-style offense should be too much for Scripps Ranch to handle and with all the speedy receivers to chose from and the legs and elusiveness of Jeremiah.
Christian beat Scripps Ranch at home last year, 61-7, so… CHRISTIAN, 42-17.
ORANGE GLEN (1-7) at MOUNTAIN EMPIRE (4-4) – Red Hawks were winners on Homecoming last week, 31-0,   over Calipatria for their first Manzanita League win of the season.
Empire is expected to win its final home game here in a non-league game, as  the Patriots, of the Coastal League, have struggled and come in with a three-game losing streak.
The Red Hawks' WYATT AGUILAR was Homecoming King last week and scored 7 points in the game, including a field goal.
The Red Hawks are currently out of the Division 5 playoff picture, really, as D5 is an 8-team playoff.
Despite possibly heading into their final two games, Mountain Empire will be facing Division 5 No. 1 Vincent Memorial next week and still will be playing for a share of the league title.
This should serve as a good test despite the mis-matched records… MOUNTAIN EMPIRE, 28-21.
SAN DIEGO JEWISH ACADEMY (0-1, 4-2) at FOOTHILLS CHRISTIAN (6-2, 0-0), Thur., 7 – 
Two of top four teams in the 8-man division meet at Seau Field on Thursday night.
After losing their first two games of the season, the Knights have now won six-straight games.
Still, the Knights have fallen behind Julian into third in the 8-man rankings.
Fourth-ranked SDJA lost to Calvin Christian last week in league opener.
In the three-team Ocean League, this is 'other' important game of the season heading into the clash will Calvin for FCHS next week on the road.
Still, this one is likely to have plenty of intrigue… FOOTHILLS CHRISTIAN, 29-26.