Fishburne, Cougars finish helmet biz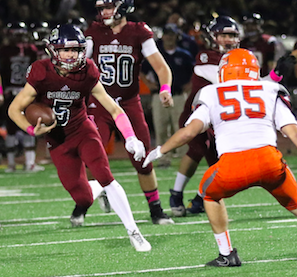 Steele Canyon's Thomas Fishburne runs with the ball Friday night against Valhalla. / Don De Mars photo
2017 EAST COUNTY PREP FOOTBALL
STEELE CANYON 45, VALHALLA 0
By Gene Yale
Special to EastCountySports.com
SPRING VALLEY – The Jamacha Helmet hopped a flight on Fishburne Airways and flew south for the winter as the Steele Canyon Cougars shellacked Valhalla, 45-0, Friday night.
For the past five years, that icon has rested comfortably on Hillsdale Road in El Cajon, courtesy of Valhalla's victories against their Campo Road rivals for the same number of years.
Friday evening (October 27), the Cougars' senior quarterback THOMAS FISHBURNE dazzled the home crowd with pinpoint passes, including two for touchdowns, shifty running, a 32-yard field goal, and a 39-yard punt return.
And, his dad, who selflessly works with the chain gang at home games, confirmed that young Mr. Fishburne manages to keep his bedroom somewhat clean.
"This helmet has been over there for too long," Steele Canyon quarterback Fishburne said, "and we knew coming into this week we were taking it back. And it's going to stay here for a while."
Senior kickoff returner RANDY JORDAN got Steele Canyon off to a good start, returning the opening kickoff 34 yards to the Cougars' 42-yard line, before he was tackled by CONNOR BUCKLEY.
After senior running back DEONTAE MCKINNEY gained 6 yards on a couple of runs, the home team faced a 3rd and 4 on their 48-yard line.
This time, defensive lineman JACE MANNING smothered the runner for a 3-yard loss, forcing a punt to the Valhalla 12 yard line.
Having lost the services of quarterbacks DENNIS DAHLIN and BRYAN MADRIZ to injuries, Valhalla coach CHARLES BUSSEY turned to junior tight end/defensive end KYLE GRYGIEL to step into the breach for those stalwarts, a difficult task at best.
Valhalla initially was able to move the ball on its first series, thanks to some nifty runs by TY SCHIMKE and courtesy of a pass interference penalty by the Cougars' secondary, giving the Norsemen a first down at their own 42-yard line.
But, a crunching tackle by senior outside linebacker ANTHONY GUY squelched Grygiel's first completion for a one-yard loss.
A holding penalty negated a 12 yard run by Schimke and an incomplete pass downfield resulted in a 3rd and 22 obstacle for the Valhalla offense.
What looked like a perfect screen pass was alertly picked off by junior nose guard IAN MILLER, who used all of his 6'3" frame to snare the pigskin and give Steele Canyon the ball back at the Valhalla 26 yard line.
On first down, Valhalla's Manning corralled the running back for a 4-yard loss.
On the next play, Fishburne was flushed from the pocket by linebacker TRISTAN ABBOD, so he took off running and scooted 24 yards to the visitors' 6-yard line.
A Valhalla penalty advanced the ball to the 3-yard line.
After an incomplete pass, Fishburne rolled right and threw back across his body to senior wide receiver NATHANIEL GORDEN for a 3 yard TD.  JOHN LAUDNER's kick was true (6-6 PAT), and the home team was up 7-0 with 6:29 remaining in the first quarter.
About a minute later, Steele Canyon hit pay dirt again, after its defense forced the Norsemen to punt.
On first down at the Cougars' 26, Fishburne threw a strike to senior wide receiver JORDAN ANDERSON, who jetted down the sideline for a 74 yard TD, giving the Cougars a 14-0 cushion at the 5:21 mark of the initial period.
But the Campo Road lads weren't done.  After senior cornerback ROBERT WHITEHEAD intercepted a pass at the Valhalla 38, it only took McKinney one play to gallop 38 yards to the end zone, upping the lead to 21-0, with 2:30 left in the first quarter.
Valhalla's next possession also ended abruptly when senior cornerback SPENCER GECK completed the trifecta with yet another interception, this time at the Valhalla 40 yard line.
After a penalty gave the Cougars a 2nd and 23 at their 47 yard line, a 29 yard scamper by Fishburne after being flushed by defensive end JOSH McNISH-HEIDER resulted in a first down at the Valhalla 24 yard line.
Fishburne bolted for another 14 yards to the 10 on the next play as time expired in the quarter.
The short break rejuvenated the Norsemen defense.
After a 1 yard gain on the first play of the second quarter, senior linebacker DYLAN MARSH stopped the runner for a 3-yard loss.
Manning flattened the runner after a short gain on the next play, so coach SCOTT LONGERBONE sent out the field goal team to try a 27 yarder.
The kick was short, but the play was whistled dead because of a false start by the offense.  Fishburne got another shot at it, and this time his 32-yarder sailed through the uprights, making it 24 zip only two minutes into the second stanza.
After the ensuing kickoff, Valhalla started at its 16-yard line.
Sophomore fullback KEGAN BAKER took a pitch from Grygiel and turned the corner on the right side for an 11-yard gain, before he was hauled down by Geck at the 27.
On the next play, Baker took another pitch, this time to the left side.  He bulled his way for a 9 yard gain to the 36, and then picked up another 6 yards on the next play, giving the Norsemen offense a 1st down at their 42.
After Baker got another 5 yards on 1st down, the Steele Canyon defense stiffened.
BRENNAN GARCIA stuffed the runner for a5-yardd loss, and then TANNER EWERT did the same thing, but for a 6-yard loss on 3rd down, forcing yet another Valhalla punt.
Steele Canyon threatened to score again late in the first half, but Valhalla's Manning squelched that effort by sacking the quarterback for a 9 yard loss on 4th down.
Valhalla's MICHAEL BAZZI returned the second half kickoff 21 yards to the 29 yard line, but a holding penalty gave the visitors poor field position, at their 10 yard line.
Unable to move the ball, ZACH PERNICANO punted the pigskin to the Valhalla 48, where Fishburne, now wearing his special teams hat, hauled it in—and took off, all the way to the Norsemen 12, for a 36-yard punt return.
It took two plays for the Cougars to score on a 1 yard run, after he scampered 10 yards on 1st down, increasing the ever-widening score to 31-0, less than 3 minutes into the penultimate period.
After the kickoff, Valhalla started at its 20-yard line.
After receiving some words of encouragement from Coach Bussey at halftime, Grygiel got the Valhalla offense moving.
Baker showed some power, ripping off successive runs of 7 yards each, giving the El Cajon team a 1st down at its 34-yard line.
Grygiel hooked up with wide receiver Buckley for a gain to the Valhalla 48, and then moved into Cougars' territory with a short pass to Baker.
Schimke ripped off 10 yards to the Steele Canyon 32 yard line, followed by a 6 yard run to the 26.
Pernicano hauled in a dart from Grygiel to the 16.
Two plays later, Valhalla had a 2nd and 7 at the 13-yard line.
Grygiel completed another pass, this time to Manning at the 10, now playing tight end.
A jarring tackle knocked the ball loose, where it was scooped up by senior cornerback MARVIN JAMES, who put it in high gear immediately and ran unmolested 86 yards for another Cougars' TD—and—a 38-0 score, with 4 minutes left in the third quarter.
Geck added a late 8 yard TD run, rounding out the scoring at 45-0.
Fishburne had quite a night.
He was 5-for-8 for 100 yards passing, with 2 TDs; he added 69 net yards on the ground in 8 carries; he kicked a 32-yard field goal; and, he returned a punt for 36 yards — all in the first half.
So, for you younger readers who dream of the day when you can play high school football, if you want to be a hero on Friday night, make sure you keep your bedroom clean.
Balled out with my brothers tonight on the field against Valhalla, 45-0 and we got what we seniors have been waiting for. The Jamacha Helmet pic.twitter.com/OiQUVcCTZq

— Darin Walton (@walton5192) October 28, 2017