Hillers, Wolf Pack head final Friday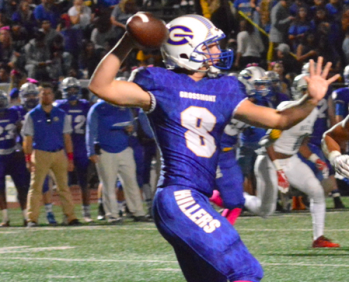 Grossmont sophomore quarterback Jamie Odom / photo by Ramon Scott
EAST COUNTY PREP FOOTBALL FEARLESS FORECASTER
WEEK 11
By Dave Dickens
EastCountySports.com
SANTEE (NOV. 3, 2017) – The West Hills Wolf Pack intercepted four passes last week as they knocked off the host El Capitan Vaqueros and likely earned themselves a playoff berth in the process.
The Grossmont Foothillers can earn a first-round bye in the upcoming San Diego CIF Division I postseason with a win in West Santee Friday night against the Pack.
This week is the final week of the regular season. Playoff pairings will be released late Saturday morning by the CIF. The playoffs begin next Friday night.
Last year, these two met at Grossmont and Grossmont introduced the Pack to a 48-14 beating at Mashin Field.
Grossmont has won the last two meetings convincingly. The two clubs have only met twice in the last 4 years, last year and in 2013.
The two clubs have only met twice in the last 4 years, last year and in 2013.
The Hillers are coming off a huge defeat at the hands of their Achilles' heel, Helix.
However, Grossmont (6-3, 3-1 Grossmont Hills League) is ranked 10th in the division and will be bringing the aerial and ground attack to finish strong and tuned up for the playoffs
The Hillers will bring a heavy dose of the speedster himself, RB SHEVELL STERLING JR., who has 136 carries for 765 yards and 16 rushing TDss and 1 receiving TD.
As explosive as Streling Jr. is, it would not be possible without the sea-parting offensive front led by senior left tackle ALEX LISK.
West Hills (6-3, 2-2 GHL) has a defense that is also on the move and should look out for sophomore QB JAMIE ODOM, who is 95-of-198 for 1,722 yards, 14 TDs and 9 picks, not to mention his shifty rushing with 61 carries for 327 yards and 6 TDs this season
Leading the way for the Grossmont aerial assault receiving corp is WR JOSH MOALA, who has 25 catches for 389 yards and 6 TDs.
The Hiller defense has been tough all season led by LB DAISEAN CRAWFORD, the team's leading tackler with 99 total tackles, 5 caused fumbles and 2 fumble recoveries.
Let us not forget about the sack meister, DL JULIAN SANDERLIN, who has 12 sacks on the season and a pick to boot.
The Grossmont defense as a whole has complimented the speedy and crafty offense quite nicely.
This is not to say that the Wolf Pack are roadkill, on the contrary, they have been quite the opposite.
With the exception of No. 2-ranked Helix, the Pack have remained competitive and close including the loss to Steele Canyon and in the opener against Southwest (El Centro).
Coach CASEY ASH has his squad heading in the right direction after an impressive upset in Lakeside last week to spoil homecoming festivities and land a playoff berth.
The Pack has had one wild ride this year, but one of the key standouts for sure has been WR/FS RYAN JEWELL with a team-leading 5 interceptions.
With the exit of senior QB HAYDEN ROACH, who transferred to Steele Canyon this year, the Pack has made room for the elusive junior QB JORDIN YOUNG, who is 64-of-114 for 739 yards, 12 TDs and 2 picks along with his 93 carries for 403 yards and 4 rushing TDs.
Young's favorite target remains the same this whole season in WR CADE WEAVER, who has 23 catches for 381 yards and 7 TDs.
The one should be closer than most would think, including the computers, however, I'm calling for the upset… WEST HILLS, 25-17.
EL CAPITAN (3-6, 1-3 GHL) at STEELE CANYON (5-4, 2-2 GHL) – El Capitan had the Homecoming crowd behind them in a back-and-forth, low-scoring thriller last Friday, but a West Hills interception stopped the Vaqueros, possibly knocking them out of the postseason.
El Capitan with the loss fell down to 13th, while the Pack moved up to 11th.
An upset over Steele Canyon, however, could put the Vaqueros over the hump and squeeze into a playoff spot after all.
Once again the Vaquero defense kept up their end of the deal, but the offense didn't take care of the football.
The Vaqueros were one win better in this battle a year ago.
Once again this could be a great tune-up before the playoffs, especially for the Cougars.
This is one of those tight contests where a call on QB WICK HAUSER might just be what the doctor ordered to plummet the Vaqueros off the bubble and into the playoffs, although he will more than likely not be available to assist. Some key
Some key gig runs from RB CONNOR RUSSA, good reads, strong runs, and solid throws from QB ANTONIO OLIVIERI,
and spectacular catches from the speedy WR YAPHET YOKELY, and some key takeaways from the LOVATO brothers – CHASE and CHANCE – on defense could be the recipe to overthrow the powerhouse Cougars at home.
The host Steele Canyon Cougars are ranked 6th in Division 2 only one spot below the Lincoln Hornets.
They are definitely the favorites, coming off a shellacking of Valhalla last week, 45-0, and a convincing win over West Hills the week before.
QB THOMAS FISHBURNE is coming off a spectacular performance over the Norsemen with two touchdown passes via his precision passing combined with the slithering tackle evasion, a 32-yard FG and a 39-yard punt return, which is really just another day at the office for "Fish."
Let us not forget his backfield runners RB DEONTAE MCKINNEY and RB VALON MARTINEZ.
Let's not forget the secondary spies CB SPENCER GECK and CB ROBERT WHITEHEAD with a couple of picks.
The speed of offense, defense, and special teams clearly ends up very difficult to overcome. The Cougars defeated the Vaqueros last year in Lakeside in a nail-biting 15-7 win.
This Cougar team should go deep into the playoffs, who knows, may even win the SDCIF Division 2 championship, but for now… STEELE CANYON, 27-13.
HELIX (8-1, 4-0 GHL) at VALHALLA (2-7, 0-4 GHL) – It has been a rough year for the Orange Nation.
Closing out the regular season facing the red-hot Scotties on Norsemen turf will not be a bike ride.
The toughest question for the visiting Highlanders? Shall we rest all of our key starters or keep our foot on the throttle and head into the playoffs with momentum?
Either way, the Scotties will be a tough opponent.
The tale of two seasons is evident as last year in week 11, prior to the contest, Valhalla was 8-1 and 3-1 in the GHL, while the Scotties were 7-2, 4-0.
Helix won 40-14 to win the league title and face the Norsemen a week later to defeat them in the playoffs 14-0.
Helix is ranked 2nd in the county and Valhalla is ranked number 19 in Division I.
Maybe the phrase, "On any given Friday? That is why we play the game."
The Scotties still retained the coveted "Musket," as they have for several years now, including the most recent rout of the Grossmont Foothillers, 57-3, to claim yet another Grossmont Hills Title and the 21st-consecutive defeat of Grossmont.
Helix should have the title with all the votes, but a defeat of the Norsemen would guarantee the crown.
The Highlanders come into this contest with 4,953 yards of total offense, 56 total TDs and 14 interceptions on defense.
The Norsemen are coming off a 45-0 shellacking, a loss of the coveted Jamacha Helmet, and two
Starting quarterbacks, DENNIS DAHLIN and BRYAN MADRIZ, both of which are unavailable due to injury, leaving the duties for signal calling to TE/DE KYLE GRYGIEL for game number 2, or possibly the junior varsity call-up.
The fill-in QB almost had his first TD versus the Cougars if not for a jarring hit by CB MARVIN JAMES, who also ran the recovered fumble 87 yards for a TD.
The Norseman, however, could end the season on a high note and snag an upset. In reality… HELIX, 44-7.
No. 12 VALLEY CENTER (8-1) at MONTE VISTA (5-4) – Monte Vista is a sure top-four seed in Division 4 and the Monarchs face a tough playoff-caliber home game against 12th-ranked Valley Center.
Monte Vista coach RON HAMAMOTO has his team in gear for this one.
After that tough loss against Granite Hills, Monte Vista is going to want to end on a high-note
This should be a lot of running back JAHMON MCCLENDON for Monte Vista in what should be a defensive battle.
The other three top seeds combined in Division 4 are 25-2, while Monte Vista will possibly be 5-5 entering the postseason unless it can pull off a bit of a home upset here.
Monte Vista has played the toughest schedule in Division 4.
Valley Center is currently No. 3 in Division 2, with its only loss at El Capitan.
Valley Center also defeated an East County opponent in Granite Hills earlier this season in the North County.
Against Granite Hills last week, the Monarchs opened with a TD drive that culminated in a touchdown pass as EMMIL HENDERSON threw to AMIR CONLEY for a score.
The Monarchs are underdogs here to be sure, but they always seem to give a playoff-credible effort… MONTE VISTA, 28-21.
SANTANA (4-5, 1-2 Grossmont Valley League) at MOUNT MIGUEL (3-6, 1-2 GVL) – This should be one of the better match-ups this Friday. Mount Miguel coming off a bye to heal some of their wounded soldiers, should be well rested and poised to grab a victory at home.
Mount Miguel, coming off a bye to heal some of their wounded players, should be well rested and poised to grab a victory at home.
Mount Miguel will be the favorite, as coming into this contest the Matadors are ranked 9th in the county in SDCIF Division 3 and Santana is ranked at number 10.
Both of these squads could make the playoffs, but a win could be a possible first-round home game.
Mount Miguel coach SHAUN MCDADE said at the beginning of the season where he thought his Matadors would be at the end of the regular season." I would say 3-7, maybe 4-6, but we
"I would say 3-7, maybe 4-6, but we play some tough teams this year," McDade said in a preseason forecast
The Mount Miguel skipper had some serious intuition as we see where he is at this point in the season.
The Matadors will try and immediately establish the run with his key RB SHEMAR GREENE, who has 134 carries for 760 yards and 6 rushing TDs along with 4 receiving TDs.
The other key component of this offensive attack will be a healthy QB MUGABEE MILLER, who is 62-of-124 for 1,211 yards and 8 TDs and no picks, along with his capable legs, with 78 carries for 255 yards and 4 TDs.
Mount Miguel also has several key players going both ways as well, CB/WR/RB SANTINO PACHECO has 393 yards receiving, 4 TDs, 66 tackles, 2 sacks and 2 picks.
FS/SS JARVIS HEARD is the Matadors' second-leading tackler with 54 tackles, and 2 interceptions.
Mount Miguel will try and keep it close as they have all season with great defense, and a superb rushing attack.
The Sultans, however, are a different type of animal, led by two equally great coaches in head coach TIM ESTES and assistant MARK NOBLE.
The Sultans have a great balance of running backs, sure-handed receivers with speed, and a superior QB barking signals in QB JOSH OEDEWALDT, who is 96-of-196 for 1,448 yards, 13 TDs, 8 picks, along with 38 carries for 96 yards and 2 rushing TDs.
Leading the ground attack in a slew of speedy and stout running backs are RB BROOKS MOUTAW, who has 36 carries for 214 yards, and 6 TDs in only 5 games.
Sultans OLB/RB IAN LITTEN has 47 carries for 249 yard and 3 TDs, along with 34 tackles.
Santana MLB/TE LANDON WOOD has 96 tackles, 7 sacks, 2 fumbles caused and 2 fumble recoveries.
Sultans WR DAVON CHESTNUT is a favorite target and leading receiver for the Sultans with 38 catches for 551 yards and 5 TDs.
This should be a smashmouth, run first, play-action, defensive contest, and the team with the best playbook wins.
It will be close, but the nod goes to… MOUNT MIGUEL, 24-21.
EL CAJON VALLEY (2-7, 0-2 GVL) at GRANITE HILLS (7-2, 3-0) – The Eagles will wrap up the GVL title, their 3rd in a row for sure with a win over the Braves. This is a tale of two teams heading in two completely different directions.
This is a tale of two teams heading in two completely different directions.
The Braves have had some real issues this season, with injuries, a typical small roster, the change from coach PARRIS PISIONA to NICK WILLIAMS, changes to the playbook, and very competitive opponents.
El Cajon Valley is coming off a huge defeat at the hands of their league foe Santana, 50-10, but ECV did come out to play in the first half as they held Santana to 14 points in the first 2 quarters.
Santana head coach TIM ESTES did commend the Braves on how stout the defense held up in the first half of play.
The Braves are 9-59-1 against the Granite Hills Eagles all-time.
This Madison Ave. rivalry just resumed 7 years ago.
The Eagles have locked up the title and another win may earn the squad not only a first-round home playoff game but a possible first-round bye.
Coming into this regular season finale, QB JAKE SIEGFRIED is 66-of-124 for 743 yards, 7 aerial TDS, but 7 picks, while rushing 130 times for 911 yards and a team-leading 14 TDs on the ground.
Fellow returning starter RB TYLER GONZALEZ has 72 carries for 580 yards and 6 TDs.
Along with RB KEYVON MARTIN, who has 51 carries for 464 yards and 6 TDs in only 4 games, not to mention TE/DE WILLIAM BURTON, who has 23 receptions for 213 yards and 4 TDs, Burton also makes it tough for offensive line, coming off the edge, as he has 39 tackles and 2.5 sacks.
The leading tackler for the Eagles however is ETHAN BISHOP with 77 tackles, 2 interceptions and a caused fumble.
There are just too many weapons on the 3-time GVL league champs… GRANITE HILLS 35-7.
POINT LOMA (6-3, Eastern 3-1) at CHRISTIAN (7-2, 3-1) – Christian comes into this game ranked 27th in the county.
This should be a true test for the Patriots to prove they are prepared and worthy of playing the top ranked squads in the bigger divisions.
The Patriots are coming off a shellacking of the Scripps Ranch Falcons,61-13.
The Patriots beat the Falcons on the ground and through the air, not to mention the defense was spectacular. The
The Patriots' FB JAVIER JIMENEZ led the ground march into the end zone, scoring three rushing TDs.
QB BRAD JEREMIAH was 14-of-15 for 250 yards and three TDs for Christian.
The Patriots defense lended a hand last week, as JESSE MATTHEWS and ALEXANDER GONZALEZ forced a fumble in the second half that was recovered by MLB NATHAB MATTAZARO.
Jimenez added a sack to add to the night as Christian secured a first-round SDCIF DIV 1 home game with the win and a win over Point Loma this Friday and a Lincoln loss would give the Patriots a share of the Eastern League title.
Point Loma, is on a three-game winning streak, having beat some of the top teams in the county, like top-seeded Madison and Mira Mesa.
This will be the biggest test of the season for Christian.
Leading the way for the Pointers will be QB KYLE GRADY, who was 39-of-72 passing for 701 yards, 7 TD passes.
Also elusive and shifty, Grady has 45 carries for 302 yards and 6 TDs via the run for a total of 13 TDs in just 5 games.
Another rushing sensation for the Patriot defense to put a stop to is RB JOSH BALL, who has 108 rushes for 524 yards with 5 TDs
Pointer WR MALIK MOORE has 10 catches for 174 yards and 1 td in the last 5 games.
Defensively, JL SKINNER has 31 tackles and LB ANTHONY KARTY has a team-leading 4 sacks.
Christian will compete, however… POINT LOMA, 28-24.
MOUNTAIN EMPIRE (5-4, 1-1 Manzanita) @ VINCENT MEMORIAL (7-2  2-0) – After completing their 2nd shutout in a row 24-0 over Orange Glen last Friday, The Red Hawks' with a win over 5th ranked Vincent Memorial  could tie for the Manzanita league titleand possibly find a way to garner a playoff spot in Division 5 as a league champion.
Mountain Empire QB GABRIEL HYDORN, who passed for 2 TDss and ran for another last week, has been fantastic all season and improving as the season continues. Key starter,
Key starter RB/CB/WR DALLAS PRINCE has 32 catches, 427 yards and 3 TDs a rushing TD and most importantly a team-leading 5 interceptions and 3rd game in-a-row with a pick last week.
Leading tackler and partly responsible for the last 2 shutouts is CAMERON WILL, who has 136 tackles.
Vincent Memorial was beaten earlier this season by Santana.
Scots QB EDUARDO VALENZUELA is 131-of-225 with 31 TDs, and has 71 carries for 624 yards and a team-leading 8 TDs on the ground.
The Scots have an impressive surehanded group of receivers and are very quick.
The Red Hawk secondary will be key combined with the pass rush of LB BLAKE JARELL and CAMERON WILL.
Whoever wins the turnover battle wins this one. The nod goes to… VINCENT MEMORIAL, 35-28.