Griffins try to rustle up victory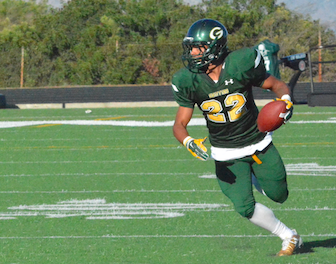 Grossmont freshman RB Zayid Al-Ghani, of Kennewick, Wash.
2017 GROSSMONT GRIFFINS FOOTBALL
By Ramon Scott
EastCountySports.com
EL CAJON – The Grossmont College Griffins will play their final home game of the season on Saturday when they host the Golden West Rustlers at Mashin-Roth Stadium at 1 p.m.
The Griffins will look to stem the tide against the Rustlers after Grossmont allowed 190 points over its last three games.
Last week, Grossmont lost at Saddleback 77-24. Just three weeks ago, Grossmont allowed 78 points at home to No. 1-ranked Fullerton.
The Gauchos set team records for points and touchdowns, but the sidebar was a combined 39 penalties by the two clubs.
Grossmont (3-5, 1-2 National Southern) committed six turnovers, including five interceptions on just 18-of-43 passing.
The Griffins won last year's meeting at Golden West, 40-28, after leading 27-14 at halftime, only to see the Rustlers take a 28-27 lead early the fourth quarter.
Grossmont quarterback BRAD CAGLE threw two touchdowns midway through the fourth and had four TD passes in the game.
Golden West (4-4, 2-1 NCSL) smashed Orange Coast in the teams' "Battle for the Bell" rivalry game, 56-13 last week.
Rustlers quarterback Joe Pyle threw 3 touchdowns in the first 16 minutes of the game.
Things seemed to cool down around halftime, but Golden West came out swinging in the third quarter and did not stop scoring 27 unanswered points in the fourth quarter.
Pyle finished with 5 touchdowns for 458 yards while going 28-of-39.
The Rustlers' "Twin Towers" receivers Derrick Deese and Brailon Mouton both caught 2 touchdowns each.
Two weeks ago, GWC defeated Palomar on the road, 47-27.