Sterling shines at home a final time
Updated: November 4, 2017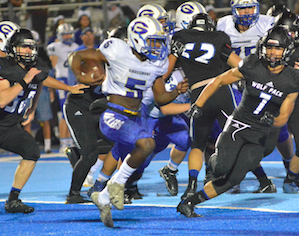 Grossmont's Shovel Sterling rushes against West Hills Friday night. / photo by Ramon Scott
2017 EAST COUNTY PREP FOOTBALL
By Jim Lindgren
Special to EastCountySports.com
SANTEE – Senior running back SHEVELL STERLING was already grinning from ear to ear after his Grossmont Foothillers routed West Hills 42-0 on Friday in a Grossmont Hills League season finale.
Then Sterling was informed of how many yards he had gained in the lopsided contest.
Sterling rushed only 16 times for a career-high 191 yards and two touchdowns, including a 13-yard bruising run up the middle and a dazzling 68-yard highlight scamper for the game's first two scores.
"I got how many?" he asked. "Oh, no way. That's awesome. I had no idea I had that many."
Sterling was now on Cloud Nine – telling anyone and everyone, "I got 191."
Imagine how he felt after learning that Christian had upset Point Loma 44-37 at El Cajon Valley.
Grossmont (7-3, 4-1) came into the contest ranked No. 2 in Division I, behind only Point Loma in the MaxPreps computer rankings, which this year are being used for playoff seedings.
In one scenario, the Foothillers could wind up as the No. 1 seed in Division I and would get a first-round bye.
However, with No. 7 El Camino (5-5) losing to Oceanside (4-6), the Foothillers might be elevated to the eight-team Open Division. That scenario would likely have them playing at No. 1 Mission Hills (10-0).
We'll find out late Saturday morning when the pairings are released.
"We needed to set the tone early," said Sterling, who now has rushed for 956 yards and 18 touchdowns on the season. "It was a lot of fun tonight. It feels fantastic. It's always nice to get back to winning. I love winning."
Grossmont was coming off a 57-3 loss to Helix last week and was hoping for a huge bounce-back win to right the ship before the playoffs.
Sterling and sophomore quarterback JAIME ODOM made sure of that.
Getting terrific blocking up front and from the wideouts, Grossmont's star offensive weapons combined for 307 total yards and five touchdowns. Both only played less than three quarters as a running clock was utilized for the final 14½ minutes, and Foothillers coach TOM KARLO emptied his bench in the fourth quarter.
Odom was 14 of 21 passing for 154 yards, including a 61-yard touchdown pass to THOMAS MANGUM.
"This definitely gets us back on track," Odom said. "We needed a big win, and we got it. It feels great."
West Hills (6-4, 2-3) was No. 11 in the 12-team Division II playoff rankings, and the Wolf Pack will likely make the playoffs after last week's 10-3 win over El Capitan.
"We didn't play well against a good team," Wolf Pack coach CASEY ASH said. "We had a lot of turnovers and an inept kick return (unit). We missed some good scoring opportunities.
"It should have been 21-10 in the first half, but we didn't capitalize."
On defense, Grossmont got an interception by ANDREW LIRA – his sixth of the season – and four fumble recoveries by COOPER ZOELLNER, Lira, CONNER SANCHEZ and WILLIE HARAUGHTY.
CONNOR TORRES blocked a field-goal attempt, and the Foothillers got sacks from JULIAN SANDERLIN (his 13th of the season) and DAISEAN CRAWFORD (his fifth).
"I thought our defense played really well," said Karlo after the Foothillers' first shutout this season. "It was nice to see our backups hold the shutout."
Special teams was also a special highlight for the Foothillers and would have put up some amazing numbers if not for several penalties.
Lira had a 45-yard punt return (and a 55-yard punt return for an apparent touchdown that was called back on a questionable blocking foul). Lira also recovered a fumble on a kickoff that led to an easy Foothillers' score.
In addition, AMBER HUFF made all six of her PAT kicks. She has now made good on 46 of 48 PATs along with four field goals, and she is thought to be the most prolific female kicker in section history. Her sister, BRITTANY NUFF was 18 of 19 on extra-point kicks in 2015 for the Foothillers.
"We played well in all three phases of the game," Lira said. "Defense, offensive, special teams – we put it all together."
West Hills was led by senior running back AUSTIN DILL, who rushed 14 times for 75 yards.
JORDAN YOUNG overcame a slow start (2-for-6 passing for 1 yard) to finish 7-for-13 for 110 yards with one interception. CADE WEAVER caught three passes for 55 yards, including a 44-yarder. TYSON COURTNEY hauled in a nice 42-yard reception that gave West Hills its best scoring chance in the first half.
On Grossmont's first possession, West Hills' PEDRO LOZANO put a huge hit on Mangum after an 8-yard reception, jarring the ball out, and JAKE MAHEU recovered it for the Wolf Pack.
Five plays later, Zoellner got the ball back for the 'Hillers on a fumble recovery at their 26-yard line.
Odom and Sterling then went to work. Odom gained 11 and 9 yards sandwiched around a pair of 13-yard pickups by Sterling. Odom then completed passes of 7 and 13 yards before Sterling scored on a 13-yard bust up the middle.
Just before reaching the goal line, Sterling ran through two defenders to put Grossmont up 7-0.
West Hills got a break on the ensuing kickoff as a penalty on a pooch kick gave the Wolf Pack the ball on the Foothillers' 39-yard line. Six plays later, a 34-yard field-goal attempt by Weaver was blocked by Torres.
On the last play of the first quarter, Sterling made the highlight package again.
He took a handoff from Odom but was hit three times in the backfield or near the line before bouncing off and darting around left end. He got a great block from DESMOND CARTER and sprinted 68 yards along the sideline for a 14-0 lead. But not before having to break another tackle at the 13-yard line, where he appeared to be pushed out of bounds but somehow escaped to cap the run.
"That was pretty crazy," Sterling said. "It was a fun run. I got some great blocks along the way."
Actually, Grossmont's blockers were outstanding throughout the game. Those linemen are ALEX LISK, JOSE DAMIAN, NICK GHOSN, BRENDAN KIMBALL and CHRISTIAN TRASANDES.
The second quarter opened with a Grossmont kickoff that was muffed by West Hills and recovered by Lira at the 23-yard line. Odom then ran for 11 yards, then 7, then 3 before Odom scored on a 1-yard keeper for a 21-0 advantage.
Odom again scored, on a 9-yarder, on Grossmont's first possession of the third quarter to make it 28-0.
With 2:26 to play in the third quarter, Odom hit Mangum on a deep ball that Mangum leaped to catch behind the coverage at the 30-yard and then raced unabated the rest of the way for a 61-yard TD.
Mangum led all receivers with four catches for 73 yards. ZAK FARRIS added four receptions for 37 yards, and JOSH MOALA also had four grabs for 35 yards.
Backup quarterback DYLAN SMITH scored on a 9-yard run in the fourth quarter to end the scoring.
Grossmont, which was averaging 399 yards per game, had only one possession after the running clock was initiated, and wound up with 346 yards. West Hills finished with 241 total yards.
The Foothillers' Torres, NICK GIBSON, JOSEPH TOLEDO and Sanderlin applied plenty of pressure up front on defense. Linebackers Crawford, CHRIS ALBA and ZACH JONES swarmed to the ball. ERIC SHANKS, Sanchez, NOAH CRESS and Lira controlled the secondary.
"The energy and enthusiasm we played with was huge," Karlo said. "It was pretty impressive. I was very pleased with our intensity the whole game."
Grossmont will find out their playoff position on Saturday morning.
Said Karlo, "I think we're on a good trajectory for the playoffs."
Grossmont Hills League
GROSSMONT 42, WEST HILLS 0
Grossmont 14 7 14 7 – 42

West Hills 0 0  0 0 – 0
G – Shevell Sterling 13 run (Amber Huff kick)
G – Shevell Sterling 68 run (Amber Huff kick)
G – Jamie Odom 1 run (Amber Huff kick)
G – Jamie Odom 9 run (Amber Huff kick)
G – Thomas Mangum 61 pass from Jamie Odom (Amber Huff kick)
G – Dylan Smith 9 run (Amber Huff kick)