Siegfried, Eagles work magic in playoff win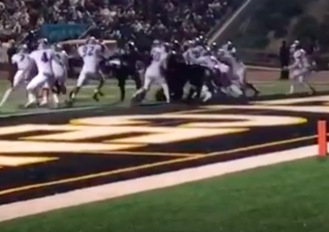 Valley Center scores a touchdown Friday night against Granite Hills.
2017 EAST COUNTY PREP FOOTBALL SDCIF DIVISION 2 QUARTERFINALS
GRANITE HILLS 49, VALLEY CENTER 30
By Jim Lindgren
EastCountySports.com
VALLEY CENTER – Granite Hills quarterback JAKE SIEGFRIED has tallied some pretty impressive numbers and some mighty big wins in his three-year varsity career.
Perhaps none better, however, than Friday night at Valley Center.
Siegfried, a 5-foot-11, 205-pound dual-threat juggernaut, rushed for career highs of 35 carries, 257 yards and four touchdowns to lead the Eagles to a 49-30 upset win over No. 3-seeded Valley Center in the quarterfinals of the San Diego Section Division II playoffs.
Siegfried also threw for 124 yards on 6 of 8 passing, including a 24-yard touchdown pass to RAY CUERO to give the Eagles a 21-17 lead at halftime.
"We came into practice this week and worked as hard as we could," Siegfried said. "We had a great team effort. Everybody stepped up.
"It was a great team effort, and I'm looking forward to the semis."
No. 6-seeded Granite Hills (9-2) has won eight games in a row since losing to Valley Center (9-2) 29-7 on September 22. The Eagles edged Steele Canyon 43-41 on September 8, and now will face the No. 7-seeded Cougars (8-4) again in the semifinals next Friday at Valley Stadium.
On the season, Siegfried now has 1,275 rushing yards and 21 TDs and 1,044 passing yards and 10 TDs.
"He had a great game," Granite Hills coach KELLAN COBBS said. "He was pretty steady for us all night. He had some really key runs."
Slotback CRISTOPHER OSTRENG – the Eagles' backup quarterback – started things off with a 56-yard option pass to DYLAN RUTTER on the first play of the game. That set up a 1-yard touchdown run by Siegfried.
Valley Center answered to tie the game at 7-7, then TYLER GONZALEZ scored from 4 yards to make it 14-7.
Valley Center knotted things again and went up 17-14 with a field goal before Siegfried found Cuero on a beautifully placed TD pass in the back of the end zone.
BRYCE CHRISTIAN put the Eagles up 28-17 on a 9-yard scoring run early in the third quarter. But the Jaguars would counter again as Mateo Sinohui scampered into the end zone on a 12-yard run.
Siegfried scored again on a 3-yard run to make it 35-24, but Sinohui scored his second rushing touchdown to pull the Jaguars within 35-30.
Siegfried did the rest, scoring the final two touchdown on short keepers as the Eagles finished with 358 rushing yards on 49 carries.
Gonzalez finished with 70 yards on seven carries with one TD. KEYVON MARTIN added 28 yards on five carries.
"In the second half, we just kind of wore on them," Cobbs said. "It was tight for a while. We were just able to wear them down in the fourth quarter.
"Defensive line played really well. They got to the QB several times with five sacks and a number of hurries."
ZOSEPH CUERO and ETHEN BISHOP had key second-half interception for Granite Hills.
Tyler Gonzalez had two sacks. JUWAN DENNIS, WILL BURTON and NOAH ESPINOZA also posted second-half sacks.
"It's not the flashiest way to win, but our offensive line and defensive line carried us," Cobbs said. "It's a good way to win.
"They're a good program. They've only lost three games in the last two years."
Now it's four.
"We had a great game plan," tackle GARRETT CURRAN said. "Great preparation. We ran the ball successfully. Offense was grinding and was just hitting on all cylinders."
As opposed to the loss against Valley Center earlier in the season, Curran said, "The offense was completely different this time. We were physical on the offensive line, and we limited our mental errors that caused our loss last time we met."
Curran was scheduled to fly to Washington State on Saturday morning for a recruiting visit over the weekend. He also has offers from Boise State and Arizona.
He vowed to be ready for Steele Canyon, however. "We are going to have a high-energy practice over Thanksgiving, and we have to remain focused because the Cougars are a new beast," Curran said. "They're not the same team that we played earlier in the season, and we can't take them lightly."
Steele Canyon won a wild quarterfinal game 61-52 over Bishop's.
"We have a good opportunity next week against Steele Canyon," Cobbs said. "We always seem to play them tight. It should be a pretty good game.
"They are very talented. We're going to have to play awfully well to beat them."