Cougars, Eagles prefer no other way
Updated: November 23, 2017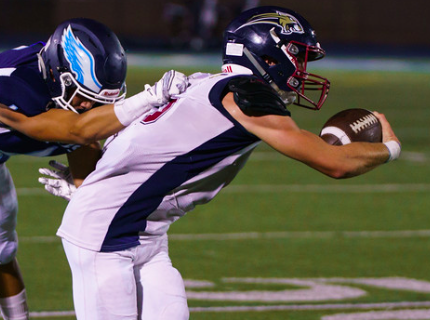 Steele Canyon's THOMAS FISHBURNE against Granite Hills in Sept. / photo by Scott Barnhill - CSProPhoto
2017 EAST COUNTY PREP FOOTBALL FEARLESS FORECASTER
SAN DIEGO CIF SEMIFINALS
By Dave Dickens
East County Sports.com
EL CAJON – With all due respect to the Ramona Bulldogs or Otay Ranch Falcons, the Granite Hills Eagles and Steele Canyon Cougars will kind of, sort of be playing in their own championship football game on East Madison Ave. this Friday night at 7.
Sure, a long-awaited San Diego CIF Division 2 championship game appearance awaits the winner of this All-East County semifinal clash between students that have competed against each other for years, dating back to Pop Warner.
But given the excitement and sudden history of this budding neighborhood rivalry, the Eagles and Cougars – along with marquee quarterbacking stars JAKE SIEGFRIED and THOMAS FISHBURNE – will be out to put a finishing touch on a final act, or a teratology if you will, as a select group of seniors meet for a fourth and final time.
The last meeting ended in spectacular fashion. The Eagles were down 41-37 and with 4 seconds left in regulation.
The snap came to Siegfried and he knew the plan.
He later said that he and his senior star WILLIAM BURTON winked at each other to signal the confidence that he was going to go to his big tight end in the back of the end zone.
Siegfried threw a short laser pass between the big intruding paw of Cougar defender ANTHONY GUY to the bread basket of Burton as the clock showed zero and Eagles prevailed, 43-41.
Head coach for the Cougars SCOTT LONGERBONE has stated it in the past that it is tough to win at Valley Stadium.
The last time Steele Canyon prevailed was a regular season contest at Steele Canyon, when the Cougars destroyed the Eagles 37-7 in September of 2016 in the second of the three previous meetings between the two now-legendary signal callers.
The Eagles won the two meetings prior to that, including the first time Siegfried and Fishburne squared off as sophomores, a game won by Granite Hills, 25-24, as Jake rushed in a two-point conversion late in the fourth quarter for his first varsity win as a starter.
But they still know the long, long recent history of Cougar wins over this Granite program before the Eagles finally broke a long losing string in 2013.
Steele Canyon owned a decade of wins over Granite Hills, most by a lopsided margin.
Now, Granite Hills (10-2) just put the finishing touches on winning a third-straight league title in the Grossmont Valley League.
The Eagles have just become even stronger and faster, and playing with limited mental errors, not to mention an 8-game
winning streak coming into this one.
The Eagles also avenged 1 of their 2 losses on the season last week by defeating No. 3-seeded Valley Center, 49-30.
In last weeks matchup, Siegfried was 5 of 7 for 68 yards and a TD via the pass, but it was on the ground where Jake did most of his damage with 35 sarries for 257 yards and 4 touchdowns.
Another key in the Valley Center triumph was sophomore ZOSEPH CUERO, who had a pick for 15 yards, while senior RAY CUERO with 3 receptions for 53 yards and a TD.
ETHAN BISHOP also had a pick for the Eagles.
The Cougars have plenty of speed and athleticism as well.
"We are gonna have to be prepared for a physical football game," said Longerbone. "Their up-front guys are big and very talented," Longerbone added.
"In order to win this battle we need to tackle well and protect the football."
The Cougars come in with a 4-game winning streak of their own and big win over No. 2-seeded Bishop's, which would've likely qualified for the Open Division playoffs had the Knights been placed in Division 1 by classification.
Bishop's ironically beat Grossmont earlier this season and Grossmont beat the Cougars.
Steele Canyon (8-4) may be a little smaller overall, however, the roster is full of quick, speedy talented athletes.
Fishburne last week threw for 3 TDs against a typically tough secondary. He rushed for two touchdowns in the regular season meeting with the Eagles.
Wide receiver JORDAN ANDERSON was on the receiving end of 2 TD passes from Fishburne last week, returned a kickoff for a 90-yard score, and the big-play duo connected for not one, not two, but FOUR touchdowns against Granite back in September.
Cougar WR PERRY STEELE also caught a 31-yard strike from Fishburne for a TD last week, while RB DEONTAE MCKINNEY rushed for over 200 yards as Steele Canyon scored 61 points to upset the Knights.
The Eagles big defense better be ready with end Burton, TYLER GONZALEZ and GARRETT CURRAN.
The Cougar offensive front starring junior JOSH CONSTANCIO, SOMMER AUDEH, seniors BILLY TELLOUS and SAMUEL CORTEZ, along with sophomore DARRIN ROLDAN will help make this will be a battle 'til the end.
Steele Canyon's defensive line star MIKEL OLIVER was moving well last week in his first game back from a knee sprain following a three-game absence.
The Cougars are looking for a first-ever trip to the section finals, while the Eagles haven't been to a CIF championship game since 1979… GRANITE HILLS, 42-35.
SAN MARCOS (9-2) at HELIX (10-1) – The Highlanders' fans got to enjoy some real drama last week in the 19-11 win over the Madison Warhawks, which brought an impressive defense and a large throng of fans, which kept them in the game after falling behind 19-0.
The second-seeded Scotties still prevailed and earned a home semifinal date with third-seeded San Marcos in the Open Division playoffs.
The survivor will face the winner of a game between No. 1 superpower Mission Hills and upset-winning five-seed Torrey Pines in the section championship game.
Helix senior ISAAC TAYLOR-STUART during the postgame huddle following the Highlanders' Open Division quarterfinal win over Madison in La Mesa Friday night… photos by Chris Parks https://t.co/LP4cn7eCtE pic.twitter.com/MXkhnxWn9z

— Ramon Scott (@RamonScottPoker) November 18, 2017
Helix has a plethora of highly-touted stars, but two of the brightest co-stars may actually be having the biggest impacts on the Highlanders' successful season.
Senior ISAIAH WOODEN is having a season that usually would leave college scouts drooling.
But the 5-foot-8, 170-pound speedster is continually having to prove his ability to make big plays on the field.
Sure Wooden is the beneficiary of  the fact that defenses have to spread themselves thin to cover all of the Scots' offensive talent, but he still has found the end zone 11 times on the receiving end of throws from CARSON BAKER.
However, Wooden's impact as a return specialist surely has to catch the attention of next-level talent evaluators.
Statistically, Wooden is one of the nation's top punt return men with a 30-yard average on 19 returns, including three touchdowns. He also has a kickoff return for a score.
Last week, Wooden returned a free kick of a punt following a safety.
#KUSI #PPR #PlayoftheWeek #4: Isaiah Wooden, @HelixFootball. RT to vote for Isaiah! #PPRonKUSI pic.twitter.com/sWImwrWmih

— Prep Pigskin Report (@KUSIPPR) November 21, 2017
An unsung hero on defense has been senior safety JAYDEN TAUANU'U.
Tauanu'u has three interceptions this season in a backfield crew that has 15 picks. Last week, Tauanu'u led the charge on a safety early in the second quarter against Madison. And boy, can this guy dish out a lick.
Helix's Jayden Tauanu'u… pic.twitter.com/Hy4GBZGtc9

— Ramon Scott (@RamonScottPoker) November 18, 2017
San Marcos has thrown for 2,400 yards this season, but will be facing one of the undoubtedly one of the best secondaries in section history led by seniors ISAAC TAYLOR-STUART and RASHAD SCOTT.
Good luck with that, Knights… HELIX, 24-14.
MONTE VISTA at UNIVERSITY CITY, 7 – The Monarchs will make their second trip of the season to face the Centurions.
It's almost like Monte Vista head coach RON HAMAMOTO had it planned all along.
University City got the best of Monte Vista on that night in Week 2 behind Marcel Patterson, 27-15, but the Monarchs intercepted the Centurions three times, including two by junior JEVON BROOKS.
Patterson returned the opening kickoff for a touchdown, immediately putting the clock-controlling Monarchs at an early disadvantage.
The defense of UC had a good handle on Monte Vista junior running sensation JAHMON MCCLENDON early, but he eventually got his ignition rolling for some big runs, including a short score.
Safe to say, Monte Vista, which seems vastly improved off of that performance and has its defense rolling in the prime of the postseason, got a taste of what will be in store in the Golden Triangle.
The Monarchs proved clutch-worthy in a come-from-behind overtime win against the Chula Vista Spartans.
Junior quarterback EMMIL HENDERSON and junior KENNY STEVENS hooked up for a late touchdown to help send the game into overtime for Monte Vista's biggest pass play of the season.
After junior ELSHADDAI LEVI, McClendon's emerging co-star, rushed in for the OT lead, junior BLAKE SCHMIDT jumped low in the running lane to trip the Chula Vista running back on a two-point conversion after the Spartans had an answer in the first overtime.
The Monarchs were certainly on an emotional lift following the game, so it will be up to the stoic Monte Vista skipper to calm the troops in the days approaching the San Diego CIF Division 4 semifinal.
Despite the Monarchs coming in as an expected semifinalist contestant, the disparity in team records – University City is 10-1 while Monte Vista is 6-5 – have caused some outlets to predict another relatively comfortable win for UC.
We don't see it that way… MONTE VISTA, 24-21.