McHayle has roaring start for Monarchs
Updated: November 28, 2017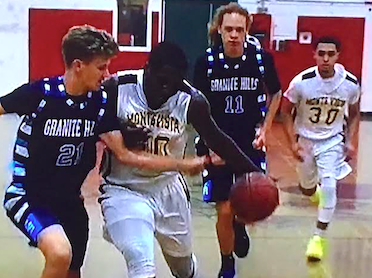 Monte Vista's Deondre McHayle drives against Granite Hills Monday night.
2017 EAST COUNTY PREP BOYS BASKETBALL
By Dave Dickens
EastCountySports.com
SPRING VALLEY (11-27- 2017) – The host Monte Vista Monarchs showed their secret weapon DEONDRE MCHAYLE early and often against the Granite Hills Eagles Monday night.
However, the visiting Eagles kept the score within striking distance throughout the contest before losing nail-biter, 64-61.
Both squads played really well according to Eagles new Head coach Dan Duffy.
Granite Hills has just two returning starters this season in twin senior brothers XAVIER and MOSES SMITH.
Moses Smith led the team with 17 points and 11 rebounds, while Xavier Smith played more of the defensive side, earning 4 steals and 4 blocks.
The Monarchs led the game throughout, and McHayle ended up scoring 32 points, grabbing 12 rebounds and recording six steals.
The Monarchs led 17-10 after one, but the Eagles battled and kept it close, trailing just 38-33 at halftime.
Monte Vista extended its lead to 53-44 at the end of three.
McHayle, however, outscored the Smith brothers 32-29 in the game.
The Monarchs gave several opportunities to the Eagles, but even with so many fouls, the Eagles missed 18 free throws for the game.
"The senior leadership really kept us in the game, scoring often in the 4th quarter to keep pace with Monte Vista," said Granite Hills head coach Dan Duffy.  "The boys really played their tails off, I'm really proud of them."
According to the new Eagles skipper, the Eagles are young and need to really  improve their free throw percentage.
AUSTIN BALLO added 11 points for the Eagles.
Granite doesn't have much time to clean up the missed free throws as they are back at it on Tuesday at 7 at Granite Hills versus Victory Christian. The Eagles are 0-1.
Victory Christian (0-0) is a Division 4 team from Chula Vista.