Highlanders win 1-AA regional playoff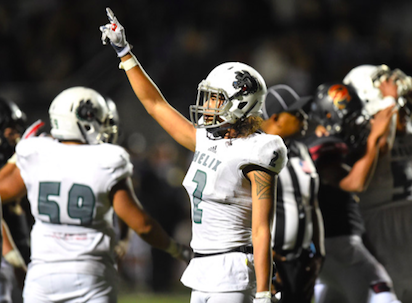 RASHAD SCOTT celebrates at the end of the CIF State Regional Semifinal Friday night. / Photo by Hans Gutknecht, Los Angeles Daily News/SCNG
2017 EAST COUNTY PREP FOOTBALL – CIF STATE PLAYOFFS
HELIX, 28, OAKS CHRISTIAN 13
By Ramon Scott
EastCountySports.com
WESTLAKE VILLAGE – Helix senior RASHAD SCOTT, who worked his way back from an Achilles injury which knocked him out of the Highlanders' section championship win in the second quarter just last Saturday, turned around a 13-7 halftime deficit to Oaks Christian with a 27-yard Pick Six interception return just moments into the third quarter, and the Scotties went on to win win a CIF state championship Division 1-AA regional bowl game here Friday night.
Helix (13-1) knocked a pair of Oaks Christian quarterbacks from the game, then outscored the Lions 21-0 in the second half to advance to play Folsom (15-0) in the bowl championship game next Friday at Sacramento State.
Scott, who was named the San Diego CIF Defensive Player of the Year late Friday night, wasn't sure he could play in the regional semifinal until almost game time.
The San Diego State-bound cornerback was one-step ahead on the apparent defensive misread by the OC quarterback, as he stepped perfectly in front of the pass and weaved back to the end zone with the ball for the lead-changing score.
Rashad Scott INT return for #Helix TD. Highlanders take 14-13 lead to start second half #D1Bound pic.twitter.com/2VPp4EnVxC

— #D1Bound Nation. (@SportsRecruits) December 9, 2017
"It was a team effort," said Scott. "We had a lot of pressure on them. I just want to thank all my guys. It says a lot about our team. We handled our business."
Later in the third, senior ISAAC TAYLOR-STUART had a 16-yard touchdown reception on a short pass from senior quarterback CARSON BAKER, which gave Helix a 21-13 lead.
"It feels great coming in here as an underdog because we're from San Diego," Taylor-Stuart said. "But we came out and executed on offense and defense. We're just happy to get this win right here because this is family. We love each other and we are just trying to make each goal. To win a state championship."
Baker was 11 of 18 for 127 yards.
Sophomore ELELYON "FATTO" NOA sealed the game with a 62-yard run off the left side with 2:43 left in the game.
Noa, who had 188 yards on 23 carries, was particularly impressed by the presence of former Helix great REGGIE BUSH on the sideline, who joined the Highlanders during in-game huddles.
"My offensive line was pushing me on that last series," said Noa. "I was motivated when I saw (Bush). I wanted to get an autograph in the middle of the game, but I had to do my work on the field."
Spotted Reggie Bush at the Helix/Oaks Christian playoff game.

He's been giving tips to Helix players and cheering in huddles – definitely very invested in his alma mater. pic.twitter.com/lyxHIsdtzW

— Keely Eure (@keelyismyname) December 9, 2017
The Helix defense intercepted three passes in the second half, as junior MICHAEL SHAWCROFT and RAY SANCHEZ also came up with picks.
The Lions also hurt their own cause with two possible touchdown passes which were dropped.
And as for Oaks Christian's heralded pass rush?
Helix left tackle WILLIAM PAYNE and Co. kept Oaks Christian's five-star defensive end Kayvon Thibodeaux off Baker, shutting him out.
"We don't want this thing to end," Helix coach ROBBIE OWENS said. "We played a quality team with quality coaches here tonight. It feels great we're moving on."
The Highlanders scored on their opening drive, capped by a 30-yard run from Baker on fourth-and-11.
Oaks Christian had field goals of 25 and 37 yards.
Late in the first half, the ball was on the one-yard line.
Oaks Christian faced fourth down.
Lions coach Jim Benkert called the first timeout with 16.8 seconds left.
Owens then called timeout after the Lions lined up.
Then Benkert called his second timeout.
Then Owens called the fourth consecutive timeout.
Zach Charbonnet finally ran around the left side for a touchdown that gave Oaks Christian a 13-7 lead going into the half.
Helix's defense rose up to stuff Charbonnet in the fourth quarter.
With 4:38 left and Oaks Christian (12-3) driving down by 8, Helix's REE REE TARRANT-PATANE and Shawcroft teamed up to stop the Lions on the Highlanders' 5-yard line.
The State Regional D1AA Championship 🏆 pic.twitter.com/voWbVk2JEI

— Helix Athletics (@HelixScotties) December 9, 2017
In addition to Scott being named the DPOY on the All-CIF team late Saturday, several other Scotties also received first- and second-team honors.
Baker and Payne were named to the section first-team offense, while Taylor-Stuart and Shawcroft was named to the section first-team defense.
Noa, wide receiver ISAIAH WOODEN and and offensive lineman MATT AVI'I were announced to the second-team offense, while senior lineman ARTURO TORRES was a second-team defensive selection.
Helix now faces a Folsom team led by quarterback Kaiden Bennett and brothers Joe and Daniyel Ngata.
Folsom won a state title just back in 2014. Folsom has also won six times at Hornet Stadium in section finals and in the 2014 NorCal championship over Grant.
"If we play our game, we can come out and get the result that we want," Scott said.