ROUNDUP: East teams come up short
Updated: December 13, 2017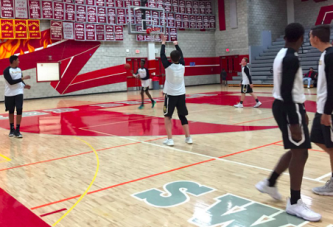 Warm ups at Sweetwater High Wednesday night
2017 EAST COUNTY PREP BASKETBALL
EastCountySports.com staff report
NATIONAL CITY (12-14-2017) -The El Capitan Vaqueros have been able to compete with all six teams they've faced this season so far. Sweetwater came into this contest (0-1) and ranked at number 12 in
Sweetwater came into this contest ranked at No. 12 in the San Diego Section CIF's Division 3.
The visiting Vaqueros were down by a bucket , 29-27 at the half, but were edged by the Red Devils, 57-52.
In another close one, as the Vaqueros would not have it any other way.
As expected CHASE LOVATO, as he does in football, played exceptionally well both ways.
"(Chase) led our team in scoring and defended their point guard, NEILRYAN PANGILLINAN, who had 15
points at the half," said Vaqueros head coach JEFF BICKFORD. "We went box and 1 and shut their leading point guard down."
The visiting Vaqueros shot themselves in the foot one too many times, as they turned the basketball over 32 times.
With that many turnovers, you would think it would be a blowout by the host Red Devils or it means that you have done a darn good job as a coach, as you improvise to try to compete and possibly pick up the win.
"That is what is so frustrating, we had plenty of chances to put them away, yet kept giving them extra possessions and just carelessness ball handling," Bickford said.
Captain guard Lovato led with 19 points,  on 6-for-6 from two-point range, along with 3-for-4 at the line, 2
rebounds, 3 assists and 4 steals.
DRE'ONTA RAYMOND added 10 points for the Vaqueros.
Up next for the fighting Vaqueros will be the Chula Vista Spartans (1-5) at El Cap on Fri, Dec., 15 at 7.
MARANATHA CHRISTIAN 66, MONTE VISTA 65 – The previously unbeaten Monarchs got out to a 12-point halftime lead thanks to some hot shooting by senior DEONDRE MCHAYLE, but the visiting Eagles rallied for the victory in their season-debut Wednesday night.
McHayle poured home another big night of baskets with a 32-point effort.
McHayle had 13 points in the second quarter alone, including a pair of three-pointers.
"With AMIR CONLEY and JAIDEN DAWN fouling out (in the second half), our defensive momentum was not the same," Monte Vista coach MICHAEL TULLY said.
McHayle put Monte Vista back on top with a basket with just 17 ticks left. He scored nine points in the fourth quarter.
However, Maranatha drew a foul with 4.3 seconds remaining and hit both free throws.
Then the Eagles held on for the win.
AMIR CONLEY registered 13 points and should boost the already potent Monte Vista lineup.
GABE GALVEZ scored six points int he first half for Monte Vista (6-1).
"We have to continue to grow as a team," Tully said.
The Monarchs can do just that tonight as they are back in action against High Tech San Diego in the Destined to Be Stars event on the road at 8 p.m.
ESCONDIDO ADVENTIST 56, SANTANA 46 – The Sultans got out to a 7-2 lead and at one point built at 28-21 advantage.
From there, however, Escondido Adventist outscored Santana 35-19 and pulled away for the upset victory.
The loss snapped Santana's four-game winning streak.
Santana (5-2) will meet Tri-City Christian (3-1) in the Grossmont Winter Classic tonight at 7:30 p.m.
OCEANSIDE 69, VALHALLA 52 – At the Grossmont Winter Classic at Grossmont High, the Pirates came in and beat the Norsemen to improve to 4-2.
Valhalla, meanwhile, fell to 2-4, but the Norsemen will be back in action tonight in the Grossmont High event at the Hillers' gym when they face Del Norte at 7:30 p.m.