Matadors win Holiday Classic division title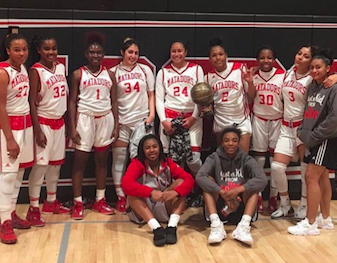 So Cal Holiday Prep Classic Silver Division Tournament champion Mount Miguel
2017 EAST COUNTY PREP GIRLS BASKETBALL
EastCountySports.com staff report
EL CAJON – LALLI GURROLA's long-distance shot was on-point for the second-straight day as she nailed seven three-point shots on her way to 25 points and the Mount Miguel Matadors ran their winning streak to 14 games to open the season on Saturday in the championship game of the So Cal Prep Holiday Classic Silver Division on Saturday.
The Matadors, the No. 1-ranked team in San Diego County, beat Yosemite High, 57-42.
The score was tied early at 7-7, but Gurrola, who less than 20 hours earlier hit a game-winning three-point buzzer-beater, kept up her hot hand early with a couple of long threes using her quick shot release.
SYLENA PETERSON scored 16 points, giving her and Gurrola all but one of Mount Miguel's final total points.
GROSSMONT 62, KEARNY 18 – SARAH HENRY led the Foothillers with 23 points, while teammate CANDACE HENDERSON added 18 points as Grossmont routed the Komets in  a tournament game.
Henry also had nine rebounds, seven assists and two steals.
JAZMINE LEE added 10 points and had a team-high 12 rebounds for the Hillers, while GRACE CERRADO had eight points and five steals for Grossmont.
AMELIA ELLIOTT had a three-pointer for the Foothillers, while EMILY BARNES contributed five rebounds and had two blocked shots.
GOLDEN VALLEY 54, VALHALLA 25 – The Lady Norsemen lost in an early morning tilt against the visitors from Santa Clarita in the So Cal Holiday Prep Classic Silver Division.
Valhalla's crew in the fourth quarter did a nice job, matching up for a 6-all quarter to close out the game.
Valhalla (2-9) will host San Ysidro on Jan. 5 at 6 p.m.
CHULA VISTA 25, EL CAJON VALLEY 12 – The Braves were doubled up by the Spartans in a rough-and-tumble game at the Bonita Vista Tournament.