Eagles give Canadians East Co. treatment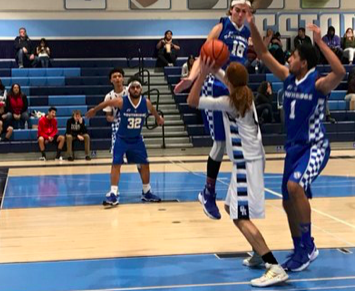 Granite Hills puts up a shot against visiting Southridge, from Surrey, B.C., Wednesday night.
2017 EAST COUNTY PREP BOYS BASKETBALL
By Dave Dickens
EastCountySports.com
EL CAJON (1-3- 17) – The Granite Hills Eagles were matched up favorably, in reference to height, against the visiting team from British Columbia, the Southridge Storm.
The Eagles had some ailments among their troops as they took to their home floor. The flu bug that has just about become a national emergency in San Diego County has bitten the boys basketball team, as well.
As Granite Hills head coach DAN DUFFY called it, "The Vegas hangover."
A long stay on the road in Las Vegas for a holiday tournament and plenty of time on the bus can fatigue and throw a team that typically has a great method, into a New Year's funk.
The team has to be quickly retrained for the rigors of the regular season.
It took a bit for the Eagles to shake off the rust in the first half of play as the score at intermission was, 29-19, despite Granite's obvious skill advantage.
There were quite a few missed shots and slow defense, along with rebounds that were hard to come by for Granite Hills.
In the second half, after a discussion in the locker room, the hosts knocked the Vegas hangover right out of themselves.
By the end of the 3rd quarter the Eagles were up 30, 52-22, and the Granite defense was on point.
A few beautiful 3-point shots and the Eagle defense made a few steals, blocks, and quite a few defensive rebounds put them on top for good for a great team win over the visiting Storm from British Columbia, 66-34, who fell to 6-4 on the season.
Granite Hills (8-3) will play at the Santana Classic against the Palos Verdes Yellowjackets (1-8) on Thursday, January 4.