Balanced Braves run clock on Raiders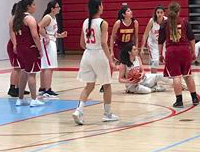 El Cajon Valley grabs a loose ball against the Southwest Raiders on Saturday.
EAST COUNTY PREP GIRLS BASKETBALL
EL CAJON VALLEY 55, SOUTHWEST (SD) 11
By Adam Paul
EastCountySports.com
The Braves, who came into the Saturday's non-league game against the Raiders ranked No. 10 in Division IV, really were able to play a balanced contest in their convincing victory.
El Cajon Valley got off to hot start as they were able to push out to a 6-0 lead thanks to a couple of quick 3-pointers and then were able to up their lead even further through defense and also rebounding.
Eventually, the Braves would push their lead to 21-0 and finally lead 23-0. With the Braves looking like they would shutout the Raiders in the quarter the Raiders finally were able to points on the board with a basket with :45 remaining in the period.
With the Lady Braves leading by such a wide margin they took a comfy lead into the second quarter.
They would push that lead to 28-2 and keep up the balanced play to eventually lead 40-7 at the break.
"We worked hard and coach (Carlos Moss) just told us to keep up the good defense and have fun," said El Cajon Valley sophomore Vean Gorgees.
Things were more of the same in the second half as the Braves were able to outscore the Raiders 12-4 in the third quarter to lead 52-11.
With the large lead by the Braves the final period would be played with a running clock in which El Cajon Valley would shutout the Raiders in the fourth quarter.
Gorgees, who came into the contest averaging 10.4 points a game, on the day for the Braves would nail 6 3-pointers en route to scoring a team-high 22 points.
Also scoring for the Lady Braves were Lilian Akintonde who put up 17 points, and Silvia Aboud who scored 8 points.
With the victory, the Lady Braves move to 6-8 on the season and will next take on Monte Vista at home in their league opener on Friday, January 12th at 5:30 pm.