Monarchs tough, but Scotties are kings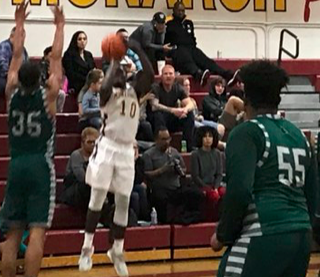 Monte Vista's Deondre McHayle takes a shot on Saturday night against visiting Helix.
2017 EAST COUNTY PREP BOYS BASKETBALL
By Dave Dickens
EastCountySports.com
SPRING VALLEY – It was predicted by the computers to be pretty close, but with Helix hoop in 2018, the computers are 0-2.
The visiting Highlanders started tonight's contest with a mark of 10-6 and the host Monarchs were 13-3.
Both squads have played some good teams and both were up for the task this evening.
Since both teams are very quick and have plenty of speed and precision passing, the game was predicted to be quite entertaining and competitive.
Monte Vista played competitive, but would ultimately lose the contest, 56-40, to the visitors from La Mesa. If you were in attendance, this game was much closer than the scoreboard would show.
As the first half came to a close and the gym was still filling up with last-minute stragglers, it was a close game as promoted, 29-21 Helix, with 2 quarters of play remaining.
Let us not talk about the officiating of the second half, or lack thereof, also this was not a typical Monte Vista style, or especially, not a typical Helix quarter of basketball, as both squads missed several shots on the outside in particular.
The third quarter came to a close, with the favored Scotties up 43-30.
The fourth quarter was more as the first half of play, as both teams, the professional teams that they are, cleaned up their miscues and finished with finesse.
If you were in attendance, this game was much closer than the scoreboard would show.
With wins this week, however, against both the Monarchs and Mount Miguel – both teams widely regarded as the top teams in the Grossmont Conference along with Helix – the Highlanders can currently lay claim to be the best in the Grossmont circuit.
The highlights for the home team, leading the way as the top scorer was DEONDRE McHAYLE with 15 points scored and 3-of-4 from the FT line.
AMIR CONLEY had 6 points for Monte Vista.
For the visiting Scotties, MAURICE HOLMES led with 14 points.
Helix's JAVON DAVIS added 12 points, including 4-of-4 from the FT line, and was a monster at the boards.
JAYLEN HINSON added 11 points and the only 3-pointer of the evening for the Highlanders, and was 4-of 4 from the FT line.
The Scotties (11-6) will play next at Olympian (10-5) on Tuesday the 9th at 7 pm.
Monte Vista (13-4) will take on the Grossmont Foothillers (9-7) at Grossmont at 6 pm on Tuesday the 9th.