Wet conditions mar conference play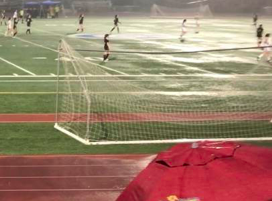 Grossmont and El Capitan slog on the turf on Tuesday.
2017 EAST COUNTY PREP GIRLS SOCCER
EastCountySports.com staff report
A big winter storm dumped a bunch of rain on the pitch right in the middle of several Grossmont Conference soccer games Tuesday afternoon…
GROSSMONT 3, EL CAPITAN 0 – Sideways showers and an inch of rain on the pitch slowed play, as the Foothillers improved to 9-3-1 with the non-league win over the visiting Vaqueros.
Sophomore MIA FOSTER, senior JACKIE RAMOS and senior AMBER HUFF found the back of the net for Grossmont.
ASHLYN DEAN earned the save in goal for the Hillers.
Grossmont is at Helix (6-1) on Thursday at 4:30 p.m. for a big non-league game against the Highlanders, who are undefeated at home.
HELIX 1, VALHALLA 0 – The fifth-ranked Highlanders got the non-league win over a game Valhalla squad in La Mesa on Tuesday.
Helix improved to 6-1, while Valhalla fell to 5-4.
Valhalla faces El Capitan on Thursday at 4:30 in Lakeside.
STEELE CANYON 1, POINT LOMA 0 – The 12th-ranked Cougars got a goal from junior OLIVIA ZELDON on an assist by sophomore JODI HAYS to take the non-league road win against the Pointers.
ALYSSA WARNER had four saves in the shutout for Steele Canyon.
RHIANNA SPECK got the Cougars' Player of the Match.
EL CAJON VALLEY 3, CRAWFORD 3 – The Braves are 2-6-3 after the road draw at the Colts.
El Cajon Valley has a home non-league game against Foothills Christian (0-5-2) on Friday, January 12 at 4:30 p.m.