Hinson's hot hand leads Highlanders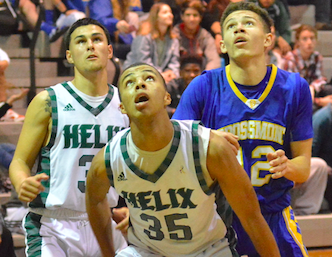 Helix's MAURICE HOLMES (35) positions for a rebound Friday night. / photo by Ramon Scott
2017 EAST COUNTY PREP BOYS BASKETBALL
EastCountySports.com staff report
LA MESA – The Helix Highlanders and Grossmont Foothillers kept the crowd entertained in the first half Friday night in the Grossmont Hills League opener, with the host Scotties holding on to just a 26-23 lead.
But Helix's defensive effort in the third quarter put the game under wraps, limiting the Hillers to just five points for the period to extend the lead to double-digits and the Highlanders knocked off the Grossmont, 60-48.
"We had a great defensive third quarter," Helix coach BRENNAN CASSADY said.
Helix jumped out to a lead in the first quarter behind the outside shooting of JAYLEN HINSON and board play by CARSON BAKER.
Hinson would finish the night with 22 points, including five three-pointers (four of them coming in the first half), while Baker added 16 points, corraled 11 rebounds and made four steals.
The duo combined for 23 of Helix's 26 first-half points.
The Highlanders led 10-5 with under two minutes to play in the opening session before a late flurry by the teams, including a three-pointer from Hinson, gave the Scots an early 15-10 edge.
Grossmont's Austin Odom scores in the first half Friday night as Helix led 26-23 at halftime. pic.twitter.com/Sty7PM68md

— Ramon Scott (@RamonScottPoker) January 13, 2018
Helix tried to extend the lead in the second quarter with a couple of surges, always keeping the advantage, but the Foothillers' hard work at the basket, including the play of brothers JAMIE and AUSTIN ODOM, kept Grossmont within striking distance.
Senior AMARI GREEN had seven assists and three steals.
"Amari did a great job distributing the ball and played great defensively," Cassady said.
JAVON DAVIS was Mr. Unheraleded once again for the Highlanders, coming off the bench and finishing with 14 points, eight coming in the fourth quarter, and five rebounds.
"Javon plays a huge role," Cassady said.
AUSTIN ODOM finished with 23 points for Grossmont including 12 in the first half. He finished with four three-pointers on the night.
Senior ISAIAH WOODEN has left the basketball team and de-enrolled from Helix Charter.
Helix, which will travel to Valhalla for its next game next Friday night at 7, improved to 12-7, while Grossmont fell to 9-8. The Hillers have a tough non-league home contest against visiting Mater Dei Catholic, one of the county's top teams, on Tuesday at 6 p.m.