On eve of league, Lancers top Hillers
Updated: January 12, 2018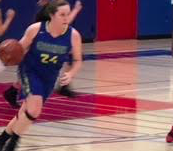 Emily Barnes, of Grossmont
2017 EAST COUNTY PREP GIRLS BASKETBALL
By Dave Dickens 
EastCountySports.com
EL CAJON (1-11-18)- The Grossmont Lady Foothillers were originally scheduled to compete yesterday. However, the game against Carlsbad was played on Thursday evening, and the result was not in favor of the Hillers.
Grossmont (7-5) has had an up and down season and their share of healings and injuries.
One of the key returnees last week was MARRISSA GILES, who against a tough Carlsbad defense, put up 1 3-pointer in the first quarter, and finished with 7 hard-fought points.
The lady Hillers managed only 8 points in the first quarter of play, and 17 total in the first half, down 27-17.
The second half was more of the same for the Lady Hillers, as once again the Lancer defense held the Hillers to only 17.
Not only was the Lancer defense stellar, Carlsbad put up 23 points in the third quarter, which took what wind Grossmont did have propelling their sail, out, as the Lancers picked up the win, 61-34.
In a game that was all Carlsbad, one player that stood out was EMILY BARNES, who had had 10 rebounds and 2 blocks in a contest not typical of Lady Hiller basketball.
"Carlsbad is a very talented team, as tough as I believed we played, we just couldn't generate the offense like we anticipated," said Grossmont's Barnes. "I think we did everything we could to compete, but in the end, we had too many costly turnovers.
With the return of Giles, a transfer from Christian High, in only her second game playing in a completely different system than she is accustomed to, and that a lot of the other team members are used to.
"The girls need to get used to the fact that they are playing in a higher division, teams are more competitive and will capitalize on our smallest miscues," said Grossmont head coach GRACE CAMPBELL. "This is going to be a very challenging season. Our schedule only gets tougher from here and we must find an answer."
Up next for the Grossmont Lady Hillers, a tough one at Helix (10-4) on Friday at 5:30 PM.
"We look forward to playing Helix, as they are another very competitive team, our offense will have to be flawless to compete with Helix," Barnes continued.