Wolf Pack defend territory vs. Cougs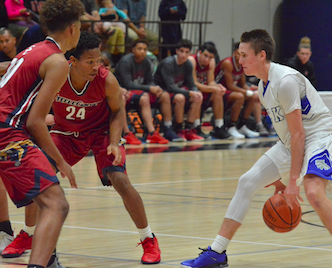 West Hills senior Cam Barry attacks against Steele Canyon on Friday night. / photo by Ramon Scott
2017 EAST COUNTY PREP BOYS BASKETBALL
EastCountySports.com staff report
SANTEE – The West Hills boys basketball team were a pretty proud pack after Friday's 55-46 Grossmont Hills League-opening victory over an equally tough Steele Canyon squad at the Wolf Pack's gym.
Senior scoring star CAM BARRY had 26 points, while teammate ADAM DILLON added 12 points for West Hills (1-0 GHL, 9-5).
The pair combined on seven three-point field goals in the game. Barry went 6-for-6 at the line and grabbed a team-high 10 rebounds, while Dillon hauled in eight caroms.
Despite the nine-point gap in the final score, the game was way closer throughout.
West Hills did manage a five-point lead early, then grabbed a 27-18 advantage in the second quarter.
However, the would pull to within 27-24 by intermission, then tied the game at 32-all during the third quarter.
Steele Canyon would take its first lead since a 7-6 edge in the first quarter when the Cougars led 37-36 late in the third period.
The Wolf Pack would lead 40-37 at the end of three, then went ahead by 10 points on three separate occasions in the fourth quarter.
"Tonight was truly a team effort," West Hills assistant coach TIM BARRY said. "ADAM DYLAN truly stepped up like a senior leader who wants to try and win a league championship. And CHRIS SCHROEDER played lock-down 'D.'"
West Hills guard MICHAEL TOTAH had five assists.
The Wolf Pack claim limited varsity experience with just three seniors, but certainly, the Pack can think they have more than a puncher's chance in the league races.
West Hills will compete in the Martin Luther King Classic at Christian High on Monday against Sweetwater (7-6) at 3 p.m. at Ryan Athletic Center.
Meanwhile, the Cougars (0-1, GHL, 6-4) will face a tough opponent in the San Diego Cavers  (12-5) in a tournament contest on Monday at noon.
Steele Canyon will resume league play at home next Friday against the 1-0 Granite Hills Eagles.