Cougars, Eagles ends in fitting draw
Updated: January 18, 2018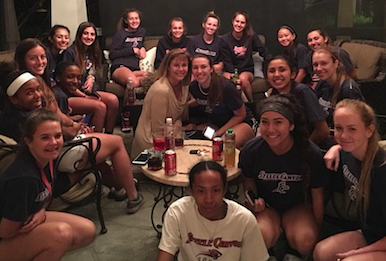 Steele Canyon gets together the evening prior to the game with Granite Hills
2018 EAST COUNTY PREP GIRLS SOCCER
EastCountySports.com staff report
GRANITE HILLS 0, STEELE CANYON 0 – In a matchup between two of the top six teams in San Diego County, the East County rival teams played out to a non-league draw in the highly-anticipated matchup of Grossmont Conference clubs.
The second-ranked Eagles (10-1-4) and sixth-ranked Cougars (7-4-4) made it a tense, defensive evening.
WEST HILLS 2, GROSSMONT 1 – The Wolf Pack (6-10-1) got out to a 2-0 lead at halftime and improved to 2-0 in the Grossmont Hills League.
EL CAPITAN 6, MONTE VISTA 3 – The Lady Vaqueros led 4-2 at halftime and stunned the host Monarchs to open the Valley League at 1-0.
CHRISTIAN 0, MISSION BAY 0 – Christian is now 1-1-1 in the City Eastern League and 10-3-2 overall after the road draw against the Bucs (0-1-2, 6-2-5)
SANTANA 7, MOUNT MIGUEL 0 – The Sultans improved to 1-0-1 in the Valley League.
HELIX 11, EL CAJON VALLEY 0 – The fifth-ranked Highlanders (7-0-2, 1-0-1) picked up their first Hills League win.
RIVER VALLEY 1, LIBERTY CHARTER 1 – The East County teams battled to a draw on Thursday in the Frontier-Patriot League's biggest game of the season-to-date.
The Leopards (4-5-1) are now 4-0-1, just 1/2-game ahead of the Lions (5-2-1), who are 3-0-1.
MOUNTAIN EMPIRE 4, JULIAN 1 – The Red Hawks led 4-0 at halftime and moved to 2-0 in the Citrus League and 9-2-1 overall.
Send soccer scores, highlights, pictures or videos to ramon@eastcountysports.com or text them to 619-300-9868.