ROUNDUP: Patriots, Matadors, Hawks win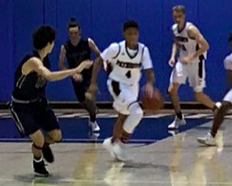 Christian comes up court against Scripps Ranch on Friday night.
2018 EAST COUNTY PREP BOYS BASKETBALL
EastCountySports.com staff report
EL CAJON  – The Christian High Patriots shot out of the gate against host Scripps Ranch, then held on to win, 63-60, to improve to 4-1 in Eastern League play Friday night at Ryan Athletic Center.
It was Christian High's fourth-straight victory as the Patriots are one-half game behind first-place Morse (4-0) in the Eastern League.
NASHOM CARTER hit a three-pointer to start the festivities and Welch added a field goal as the Patriots led 9-2.
#5 Nashom Carter with the 3 to start the game!!! pic.twitter.com/w8LTMZjbB8

— CUSSDPatriots (@CUSSDPatriots) January 20, 2018
DANIEL WELCH hit a short jumper in the lane for a 5-0 lead.
ISAIAH ROBINSON hit two three-pointers in the first quarter as Christian led 15-11 after one.
#4 Isaiah Robinson with the 3…12-5!!! pic.twitter.com/tEA1gIlP2D

— CUSSDPatriots (@CUSSDPatriots) January 20, 2018
Welch had the last bucket of the first half, as Christian led 22-18 at halftime.
#11 Daniel Welch with the last basket of the 1st half…22-18 PATRIOTS!!! pic.twitter.com/GBYPz6WwfW

— CUSSDPatriots (@CUSSDPatriots) January 20, 2018
With the score tied at 22-all, JORDAN GAINES hit a three from the left corner giving the Patriots a lead two minutes into the second half.
Gaines and Robinson hit three-pointers in the third quarter as the Patriots continued to lead.
#4 Isaiah Robinson for 3…31-25!!! pic.twitter.com/UMxvHPd9LV

— CUSSDPatriots (@CUSSDPatriots) January 20, 2018
DOMINIC SAFARTA had a three-pointer to close out the third quarter, along with a pair of free throws from Carter, as Christian re-established the lead, 40-34, with eight minutes left to play.
Christian had a dunk from JACKSON LARSEN in the fourth quarter to lead 46-37.
With 4:47 left, Welch had an inside bucket to give Christian a lead of 50-39.
With just under four minutes to play, Safarta had a steal and layup, making it 53-44 with just under four minutes to go.
Safarta added another three-pointer to give CHS a 58-46 lead, but the Falcons weren't finished.
#3 Dominic Safarta for 3…58-46!!! pic.twitter.com/PIg1vS0qIH

— CUSSDPatriots (@CUSSDPatriots) January 20, 2018
Christian held a 61-57 lead with just 1:12 remaining in the game.
Carter made a pair of free throws with five seconds left, making it 63-60.
The Falcons had a chance at a game-tying three-pointer.
MOUNT MIGUEL 72, EL CAJON VALLEY 39 – The Matadors improved to 10-0 at home this season and 2-0 in the Grossmont Valley League by dispatching the visiting Braves Friday night.
Mount Miguel (16-4) faces Monte Vista (1-0, GVL, 14-6 overall) on Tuesday in its next league game as the two teams expected to be the favorites in the GVL meet for the first of two meetings, this first at the Matadors' gym at 6 p.m.
MOUNTAIN EMPIRE 82, WEST SHORES ACADEMY 29 – Junior NATHAN ROSE scored 22 points and senior SAWYER ERNSBARGER added 18 in the Red Hawks' non-league rout.
Mountain Empire (6-9) will face Borrego Springs on Tuesday at 6 p.m. in a non-league contest at home.
HIGH TECH CHULA VISTA 86, LIBERTY CHARTER 60 – The Bruins won the Summit League game over the visiting Lions despite 24 points from senior CLINTON FULK.