These Matadors are just too good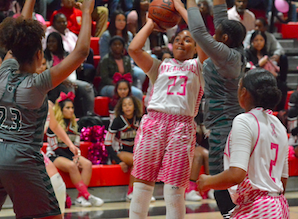 MOUNT MIGUEL FRESHMAN SYLENA PETERSON shoots on Friday night. / photo by Ramon Scott
2018 EAST COUNTY PREP GIRLS BASKETBALL
MOUNT MIGUEL 64, HELIX 24
EastCountySports.com staff report
SPRING VALLEY – The Helix High girls are a pretty good basketball team this season.
The Highlanders looked sharp and ready for the challenge in the first of two Grossmont Hills League meetings Friday night against the county's top team, the Mount Miguel Matadors.
Helix trailed just 10-9 with under two minutes left in in the first quarter behind SIMONAH BETTS' sharp shots, battling toe-to-toe with the 17-time defending league champions. The Highlanders even kept Mount Miguel off the scoreboard for the game's first two-and-a-half minutes.
But the undefeated Matadors are not your ordinary top-ranked team.
Mount Miguel, ranked 45th in the entire nation, turned up the backcourt heat defensively in the second quarter and quickly turned an interesting matchup into another Matador escotada.
Freshman star SYLENA PETERSON continues to be on the rise, as she came home with a game-high 23 points for Mount Miguel.
She was hot early, making shots inside and out. She had a pair of triples in the first quarter.
By midway through the second quarter, Mount Miguel was ahead 34-11.
Mount Miguel led 41-11 at halftime.
A few minutes into the third quarter, the Matadors were ahead 51-11.
Steady senior CAMARA DOUGLAS had 17 points for Mount Miguel. She had a three-pointer in the final minute in the first quarter, as well.
Mount Miguel's LALLI GURROLA, a junior who spends as much time hustling for the ball as she does working on her sharp three-point shot, had 15 points.
Gurrola hit a deep three from the right side in the opening minute of the second quarter that gave Mount Miguel a a 21-9 lead.
The Lady Highlanders will get another chance at the Matadors at their own gym to see how much they improved during the league season.
But for now, these Matadors are just too good.
The Matadors (17-0) are now 2-0 in the GHL and are at Grossmont on Tuesday at 6.
Helix (12-5, 1-1 GHL) will look to keep pace by hosting Santana (2-7, 0-2 GHL) on Tuesday at 6.