First-place Eagles are complete convocation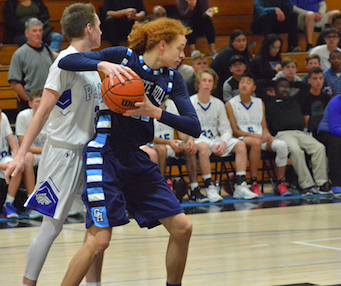 Granite Hills' XSAVIER SMITH comes down with a rebound in the fourth quarter Tuesday night. / East County Sports photo
2018 EAST COUNTY PREP BOYS BASKETBALL
By Ramon Scott
EastCountySports.com
SANTEE – The Granite Hills Eagles earned their second-straight Grossmont Hills League road win at West Hills on Tuesday night and moved into sole possession of first place.
And even though the Eagles know that a 3-0 start is really only a mere one-game lead over their closest rivals, including the Wolf Pack and Helix, give Granite bonus points for those ever-elusive victories away from home.
The Eagles continued their strong play from last Friday's monster comeback win at Steele Canyon by holding the county's leading scorer to a season-low output, then got a couple of big three-pointers late in the fourth quarter to decide a nip-and-tuck affair.
Eagles senior star MOSES SMITH poured home 26 points, while sophomore MCKAY ROBERTS and senior AUSTIN BALLO each canned a key three-pointer in the waning moments of the game for Granite Hills (13-5).
Ballo's three-ball gave the Eagles a 44-41 lead with just over a minute to play, then Roberts took a clutch shot and nailed it from behind the arc with under 30 seconds to go to put Granite ahead by four.
The Eagles kept up their momentum from Friday's win over the Cougars by bolting out to a double-digit lead against the Wolf Pack.
Smith scored 10 points in the first quarter as the Eagles appeared to dictate the tempo.
After the Pack made the first two buckets, the Eagles went on a 23-6 run well into the second quarter and led 25-21 at halftime as senior RAY CUERO scored six points in the second for Granite Hills.
West Hills finally caught Granite at 25-apiece and from there it was pretty much back-and-forth for the next several minutes.
The Eagles led 35-33 after three periods.
Senior CAM BARRY hit a pull-up jumper with 5:30 to play in the game to give West Hills a 38-37 lead.
Barry, the county's leading scorer at over 33 points per game, finished with 25 points and seven rebounds.
"DAVID COFFEY and JADEN SCHULTZ played very hard and did their best to slow down Barry," said Granite Hills coach DAN DUFFY. "(Barry) is an incredible player. He's going to get his, but our guys did a great job trying to slow him down. We were fortunate to get the win."
Smith scored eight points in the fourth quarter, as both he and Ballo made a couple of key free throws in the final stretch.
Senior ADAM DILLON added 10 points for the Wolf Pack.
"We never got in flow on the offensive or defensive end," West Hills coach TIM BARRY said. "Tonight we took a step backward, but Friday is another opportunity. Time to pick ourselves up and get ready for Friday."
The Wolf Pack will have another big battle on their hands, traveling to play Helix (13-8, 2-1 GHL) on Friday at 7:30.
The Eagles, meanwhile, put their undefeated league mark on the line with an always difficult third-straight road game when they travel to face Grossmont (10-10, 1-2 GHL)