Griffs defeat winless district foe Coyotes
Updated: January 25, 2018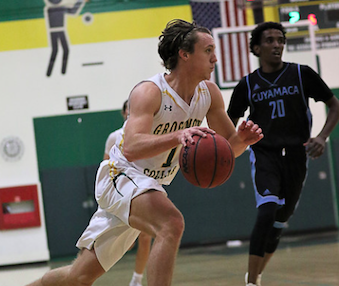 Grossmont's David Wheeler drives against Cuyamaca on Wednesday night. / photo by Don De Mars Photography
2018 GROSSMONT GRIFFINS MEN'S BASKETBALL
By Dave Dickens 
EastCountySports.com
EL CAJON (1-24- 2018)  -Two teams in a "rival" game headed in opposite directions met Wednesday night at the Grossmont College gym.
The game matched the Grossmont College Griffins and the Cuyamaca Coyotes, who are winless this season.
Grossmont remains healthy and is a definite playoff contender for sure, plentiful with talent, even the players off the bench, not to mention one of the best coaches in the league.
The Griffins were ranked 19th coming into Wednesday's contest, according to the CCCMBCA state poll as of January 15, so they could be higher after this evening, although the weaker opponent will also have to be considered.
Believe it or not, in the first half, the Coyotes of Cuyamaca were keeping pace with host Griffins.
The visiting Coyotes were able to add 6 points off turnovers, and relatively did not play like a winless squad, only turning the ball over 8 times to the Griffins 4, and Cuyamaca was 6-for-7 from the line, as well.
The Griffs, however, never looked worried or panicked, and actually a few Griffin players were overheard stating that they would come out in the second half and play harder and take control of the game, as they headed off into the locker room up 37-25 at the half.
The leader in points scored in the first half for Grossmont was RONALD BLAIN with 10, while he also added 3 assists, and 4 rebounds.
Grossmont's JOSH MORAN was 2-for-3 on 3-pointers.
"In the early portion of the first half on a 12-2 run we were trying to figure out what zone, we had different plays for different zones, instead of just playing," said Grossmont head coach DOUG WEBER.
The Griffins came out the second half with a plan, and figured out what plays fit with what zones.
The computers picked the Griffins to win by 30-plus.
As the second half continued, there were a couple of beautiful plays by the Griffin players, including a backward hook shot by BRYCE PARSONS.
Grossmont's DAVID WHEELER hit 3 beautiful 3-pointers, and the bench players were phenomenal.
The starters were taken out with 10 minutes remaining and bench players were up to the task.
JOSHUA BURTON, or as his teammates refer to him as "JB", was the leader in points scored off the bench with 11, including a three-pointer and 2-for-2 at the foul line.
The Griffins' KYLE RUIZ came off the bench to score 6 points, get 1 steal, hand out 5 assists, and grab 2 rebounds, while going 4-for-4 at the foul line.
"Kyle Ruiz played 30 minutes tonight and deservingly so," Weber said. "He has done well of when and what we have asked of him, he has really helped our starters quite a bit."
Blain was key to this win as well with 15 points, 5 assists, and 4 rebounds.
"Ronald Blain has got to grab more rebounds next game, he always does, he just needs a little more consistency concerning rebounds at his position," Weber said. "Although we want to leave him in and get him his double-double, as Ronald is seventh in the state, we also can't afford to lose him to injury."
About the Griffins' next opponent The Southwestern Jaguars?
"Don't be fooled by their record on paper, they are almost as talented as San Diego City, they lost to City by only 15," said Weber. "They have an All-Conference point guard and also another player that is committed to a Div. 1 school.
"We have watched some film and have one practice tomorrow to get prepared for another tough opponent."
The Grossmont College Griffins (14-7, 3-1), will travel to the South Bay to face the Jaguars (9-11, 3-1) on Friday, Jan. 26 at 7 p.m. at Southwestern.