McHayle winner keeps Monarchs in chase
Updated: January 27, 2018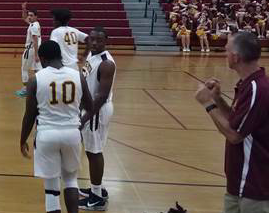 Monte Vista takes the floor on Friday night.
2018 EAST COUNTY PREP BOYS BASKETBALL
EastCountySports.com staff report
SPRING VALLEY – Monte Vista senior guard DEONDRE MCHAYLE scored with four seconds left, giving the host Monarchs a 51-49 victory over the visiting El Capitan Vaqueros in a Grossmont Valley League game Friday night.
With the game tied at 49-all, Monte Vista had possession of the basketball with 14 seconds left after the Vaqueros missed a pair of free throws.
"El Cap played it well," Monte Vista coach MIKE TULLY said. "We ran a play for McHayle and scored with four seconds left.
"We were able to hold."
Despite trailing 7-2 early, El Capitan got out to a 14-8 lead after one period as Vaqueros junior center RANDY TUCKER had three field goals.
Monte Vista (15-7) surged to the lead in the second quarter and took a 27-24 lead into intermission.
The game was tied 38-all after three quarters and neither team went up by more than four points over the final eight minutes.
McHayle scored 16 points the lead the Monarchs.
Senior guard AMIR CONLEY added 11 points for Monte Vista.
Senior forward JAKOB LOPEZ scored 16 points for El Capitan, including 6-of-7 from the charity stripe.
"Jakob Lopez did a good job attacking the paint tonight and getting to the free throw line," said El Capitan senior guard CHASE LOVATO, who had eight points, including 4-of-4 from the foul line in the fourth quarter. "It was a good game. It could've gone either way.
"We just need to finish our shots on offense and box out better as a team because they hurt us on rebounding."
Tucker added 14 points for the Vaqueros (7-14, 0-3 GVL).
Monte Vista will host Santana in a battle of 2-1 teams on Tuesday at 6 p.m.
El Capitan travels to face the El Cajon Valley Braves on Tuesday at 6, as well.