ROUNDUP: Baller Ballo leads Eagles
Updated: February 3, 2018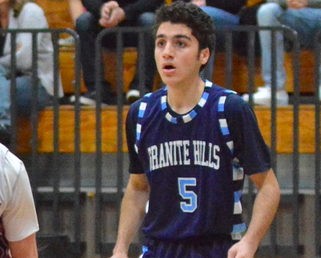 Granite Hills' AUSTIN BALLO.
2018 EAST COUNTY PREP BOYS BASKETBALL
EastCountySports.com staff report
EL CAJON – The Granite Hills Eagles knocked off rival Valhalla, 56-51, in a Grossmont Hills League game Friday night at The Thunderdome.
Senior MOSES SMITH led Granite Hills with 16 points, while AUSTIN BALLO and MCKAY ROBERTS both added 12 points
Smith added 15 rebounds.
"Always tough for us to play there," Granite Hills coach DAN DUFFY said. "Ballo had his best game in awhile.
The Norsemen were led by Ty Schimke, who had 15 points, freshmen Vencel Yousif, who had 13 points, and Ramzi Sultan, who tallied 11 points.
"(Valhalla coach KEITH) JACKSON has them playing hard from start to finsh," Duffy said. "Sultan and Schimke are very good varsity players. XSAVIER SMITH and DAVID COFFEE battled their best players all night."
FOOTHILLS CHRISTIAN 79, BISHOP'S 59 – Top-ranked Foothills Christian defeated Bishop's but not after an early scare from the hosts in a Coastal League battle.
Bishop's used the home momentum to take the lead in a track meet, 24-20, after one period.
But FCHS put a stop to the threat quickly by clamping down on the Bishop's upset bid.
Foothills outscored Bishop's 14-5 in the second quarter, then really ramped up the effort in the third quarter, putting up a 27-7 push out of the half.
Sophomore YASSINE GHARRAM led Foothills Christian with 23 points and six assists, while junior DERRICK CARTER-HOLLINGER added 21 points, 14 rebounds and four blocked shots.
Foothills junior JAREN NAFARRETE added 10 points for FCHS.
Naferrete and Gharram combined for eight steals.
Foothills Christian is 9-0 in the Coastal League and have now won 13-straight games.
CHRISTIAN 58, CORONADO 42 – The Patriots won on the Island for their third-straight victory to improve to 7-1 in the Eastern League.
Christian (14-8) led the Islanders 13-11 at the end of the first period.
The Patriots led 17-11 in the second quarter when Christian junior CHRISTIAN WEST attacked the basket for a hoop.
NASHOM CARTER his a floater in the lane for a 23-14 lead with 1:30 to go before halftime.
Carter followed that up with a step-back jumper from the free-throw line on the next possession.
The Patriots will face second-place Serra (6-2) in the biggest league game of the season on Tuesday at 5 p.m. in Tierrasanta.
MOUNT MIGUEL 79, EL CAPITAN 58 – The 12th-ranked Matadors improved to 5-0 in the Grossmont Valley League and 21-4 on the season by dispatching visiting El Capitan, 79-58, on Friday night.
The Vaqueros led 13-12 at the end of one period, but Mount Miguel outscored the Vaqueros 22-11 in the second quarter.
Then Mount Miguel came out scorching in the third, putting up 28 points in the period and extending the lead to 24 points.