Champ Patriots do unthinkable to Morse
Updated: February 11, 2018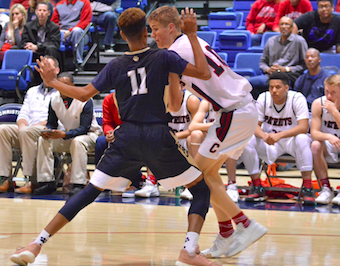 JACKSON LARSEN against Morse. / EastCountySports file photo
2018 EAST COUNTY PREP BOYS BASKETBALL
EastCountySports.com staff report
EL CAJON – The Christian High Patriots wrapped up the Eastern League championship on Saturday night, knocking off the Morse Tigers for the second time at Ryan Athletic Center in a little more than two weeks.
The Patriots hosted the league make-up game and won their sixth-straight game, 54-38, improving to 10-1 in Eastern play and 17-8 overall.
But how the Patriots choked the Tigers in the fourth quarter was the big story here.
It wasn't necessarily an easy task as the Tigers bolted out to a 16-9 lead.
Morse still led at halftime 29-24 and held on to a three-point lead heading into the fourth quarter.
That's when Christian's defensive effort went to another level.
The Patriots pitched a shutout at the visitors in the fourth quarter, keeping them off the scoreboard to a 19-0 register.
Christian recorded 18 steals in the contest and committed just four turnovers, which is a sure recipe for winning.
Senior guard NASHOM CARTER, who missed the last game with Morse sidelined with the flu, scored 22 points, grabbed eight rebounds, dished out three assists and recorded three steals in the championship-deciding game.
Also on Saturday, Carter announced his intentions to play basketball next season while attending San Diego City College. The Knights are currently the state's No. 2-ranked junior college team.
Christian High junior JACKSON LARSEN added 14 points and grabbed nine rebounds, while also recording five steals.
"We had to step it up," Carter said. "Defense wins championships, so we had to go out and prove it."
It was the first league championship for Christian since the Patriots were tri-champs in 2012. The Patriots are guided by first-year head coach DAVION FAMBER, who was a former player at City College.
Christian improved to 17-8 overall. The Pats are looking at a top-four seed or higher in the Division 2 postseason.
MOUNT MIGUEL 69, ESCONDIDO 62 – The county 10th-ranked Matadors improved to 25-4 overall by winning at The Den on the Cougars' Senior Night.
The Matadors, winners of ten straight games, are a sure lock for the No. 1-seed in the upcoming Division 3 playoffs.
Mount Miguel finishes the regular season at Santana next Friday at 7.