Highlanders clinch share of second straight Hills title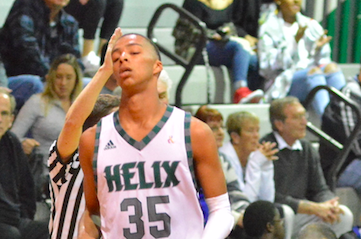 Helix sophomore MAURICE HOLMES
2018 EAST COUNTY PREP BOYS BASKETBALL
EastCountySports.com staff report
LA MESA – The Helix Highlanders clinched at least a share of the Grossmont Hills League championship by racing past Granite Hills, 87-69, at the Scotties' venerable gym Tuesday evening.
Helix (18-9) improved to 7-2 in the GHL with one-game remaining. The Highlanders can clinch the title outright with a win at West Hills on Friday night at 7:30 p.m.
Helix bolted out to a 25-12 lead with five three-pointers in the first quarter.
Sophomore MAURICE HOLMES led the Highlanders with 22 points. He also had nine boards.
Senior JAYLEN HINSON added 20 points, including three three-pointers, and eight assists, while senior BRADLEY DUNN continued his impressive increase in offensive production with 18 points for the Highlanders.
Helix senior JAVON DAVIS had 14 points, while senior CARSON BAKER added 10 points, six assists and 12 rebounds for the Scotties.
Dunn and Baker both canned a pair of three-pointers in the opening period.
Helix allowed 41 points in the second half to Granite Hills .
"We did not defend well tonight," Helix coach BRENNAN CASSADY said.
Senior twins MOSES and XSAVIER SMITH both had 18 points for Granite Hills.
Granite's AUSTIN BALLO added 15 points.
"We didn't shoot well from the free throw line (18-of-29) or the three-point arc," Granite Hills coach DAN DUFFY said. "We played very hard in a very competitive game. I'm proud of our effort.
"Helix shot very well and really hurt us from the three-point line."
The 14-10 Eagles led the league race early, but still appear ticketed to the Division 2 postseason with a first-round road game, but a win on Friday night against Grossmont at home at 7 p.m. would seal the deal.