ROUNDUP: El Capitan wins Valley title
Updated: February 14, 2018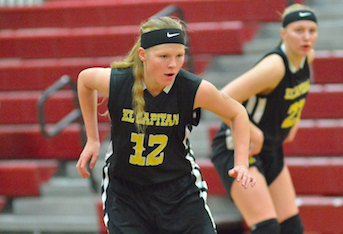 El Capitan's SHIANA PERES
2018 EAST COUNTY PREP GIRLS BASKETBALL
EastCountySports.com staff report
EL CAJON – The El Capitan Vaqueros officially clinched the Grossmont Valley League championship outright with a 61-29 win over the host El Cajon Valley Braves Tuesday evening.
El Capitan freshman MACKENZIE CURTIS scored 26 points, including 13 in the third quarter, where the Vaqs went on a 15-6 run during the quarter.
Curtis' Terror Twin, JORDAN GRANDY, celebrated her birthday by adding 14 points for El Cap, while SHIANA PERES contributed eight points.
"Jordan played really well, I was really happy for her," Curtis said. "We came out very slow but picked it up towards the end. Overall, we are happy with the results and we will be pushing each other tomorrow to get ready for Friday.
El Capitan led 16-5 at the end of one quarter, but just 26-16 at halftime.
"I think we work so well because we know what we both want and when we want it because we both want the same thing," quipped Grandy of her on-court chemistry with Curtis.
Right out of the gate, however, after halftime, the Braves had closed to within single digits.
VEAN GORGEES led El Cajon Valley with 19 points. She kept the Braves in the game early in the third.
"We had to pick up the pace by going to our full-court pressure," said El Capitan coach DARIN CURTIS. "We were able to turn steals into points and we closed hard the last half of the game."
El Capitan will try to complete a perfect league season when it faces Monte Vista in Lakeside on Friday at 5:30.
STEELE CANYON 52, MONTE VISTA 36 – The Steele Canyon Cougars improved to 5-2 in the Grossmont to clinch a second-place finish with a win over host Monte Vista Tuesday evening.
The Monarchs put the early scare in the visitors, leading 8-7 at the end of one.
However, the Cougars outscored Monte Vista, 24-9 in the second quarter.
Senior ELIZABETH BOTT scored a team-high 14 points for the Cougars. She also had three assists and three steals.
Junior LALA WADLEY had a most interesting scoreline with five points, five assists, five steals and five rebounds.
Freshman MAHKAYLAH CLINE had 13 points, all in the first half, and seven rebounds for the game.
Sophomore KHYLAYA BRANDY had 10 points for Steele Canyon (14-8, 5-2 Grossmont Valley League), including eight in the third quarter.
Senior center REAGAN JORDAN had eight rebounds for the Cougs.
Juinor SARA TAHA led Monte Vista with 15 points, while fellow junior TORRI HONORE added 10 points.
Both teams appear headed to the postseason, though the Monarchs certainly sit on the Division 4 playoff bubble.
"We need to be focused and healthy if we want to make a run in the D3 playoffs," Steele Canyon coach PETER RUIZ said.
HELIX 51, GRANITE HILLS 29 – The 18th-ranked Highlanders improved to 6-3 in the Grossmont Hills League as they battle for second place with West Hills.
The Highlanders also improved to 18-9 overall.
Helix led 16-7 at the end of one quarter and 32-13 at halftime.
The Highlanders and Wolf Pack will meet on Friday night in the season finale in Santee at 5:30 in what should be a great contest. Both teams are 6-3 in league.
BISHOP'S 67, CHRISTIAN 52 – The No. 8-ranked Knights stunned the Pats early with a 17-8 lead after one in a non-league game at Ryan Athletic Center.
Bishop's continued its dominance in the second quarter, going ahead 28-16.
SIMONE JAMES scored 16 points and KRISTEN WILLIAMS added 13 points for 13th-ranked Christian.
Williams had three three-pointers in the third quarter.
ZOE NORDLING scored nine points in the second half for Christian.
The Patriots will travel to face La Jolla on Friday as they will try to wrap up a perfect Central League campaign.
Christian will hold one of the top seeds when the Division 3 playoff pairings are announced on Saturday.