ROUNDUP: Boys wrap up league play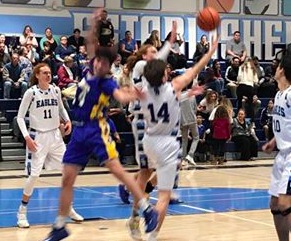 Granite Hills and Grossmont go for a loose ball on Friday night.
2018 EAST COUNTY PREP BOYS BASKETBALL
EastCountySports.com staff report
GROSSMONT 56, GRANITE HILLS 42 – Grossmont finished 6-4 in the Grossmont Hills League, good for a third-place finish, after knocked off the host Eagles on Senior Night.
Both teams are headed for the postseason.
"In the first half, we just couldn't finish around the basket," Granite Hills senior MOSES SMITH said, "We turned the ball over too much allowing Grossmont to score many fast-break layups."
The Eagles are looking at facing a top three- or four-seed in the opening-round contest.
"If we want to be successful in the playoffs, we need to be more energetic from the start," Smith said. We are a low seed to that means we will be playing better teams than we are used to. We need to make out shots and finish our layups."
The Foothillers figure to hit the road as well in the opening round of the San Diego CIF Division 1 playoffs.
MONTE VISTA 53, EL CAPITAN 42 – Monte Vista surged past the host Vaqueros in Lakeside to win the Grossmont Valley League game.
El Capitan rode the home-court edge for a 21-16 halftime edge.
The Monarchs came out strong in the second half and took a 36-34 lead after three periods.
Monte Vista brought it home in the fourth, outscoring the hosts, 17-8.
CHASE LOVATO scored 23 points for the Vaqueros.
STEELE CANYON 82, VALHALLA 60 – The Cougars did their part in a final push to the Grossmont Hills League title by winning their sixth-straight game.
ONTV getting #highlights of @valhallahigh vs @steelecanyonhs1 Great job #seniors @valhalla_ASB @Valhallasaga @cifsds pic.twitter.com/B37e0jBzm4

— Orange Nation TV (@orangenationtv) February 17, 2018
Steele Canyon earned a second-place finish in the tough league with a 7-3 mark.
Two of the Cougars wins came against league champ Helix.
Steele Canyon built a lead of 77-53 during the fourth quarter.
FOOTHILLS CHRISTIAN 84, FRANCIS PARKER 76 – The Knights rolled to a 30-point lead after three quarters before cruising home to complete a perfect 12-0 league season in winning the Coastal League championship.
Senior TAESHON CHERRY poured in 35 points, while DERRICK CARTER-HOLLINGER added 33 for the Knights.
YASSINE GHARRAM also had a big night, racking up 28 points for FCHS.