Frogs turn princely with upset of Monarchs
Updated: February 23, 2018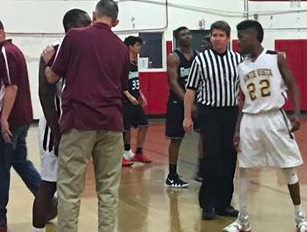 Monte Vista junior JAIDEN DAWN (22) during the fourth quarter on Friday.
2018 EAST COUNTY PREP BOYS BASKETBALL
EastCountySports.com staff report
SPRING VALLEY – The Guajome Park Academy Frogs used a 15-1 third-quarter run to turn a 26-20 deficit into a 35-27 lead en route to a 58-44 upset win over the Monte Vista Monarchs in a San Diego CIF Division IV quarterfinal game on Friday night.
Monte Vista senior DEONDRE MCHAYLE scored 18 points, while fellow senior AMIR CONLEY added 10 points in their final game as Monarchs.
Sixth-seeded Guajome Park (20-5), undefeated champs from the Ocean League, led the third-seeded Monarchs, 35-30, at the end of three.
McHayle knocked down a pair of three throws early the in the fourth to make it 38-35 in favor of the visitors, but after the Monarchs started feeling the need to press the Frogs, GPA handled it well, methodically moving the ball down the court for good, strong finishes.
Guajome Park had extended the lead to 12 points with 3:30 to go in the game.
Junior DEMARCUS MCKAN had a putback late for Monte Vista, but by that time, the Monarchs were in the foul game and the Frogs knocked most of them down.
Guajome Park senior Michael Simmons had a three-pointer in the first quarter to tie the game at 7-apiece.
Senior Amir Conley scored two of his 10 points in the first to give the Monarchs a 9-7 lead in the opening stanza, but the score was 9-all at the end of one.
McKan gave the Monarchs the lead on a free throw early in the second quarter, but the Frogs would take their first lead of the game and eventually led, 15-12.
McHayle had a free throw that tied the game, as the Monarchs led 18-16 at the half.
After two scoreless minutes to open up the second half, the Monarchs would open up a five-point lead, but sophomore Dage Lee keyed a Frog run and Simmons added a three-pointer to swing the advantage.
Guajome Park Academy puts the finishing touches on its 59-44 upset win at Monte Vista in D4 quarters. pic.twitter.com/VdUhFg8QHc

— Ramon Scott (@RamonScottPoker) February 24, 2018
For Guajome Park, Tiberius Ballard had 17 points, while Khalil Burrell added 14 points and Christian Garrett chimed in with 12 points.
Monte Vista finished with a strong 19-11 overall record.