ROUNDUP: Cougars advance to Open final
Updated: February 27, 2018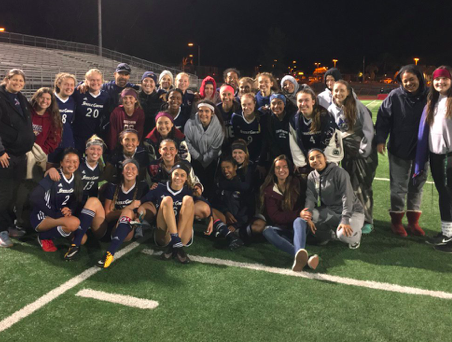 STEELE CANYON following its win in overtime on Tuesday evening.
2018 EAST COUNTY PREP GIRLS SOCCER
EastCountySports.com.staff report
POWAY – Steele Canyon's SAVANNAH THOMPSON scored on a throw-in from JAYLN LUPO in overtime for a Golden Goal win, 1-0, to advance the Cougars past Poway to reach the San Diego CIF Open Division championship game.
Lupo threw the ball in from about 30 yards when Thompson knocked in a deflected header into the goal just two minutes into OT.
The Cougars continued their upset run, but their confidence certainly doesn't resemble that of an underdog.
Steele already knocked off No. 2 Carlsbad to reach Tuesday's semifinal game with the Titans on the road.
The Cougars are now set for a return to the Open Division finals. Torrey Pines defeated Steele Canyon in last year's championship game, 1-0.
EASTLAKE 2, WEST HILLS 1 (Titans advance on PKs, 4-3) – The Wolf Pack and Titans played to a 1-all draw in the San Diego CIF Open Division semifinal in the South Bay on Tuesday.
The Titans advanced to the Open Division title game by winning on penalties. Eastlake will face Steele Canyon next.
After a scoreless first half, West Hills got a goal in the 54th minutes.
However, the Titans answered just two minutes later with the equalizer.
SCRIPPS RANCH 1, GROSSMONT 0 (Falcons advance on PKs, 3-1) – The game was a thriller throughout, as the teams battled to a scoreless draw through regulation and overtime.
AMBER HUFF drilled one home from the penalty spot, but the Foothillers were just 1-for-4 in the penalty kicks.
ESCONDIDO CHARTER 1, CHRISTIAN 0 – The White Tigers advanced to the San Diego CIF Division III championship game.