COUGARS RAKE ON OFFENSE IN VICTORY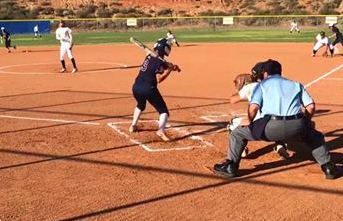 2018 EAST COUNTY PREP SOFTBALL
By Adam Paul
EastCountySports.com
STEELE CANYON 10, PATRICK HENRY 0 (5 INN.)
(3-1-18) – For the second game in a row, the Steele Canyon Cougars offense came alive to plate the runs needed to win in a decisive matter.
The offense for the Cougars picked up things from the previous night in the first inning as JJ Venzor would knock in Jazmin Alvarado (2-4, 2 R, 3 RBI, 3B) who led the inning off with a single to make it 1-0.
With one out in the bottom of the second, Amanda Whipple would be hit by a pitch, Taylor Thomas (2-3, R) singled which advanced Whipple to second, DJ Demeng (1-1, R, RBI) followed with another single to load the bases and a couple batters later with 2 outs Alvarado cleared the bases with a looper to right that went for a triple.
After a couple of innings of play, the Cougars led 4-0 and would add three more runs in the bottom of the third to lead 7-0.
Leading off was Audrey Bagge (1-2, 2 R) who singled to center, Bianca Morales (RUN) a couple batters later would walk and Whipple singled which scored Bagge, Thomas singled, Dumeng followed with a walk that scored Morales and the final run came when Whipple scored on a passed ball.
Patrick Henry would finally get a runner on when in the top of the fourth, Lauren Nett (1-3) led off with a single but would be stranded.
The Cougars scored a couple more runs in the bottom of the fourth to extend their lead to 9-0.
With a runner on in the top of the fifth, Putman hits a hard ball that goes for a single for the Patriots. Unfortunately, they couldn't get anything else.
Leading 9-0 in the bottom of the fifth the Cougars only needed to score one more run and they did so as Alvarado would come into score on a passed ball.
In the victory, Grace Richter tossed 5 innings of 2 hit, shutout ball and only walked 1 on the day.