Norsemen get in win column vs. Patriots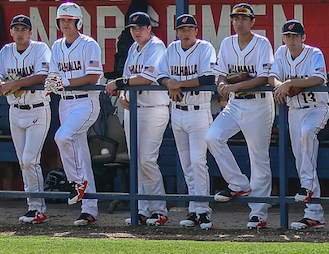 Valhalla Norsemen dugout. / file photo - Don De Mars Photography
2018 EAST COUNTY PREP BASEBALL
EastCountySports.com staff report
EL CAJON – The Valhalla Norsemen got into the win column on Monday afternoon behind a strong pitching effort from senior TANNER SMITH in a 7-1 victory over the visiting Christian Patriots in the Grossmont-Metro-City Tournament.
Smith pitched six innings, allowing just two hits, a walk, and one run while striking out eight Patriots.
"(Smith) did a great job mixing his pitches," Christian head coach MIKE MITCHELL said.
Smith would retire the side in the second, third and sixth inning.
The Norsemen would pick up all the runs they would need with two in the last of the first.
Sophomore KYLE CASPER had an RBI in the first inning with a double right center, scoring senior COLE HOWARD.
Casper also closed out the game on the mound with a scoreless seventh.
Christian closed to within to 2-1 in the top of the fourth when BRAD JEREMIAH doubled to center, scoring GARRETT NIELSEN (single) for the only Patriot base hits on the afternoon.
"The (Valhalla) pitching was good," Jeremiah said. "(Smith) wasn't over-powering, but he changed speeds well, which got our timing off. He was a good pitcher."
The Norsemen capitalized on seven walks, four of which came around to score.
In the fourth, junior CAMERON ZAMUDIO drew a bases-loaded walk for an RBI.
Valhalla opened the fifth inning with four-straight walks. MAX HAGEMAN (walk) and Smith (sacrifice fly) picked up RBI in the frame.
Junior JONAH ST. CLAIR had a double to drive in two more in the inning.
Patriot junior PEYTON BERROTH was another bright spot, going two scoreless innings on the hill, allowing just one hit.
Valhalla will host fellow 1-5 club Patrick Henry on Wednesday in the Grossmont-Metro-City Tournament, while Christian will meet up with 5-1 Otay Ranch in the South Bay.