Eagles show no reason for demotion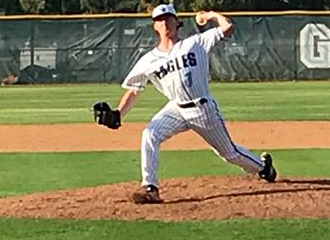 Granite Hills senior TREVOR HAZELHURST delivers on Monday.
2018 EAST COUNTY PREP BASEBALL
EastCountySports.com staff report
EL CAJON – Despite a pair of losses to teams currently ranked in the county top ten, the Granite Hills Eagles were bumped from the polls to start the week.
So the Eagles went out on Monday afternoon and dismantled eighth-ranked Madison, 11-5, in the opening game of the Dickens-Thompson bracket of the Grossmont-Metro-City Tournament.
Senior TREVOR HAZELHURST pitched 6 1/3 innings and drove in a couple of runs, while junior teammate SEAN MCGREW had three hits and four RBI for the Eagles.
McGrew drove in runs on a single in the third and a double in the sixth.
The Warhawks scored in the top of the first inning, but Granite Hills led 11-1 after six, as Madison scored four runs in the seventh.
Granite Hills senior BRADLEY HARRIS hit a three-run home run in the bottom of the sixth as the Eagles blew up a 5-1 lead.
McGrew added another run batted in during the late outburst.
The Eagles scored two runs in the third to take the lead when McGrew singled on a 1-0 count to drive in the first run and Hazelhurst singled on a 1-1 count for the 2-1 lead.
Hazelhurst surrendered two runs on four hits over 6 1/3 innings, striking out five.