Monarchs 2-0 in GMC; Matadors edged late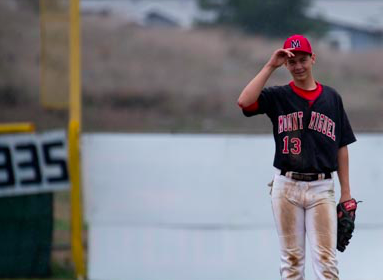 Mount Miguel's ERIK KELLY
2018 EAST COUNTY PREP BASEBALL
EastCountySports.com staff report
NATIONAL CITY – The Monte Vista Monarchs won their third-straight road game on Wednesday and second-consecutive game in the Grossmont-Metro-City Tournament by knocking off host Sweetwater, 4-2.
The Monarchs are officially off to a hot start to the season, now with a 5-2 mark, tied for the best in the Grossmont Conference. Two of Monte Vista's wins in its current streak have come against the Red Devils.
Monte Vista junior JON GULLEY was credited with the victory for Monte Vista, his second win of the season. He surrendered no runs on seven hits over five innings, striking out one.
Freshman ERNIE ARAMBULA came in and got the Monarchs out of a jam in the seventh which resulted in a pair of Sweetwater runs and left the tying run at second base when he coaxed a comebacker to end the game.
Sophomore ABRAHAM SANCHEZ drove in the first Monte Vista run in the top of the third inning, driving home Freshman JACOB SAVOY (walk) with a double.
"We are starting three freshmen in crucial positions," Monte Vista coach CRAIG NEU said. "The kids are leaning and improving every game. I am pleased with our start, but we have a long way to go."
Senior IVAN PLAZOLA followed with another two-bagger to score Sanchez for a 2-0 lead.
Sanchez and Gulley both singled and eventually scored in the fifth inning to put the Monarchs up 4-0.
Monte Vista returns home with its 2-0 tourney mark to face Castle Park at 3:30.
CASTLE PARK 7, MOUNT MIGUEL 6 – After the Matadors re-took the lead in the top of the seventh on a two-run single by sophomore ERIK KELLY, the Trojans won on a walk-off RBI single to cap their own three-run rally at the Grossmont-Metro-City Tournament.
The Matadors scored four runs in the fourth inning to take a 4-2 lead as singles by senior JOSEPH MENDOZA and junior AUSTIN ORTIZ sandwiched a double-steal, which resulted in a theft of home from freshman JOJO CASTILLO.
But Castle Park scored two in the bottom of the sixth to tie the game.
"Our boys played great," Mount Miguel coach FRANK COIT said. "Had a two-run lead with one out in the seventh, just haven't learned how to close teams out yet. They are progressing though. Learning how to win sometimes takes time."
Mount Miguel junior starter NICO CAMACHO went the distance, allowing four hits while striking out six.
"I knew it wasn't going to be an easy game and I had to throw the best I could," Camacho said. "Even though we lost, I feel like I threw a good game. I wish I could've gotten the last out and got the complete game win, but I had reached my pitched count limit and they took advantage of that.
"We are starting to hit in key situations and we are competing throughout the whole game."
Seniors ANGELO ZERTUCHE and RUBEN PRECIADO-TEJADA both scored a run and added two hits for the Matadors.
"Win or lose, great effort, they played hard for all 21 outs, nothing more we can ask of them," Coit said. "Hats off to a very gritty performance from Castle Park, we had two-run leads on them twice and they kept battling until they prevailed."