Pedrero, Wolf Pack make it happen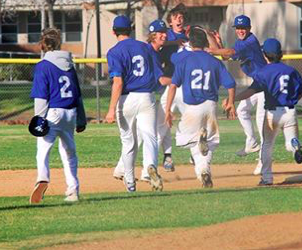 West Hills celebrates a walk-off win on Friday afternoon. / photo by Melissa Honick
2018 EAST COUNTY PREP BASEBALL
EastCountySports.com staff report
SANTEE (3-24-2018) – Some hustle, heart and determination finally moved the West Hills Wolf Pack into the win column.
A pair of two-out, scratch singles by Cody Pedrero and Andrew Ritayik, set-up a short chopper by Colton Corderman. And when the ball was thrown away at first base, both runners scored to send the Pack to a 3-2, walk-off victory over the Coronado Islanders.
The triumph snapped the 5-game losing streak by West Hills (2-6). Coronado, in dropping its first road game in four starts, fell to 4-4 in the GMC Tournament ballgame.
Pedrero struck out seven batters over six innings, but when he walked Coronado's first batter in 7th – the No.9 batter who eventually scored on a sharp base hit to center by clean-up hitter Tobey Brown to give the Islanders a 2-1 lead – it looked like another wasted effort despite maxing-out the pitch count.
However, after Coronado scored single runs in the 6th (unearned) and 7th to snap the pitchers' duel when the Pack failed to turn double play opportunities, the Wolf Pack responded both times.
"We won the key battles. We stayed positive. And we showed that we wanted it, too," said West Hills head coach Mickey Deutschman. "It was a big improvement by everyone."
Pedrero started the two-out rally with a grounder ticketed to centerfield. The Islanders second baseman gloved the ball, but the throw was way too late.
"We just needed to make something happen – and we finally did," said Pedrero. "We didn't allow us to beat ourselves again."
Ritayik's grounder went to third base, yet the Pack catcher – not known for his speed – was able to leg it out, with a wide throw allowing the tying run to advance to third base. One pitch later, Ritayik moved to second base on indifference, putting both runners into scoring position.
"We were thinking about bunting after Andrew took second base, but then Colton got two quick strikes on him," added the coach.
Just like Pedrero and Ritayik, Corderman hustled down the line, with the ball short-hopping the first baseman and landing out of bounds on top of the batting cage. By then, Riyayik was just reaching home plate.
In the 6th, down 1-0, Larry Schroeder collected a two-out RBI to get even the first time.
Gavin Kondyra led off by getting hit by a pitch, advancing on a Kai Dennis' sacrifice bunt. Greg Plale entered as a pinch-runner, scoring on Schroder's drive down the right-field line.
Kondyra earned the pitching win in relief. He struck out two Islanders. Ritayik and Schroder each collected two hits for the Wolf Pack, avenging an earlier 5-0 setback to Coronado.
West Hills next meets Mar Vista in the Lions Tournament on Monday morning. The game will be held at Mission Bay High, starting at 11 a.m.