LIONS: Highlanders beat state No. 8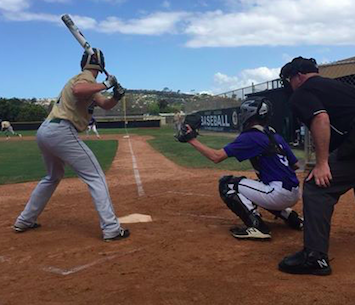 Mar Vista at the plate against West Hills on Monday in the Lions Tournament.
2018 EAST COUNTY PREP BASEBALL
EastCountySports.com staff report
LA MESA – The Helix Highlanders scored two runs in the bottom of the sixth inning and knocked off the state's eighth-ranked team, Elk Grove, 5-4, in the opening game of the Lions Tournament's Open Division on Monday afternoon.
Junior ERIC SMELKO singled home the game-tying run and senior BRANDON PETERSON drew a bases-loaded walk as the Highlanders, ranked fourth in the latest San Diego County media poll, improved to 7-2.
"I was happy with our effort today," Helix head coach COLE HOLLAND said. "We have not been down this year and battled back so we checked that box off today."
Junior GRIFFIN ZAMORA pitched six innings for the win, while sophomore JORDON THOMPSON wrapped things up in the seventh by striking out the side.
"I think I had a decent outing," Zamora said. "Not bad but not my best and I definitely have some things to work on. I think I used my offspeed very well and worked backward most of the game which forced their hitters to stay off balance and not know what they were getting next."
Helix junior DEVIN BAKER had two hits and drove in a pair of runs for Helix.
Baker put Helix on the board with the game's first run in the last of the second with a ground single to center after a pair of two-out walks to junior ADAM MARTINEZ and junior JOSIAH ESTRADA.
"I was looking for fastballs on the outer half and be able to drive it up the middle as we knew we were getting a good command pitcher," Baker said. "I was able to do that successfully to assist my team."
The Thundering Herd, defending Sac-Joaquin Section Division I champions, scored three runs in the top of the third to assume the lead.
Baker had an infield single for an RBI to pull Helix within 4-3 in the fourth, as junior CARLOS OQUITA (single) scored. One batter later, Helix later tied the game on an error.
"For our team as a whole, this was a big win because we faced a good team," Baker said. "This win set a positive tone for us as we carry on into the rest of the tournament."
Helix was facing an Elk Grove dynasty from the Delta League that has won three-consecutive section championships, seven in the last 10 years, and 10 section titles in the last 15 years.
The Thundering Herd was holding an even higher state ranking before a 2-0-2 start.
"Elk Grove is a very good program and they make you work for everything you get," Holland said. "Griffin threw really well today and we had some clutch hitting."
Martinez started the Scotties' go-ahead rally by reaching on an error.
Helix meets county fifth-ranked Torrey Pines on Tuesday at 3 p.m. in game two of the Lions Tournament.
EL CAPITAN 1, CALIFORNIA 0 – Vaquero senior ANTHONY BENEDETTO pitched a complete-game over the Condors from Whittier, striking out three, to lead El Cap to an opening win in the Lions Tournament 6A Division, snapping a four-game losing skid.
Senior STEVIE MONTEJANO doubled home a run on a 1-0 pitch with a hard shot down the left field line in the bottom of the first inning.
Lions Tourney cont…RBI ! pic.twitter.com/RpNeAheexh

— Steve Montejano-2018 (@SteveM1306) March 26, 2018
After a rough first inning, that was all Benedetto would need.
Benedetto walked the first two batters of the game, but then picked off a runner at second, then got out of the inning, striking out a batter for the third out.
Benedetto also had a pair of hits in the contest. He allowed six hits on the hill. He did his hardest work in the fifth after an error loaded the bases with two outs.
In the bottom of the first, senior SHAYNE CUNNINGHAM led off with a walk. Then HUNTER MARKLE grounder into a fielder's choice, but ended up scoring on Montejano's line two-bagger to left.
El Capitan (3-6) will host Del Norte in the Lions event on Tuesday at 3.
SANTANA 7, CLAIREMONT 3 – The slugging Sultans are getting a reputation for their big run-scoring innings.
For the fourth-straight game, the Sultans put up at least a four-spot or more, as Santana (2-7) got a six-run surge in the sixth inning to get past a fast-starting Clairemont outfit, 7-3, in the Premier Division of the Lions Tournament on Monday.
Despite a six-game losing streak coming in, Santana's offense has been far from sluggish.
The dividends finally paid off against the Chieftains, as the Sultans erased a 3-1 lead then closed it out in the seventh behind the complete-game effort of junior BEN HART.
Santana's SEAN IVERSON started things off with a walk, then a few batters later, freshman TYLER GLOWACKI drew a bases-loaded walk to start the scoring carousel in the sixth.
Senior TC SIMMONS lifted a sacrifice fly to center field, scoring senior CAMERON KANE (HBP) for a 4-3 lead.
Senior BEN SAMPSON singled to left to drive in Glowacki, then JOSH NUNEZ was hit by a pitch with the bases loaded for another RBI.
Hart struck out seven and walked none, throwing 98 pitches, including 68 strikes. He allowed three hits and two earned runs.
Santana's AIDEN DONOVAN drove in Santana's first run in the fourth for a 1-0 lead. He added a second RBI when he capped the scoring in the sixth with a bases-loaded walk.
STEELE CANYON 8, CRESPI 1 – Senior left-hander TREVOR BACK pitched a complete-game three-hitter for his second victory of the season and the Cougars banged out 13 hits in the Lions Tournament Premier Division win in Spring Valley.
Cougar junior RICHIE PEDRIN went 3-for-4 including a two-run double in Steele Canyon's three-run fourth, increasing his batting average to .462 on the season.
"I feel comfortable at the plate," Pedrin said. "I try to hit the ball as hard as I can to all fields. I want to be a threat to the other team with my bat, glove, arm, and speed. Thanks to the Lord, he's helped me have a great start to the season."
The Cougars scored a pair of runs in the bottom of the first capped by an RBI single by JOSH ESQUIBEL (2-for-3).
Junior AARON TAYLOR (2-for-2) also drove in a run for the 3-5 Cougars, who face Santana today at noon in the Lions Tournament in a battle of conference foes.
Junior ELI PAGE went 2-for-3 and scored two runs for the Cougars, while senior MATTHEW BRINKMEIER went 2-for-3, including an RBI single in the fourth, and stole three of SC's eight thefts on the base paths.
"The team is starting to come together as the season progresses," said Pedrin, who had two of the steals.
Sophomore ANTHONY MATA had two RBI, including a sac fly in the bottom of the third for Steele.
CLACKAMAS (Ore.) 10, GROSSMONT 5 – Seventh-ranked Grossmont dropped its Lions Tournament Open Division game to the visiting Cavaliers on Monday.
Clackamas enjoyed its arrival and scored five runs in the first inning, but despite the lopsided look of the final score, this game was contested late.
The Foothillers trailed 6-0 after one-and-half innings but climbed back in the game with runs in the fourth, fifth and sixth innings to close the lead to 6-5.
Senior JESSE GARCIA drove in four runs with two hits, including a double in the fifth inning that brought Grossmont to within 6-3.
"I feel that as long as a simplify my body action and keep loose and relaxed it allows me to read the ball better and make solid contact," said Garcia, who is hitting .407 so far this season and leads the team with two home runs and eight RBI.
" Over the past few years on varsity, I have learned to focus better, stay relaxed, breathe, and do my best to stay short and quick to the baseball."
Garcia made it 6-5 with a two-run single to left in the sixth.
"My job is to score runs to help my team and as long as I make good solid contact I will be able to help my brothers win," Garcia said. "I wish that we could've stayed focused and played as a team better to get the win. Every team has those days, and I know that we are a close group of guys that will learn from this loss."
Sophomore GIO GIGANTE went 3-for-4 with a run scored for the Hillers.
Junior ZAK FARRIS had two hits, including an RBI double in the fourth for Grossmont's first run, and a run scored.
The Cavs put the game away with four in the top of the seventh.
"We can't afford to make this many mistakes and win a high school baseball game, especially playing in the top division of the Lions Tournament," Grossmont head coach JORDAN ABRUZZO said. "We will be ready tomorrow and we better play harder."
WESTVIEW 8, CHRISTIAN 4 – The Patriots continue to get beat playing a very strong schedule, as this time, the fast-rising Wolverines, ranked 13th in the county, picked up another win, capturing the Lions Tournament Classic Division opener.
Christian High senior BRAD JEREMIAH went 3-for-4 with two doubles and two RBI.
Westview manufactured a run in the first and led 3-0 when the Patriots put up a couple of runs in the top of the fourth.
Junior OWEN EASLEY doubled home Jeremiah (single) with a shot to center.
Sophomore ALEX MARKOWICZ followed that up with a sacrifice fly to bring CHS to within a run.
However, Westview would score four in the bottom of the fourth.
"We didn't make some plays when we had to," said Christian coach BRYAN MITCHELL "We made some big errors in some big situations and struck out in too many times with runners on third and less than two outs."
The Patriots (4-6) had their distractions in the field.
"They bunt in the first, and we don't field the bunt and then don't cover third so the runner goes from first to third and still have no outs," Mitchell said. "And dropped a double play ball with bases loaded and one out.
Jeremiah drove in his runs with a seventh-inning double, scoring senior GARRET NIELSEN and senior JAKOB BECK (walk).
Christian will host Palo Verde, of Las Vegas, on Tuesday in the Lions Tournament at 3.
WEST (Anchorage, AK) 5, Foothills Christian 3 – The Eagles from Alaska scored three runs in the bottom of the fifth to snap a 2-all tie in their season opener in the Lions Tournament at Helix High.
It was another close loss to the Knights, who still sport a 6-4 overall mark.
"We are just short of players," Foothills Christian head coach DAVE LEWIS said. "Two guys are out of town and with three guys in the sit out period, we're too thin."
Foothills Christian tied the game at 1-apiece in the top of the third when JALANI BROWN was hit by a pitch with two out. He eventually came around to score.
Sophomore JACK WURTS had two hits and drove in a run for the Knights.
Wurtz singled in the top of the sixth to put runners at the corners with no outs.
Senior TREVOR SMALLWOOD (walk) eventually tied the game with two out on a passed ball.
"We lost that game because we did not hit well," Smallwood said. "I do not blame anything on our young guys because they are going out there.
Smallwood had a workman-like effort on the mound with five innings, allowing two earned runs and striking out six.
"I feel like I did ok today. I haven't been myself on the mound lately, but I think I am slowly getting back to my old form. My curveball was not that good today, I would either leave it up or it would be in the dirt. My go to pitch today was my fastball."
Wurts' seventh-inning single with two outs drove in sophomore CORBIN HARRIS.
The Knights would load the bases with two out, but West got out of it without further damage to hold on for the win.
"We've now lost three games by a total of four runs and it's tough to ask guys to play at this level when we're so young," Lewis said. "Offensively we left too many runners in scoring position. We are having trouble with situational hitting which is not surprising with a very young team.
"Only eleven eligible players and six of them are freshmen. We had five freshman on the field and our pitching is really thin with guys not here.
"Saying all that, we are that close to being 9-1. Just gotta try and get through this week. "
Freshman KIP FAMOLARO is part of the Knights' young crew getting thrust into a starting role. The catcher was filling in at shortstop on Monday, one of several infield positions he's played out of necessity.
"We have a lot of guys in new positions including myself and we're all adapting," Famolaro said. It's tough to take another loss especially when it stayed so close. I know once our bats start rolling and everybody gets settled in we'll come out on top."
The Knights will face the Central High Spartans on Monday at Mount Miguel High starting at 3 p.m. in another Lions Tournament 3A Division game.
MAR VISTA 2, WEST HILLS 1 – A season of frustration continued for the West Hills Wolf Pack, which saw three key plays prove decisive in a 2-1 loss to Mar Vista in Monday's(Mar. 26) opener of the 67th annual Lions Invitational at Mission Bay High. The event is the longest running tournament west of the Mississippi River.
West Hills fell to 2-7 on the season.
Runs by the Mariners in the first and fourth inning came on balls which barely eluded West Hills defender.
West Hills also just missed tying the game late when a squeeze bunt was fouled off, but straight into the catcher's glove for an easy tag out at the plate.
West Hills sophomore starter KAI DENNIS went 4 1/3 innings, allowing two runs on four hits and striking out five.
"I'm sure most pitchers try and throw a complete game and that's what my hopes were going into the game, but my pitch count wasn't in my favor," Dennis said. "Maybe if I would have done better hitting my spots and I wasn't as fatigued as I was I would've been able to stay in the game longer."
Wolf Pack junior GAVIN KONDYRA came on to retire all five batters he faced, aided by a diving grab and throw by second baseman PEYTON HONICK.
"After warming up in the bullpen, I knew I had my best stuff," Kondyra said. "I felt like I could get anyone out in any situation I was put in. Even though we did not come out with the win, I was happy with the way my team competed."
Junior DEVIN BEVILACQUA had two hits for West Hills.
"I believe all my success comes from all the extra work I put in the cages after games, practices, and even on off days," Bevilacqua said. "Also listening to advice from my coaches consistently."
Sophomore catcher Andrew Ritayik, who threw out a pair of Mar Vista baserunners, opened the West Hills sixth with a leadoff walk. Clean-up hitter Bevilacqua followed with a base hit to place runners on the corners, chasing Mariners starting pitcher Jake Borst.
A wild pitch advanced Bevilacqua into scoring position, then pinch-runner Steven Cristini scored on an RBI groundout by Gavin Kondyra.
Deutschman then signaled for a squeeze bunt. It's one thing not to get the bunt on the ground, but the poor West Hills luck saw the ball not only fouled off, it went straight into the glove of the catcher, who forced Bevilacqua out of the basepath for the second out.
"Good ballgame on both sides, I thought our club played well we just had three unfortunate mishaps," said West Hills head coach MICKEY DEUTSCHMAN. "The second basemen's foot slips and a throw from the catcher sails just over his glove on a steal, had he not slipped, we get a key runner out.
"It's been a difficult year. We've been playing much better ball over the past week – the pitching staff has been nails all season – but we're just not getting the break or two we need to get past some of these ballclubs."
Mar Vista's initial run saw clean-up batter Eddie King send a line drive to shortstop. Wolf Pack defender JOE THRAILKILL leaped for the ball, but it just tipped off the glove for a base hit to left, scoring the runner from third base.
In the fourth, Victor Herrera saw a blooper to right field barely elude a defender. He advanced around the bases on a sacrifice bunt, a ground ball, then a two-out base hit by Diego Garza.
DE TOLEDO 13, EL CAJON VALLEY 3 – In a Lions Tournament contest at Eastlake High, the Jaguars from West Hills, the second-ranked team in Southern Section Division 7, beat the Braves in the 1A Divison opener.
The Braves' AARON RODRIGUEZ went 2-for-2 with a walk, an RBI and a run scored.
"Every game that I play I go in with full confidence and give it my all," Rodriguez said. "On every team, we all make mistakes but from those we learn. This game, although there were many mistakes, at the end of the day we know what to work on for the next game and succeed."
Rodriguez hit a shot over second base scoring the Braves' first run in the bottom of the second to make it just 3-2 in favor of de Toledo at the time.
Rodriguez also hit a triple to right field in the contest.
El Cajon Valley's GREG SANCHEZ went 2-for-3 with two RBI on a single to right, driving home Rogriguez and JESUS FAVELA (HBP) in the fifth.
"Aaron Rodriguez and Greg Sanchez performed well at the plate," El Cajon Valley head coach CLIFTON THOMAS said. "Offensively, we never answered when they scored, and that really hurt us."
PAULO MICHEL, a senior, had a hit, stole a base and scored a run for the Braves (1-3).
"Today we came out flat and it showed," Thomas said. "Our lack of performance on one end carried over to the other side, we just couldn't get anything going today. We'll get back to the drawing board and try to have different outcome tomorrow against Hoover."
SOUTHWEST (El Centro) 7, MONTE VISTA 1 – The Monarchs thought they were on Spring Break, as Southwest scored two runs in the second and three runs in the sixth inning to take the Lions Tournament Division 5A game in Spring Valley Monday afternoon.
Ethan Ross got the win for Southwest going 6 2/3 innings, allowing three hits and one run while striking out 15.
ABRAHAM SANCHEZ had two hits for Monte Vista and drove in the only run.
Senior ZACH MANUEL pitched 1 1/3 innings of scoreless relief for the Monarchs, striking out one.
Monte Vista (6-3) committed three errors in the field.
"We need to shake this game off and play better tomorrow," Monte Vista head coach CRAIG NEU said.
Tuesday's game is against Taft, of Woodland Hills, at noon, in a Lions 5A game at Mater Dei Catholic High.
ROCKLIN 5, VALHALLA 1 – The Lions Tournament Premier Division game was tied at 1-apiece after four innings, but Rocklin High scored a pair of runs in the fifth and six innings to grab the win at Bonita Vista High.
JACOB BARBA drove in the Norsemen's run in the fourth with a bunt single which tied the game.
KYLE CASPER and MAX HAGEMAN both had a pair of his for the Norsemen.
Senior TANNER SMITH allowed two earned runs over six innings of work for Valhalla (2-7).
Valhalla will meet Mountain View (Bend, Ore.) on Tuesday in the Lions Tournament in a game played at Valhalla at 11 a.m.