Helix offense parties at Hilltop's expense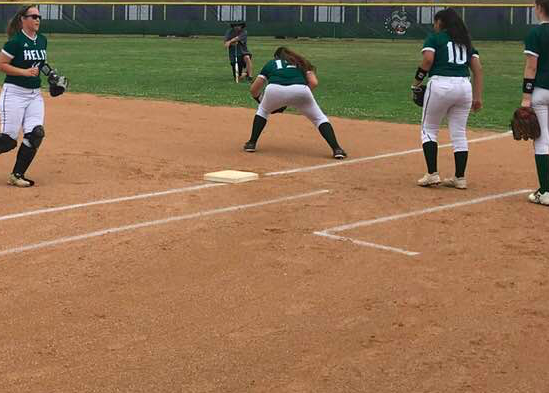 Helix players warm up prior to the game on Monday.
2018 EAST COUNTY PREP SOFTBALL
By Adam Paul
FALCON FIESTA TOURNAMENT
HELIX 11, HILLTOP 6
The Highlanders overcame an early deficit to get the bats going to put away the Lancers in pool play.
Things got interesting in the top of the first when the Lancers scored a couple of runs courtesy of a couple hits and an error to take a 2-0 lead. Despite trailing early the Highlanders actually put it together not too long after as in the bottom of the second inning when they erased the two-run deficit.
Leading things off Laurali Patane (2-4, 2R, 3B) singled. She would end up at third when Nicole Hernandez (2-3, 2R, 2 RBI) walked and Zoe Kulhken singled. With the bases loaded up came Alofa Collins (1-1, 2R, 2 RBI) who tied the game at 2-2 with a hit. Helix would add three more runs thanks to RBI singles by Avery Perez (3-4, R, 4 RBI, 2B) and Erin Brown (1-4, RBI).
In the bottom of the third inning, Hernandez drove in Patane. Helix would have the bases loaded thanks to a single by Bella Bordine (2-3) and a walk by Collins. They became unclogged when Perez bashed a double to make it 9-2.
Hilltop would comeback with four of their own thanks to six straight singles in the top of the sixth.
However, the slim 9-6 lead would be given some insurance as Helix was able to push across a couple more runs in the bottom of the sixth to lead 11-6.
With the five-run lead, Kuhlken took the circle for the top of the seventh and easily retired the Lancers to complete the victory.