GMC FINALS: Patriots, Monarchs win titles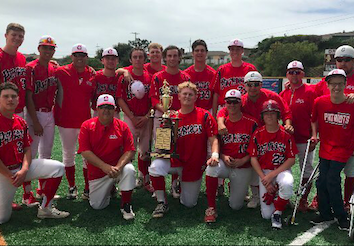 2017 GMC TOURNAMENT DIVISION 2 CHAMPION CHRISTIAN PATRIOTS
2018 EAST COUNTY PREP BASEBALL
EastCountySports.com staff report
POINT LOMA – Christian High freshman TRENT NIELSEN cranked a grand slam in the bottom of the seventh inning, lifting the Patriots to a 10-8 victory over the Valhalla Norsemen in the Grossmont-Metro-City Tournament Division 2 championship game on Saturday at Point Loma High.
Nielsen slammed a 1-0 pitch to left field for his second big hit of the tourney title game. He added a two-run double in the third.
"It feels good to finally be winning," Nielsen said following his blast. "First off the bat I thought I popped up, but (Valhalla pitcher KYLE) CASPER was throwing hard enough that the ball just carried out.
"Casper threw me a middle-high fastball, and I was sitting on it and let it fly. It feels really good to beat our East County rivals."
The Patriots' rally was aided by three walks, two of which came with two out.
The Norsemen looked to stun Christian early with three in the first and two in the second.
Casper drove in two runs before the first out, driving in sophomore RYAN PEROT and senior JACOB BARBA, who led off with back-to-back singles.
Perot and Casper added RBI singles the second.
The Patriots got back in the game with four in the third, highlighted by Nielsen's double to center, scoring senior GARRET NIELSEN (walk) and senior BRAD JEREMIAH (fielder's choice, RBI) to make it a 5-3 game.
Sophomore ALEX MARKOWICZ continued his strong week with an infeld single, scoring Nielsen.
But Valhalla scored three in the top of the fourth to re-assume command.
Barba singled to center, scoring senior TANNER SMITH (single).
Then Casper doubled to left for an RBI.
Valhalla junior MAX HAGEMAN added a sac fly for an 8-4 edge.
The Patriots added single markers in the fifth and sixth, including a sac fly by senior JAKOB BECK to make it 8-6.
MONTE VISTA 5, MATER DEI CATHOLIC 4 – The red-hot Monarchs won the GMC Tournament Division 4 final in eight innings over the Crusaders.
Monte Vista senior DERRICK WILEY put the Monarchs in front with a two-run double in the top of the eighth.
"My first three at-bats were unsuccessful," Wiley said. "My fourth at-bat was a crucial point in the game with bases loaded and i was able to come through with a two-run double that won the game.
"It was a great team win, we played hard and competed."
Monte Vista senior IVAN PLAZOLA threw three innings of relief to get the win.
"The kids played hard and completed all game," Monte Vista coach CRAIG NEU said. "It was well played on both sides. It was a great game.
The Monarchs also improved to a suddenly-impressive 9-5, compared to the ranks of local outfits, and now have a three-game winning streak heading into the Grossmont Valley League opener this week against Mount Miguel.
"'I'm feeling confident going into league at 9-5," Wiley said. "It was a great win for a young team, I think we have a good chance in league."
Sophomore ABRAHAM SANCHEZ  had two RBI for Monte Vista.
Mater Dei Catholic evened things up at 2-all in the bottom of the fourth inning.
Monte Vista starer JON GULLEY allowed no runs on four hits over 2 1/3 innings, striking out two.
EASTLAKE 13, HELIX 2 – Let's just say the Titans officially have the Highlanders' number for now.
That number would be 11, as in the number of times in-a-row Eastlake has defeated Helix.
Junior Ricky Tibbett allowed one earned run over four innings as No. 2 Eastlake won the Bill Dickens-Gordon Thompson Division of the Grossmont-Metro-City Tournament over the sixth-ranked Highlanders at Granite Hills High on Saturday.
Eastlake (12-2-1) won the GMC's top division title game for the second-straight year. The Titans scored two in the first, including a leadoff home run from Micha Pietla-Wiggs, who had four RBI on the day.
Helix's AUSTIN KRETSCHMAR hit a home run in the bottom of the second to make it a manageable 2-1 margin.
But the Titans scored three in the third and seven in the fourth in a merry-go-round of base hits.
"I would say it's a combination of both bad baseball on our part and better baseball and luck on their part," Kretschmar said. "The only positive to take away from today is that now we know how it feels when we don't execute our plan at the plate.
"We'll use that to learn from and make sure it doesn't happen again as we go into league."
Helix (11-4), which was out-hit, 17-3, moves on to Grossmont Hills League play this week against the Santana Sultans. The loss snapped a four-game winning streak.
"To be honest, we did not do much right today," Helix coach COLE HOLLAND lamented. "They beat us in every aspect of the game. My fault, I didn't get them ready to play. We just didn't perform. I will wear this one.
"We are going to have to play better baseball than we did this week in order to compete for league let alone play in the open playoffs."
CLASSICAL ACADEMY 5, STEELE CANYON 2 – The Cougars fell to the Caimans at the Falcon/Pirate Classic on Saturday.
Classical had a 4-0 lead through 6 1/2 when Steele broke through with a pair of runs in the bottom of the inning.
LUKE ARIAS and RICHIE PEDRIN drove in runs with back-to-back, two-out singles.
"I take my hat off to Classical they showed up ready to play today," said Pedrin, who went 3-for-4. "Unfortunately, we came up short. The team hit the ball hard today but unfortunately, we couldn't find the holes. We will be ready for the next game."
Cougar leadoff hitter AARON TAYLOR went 3-for-4 to move over the .500-mark for the season.
"Well, it's high school baseball every team," Taylor said. "If your guys provide, then the team will dominate. Their guys provided today, but that doesn't mean they are better than ours.
"Our guys did produce in situations last week, but league will be different than this one. The only team that's on our mind right now is Valhalla."
Steele Canyon opens up Grossmont Valley League play this week with an intriguing opening matchup with Valhalla.
"As a team, we have been inconsistent and as the head coach I take responsibility for that," Steele Canyon mentor JESSE EVANS said. "We know that when we play our game for all seven innings we can play with anyone. We are excited to start league play, and we are going to give it everything we have to make a run at a league championship.
"We are excited to start league play, and we are going to give it everything we have to make a run at a league championship.
Steele Canyon junior third baseman ELI PAGE had a hit and drew a walk.
"I know my place on this team, Page said. "I know that I'm not a big stick that goes yard, so I play to my advantages. I have a versatile glove and over this seasons duration, I have played almost every position in the infield.
With the Cougars looking to make something happen following his two-out walk, Page got caught on an aggressive try going home in the third.
"Today we were lacking the high energy that we need in order to succeed. But our team is not down and out. I came out of today's game with a renewed energy and fire that I know will transfer into the next game.
"I believe I'm on this team to hit line drives and make every play that comes my way along with doing the little things because little things are what win ball games."
The Cougars put the first two men aboard in the last of the seventh on singles by junior CARLOS CAMACHO and Taylor, but a pair of hard lineouts ended the game.