ROUNDUP: Cougars knock out Monarchs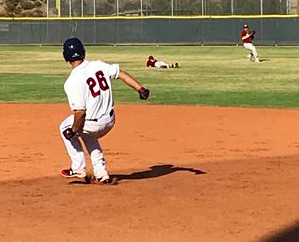 Steele Canyon's RICHARD PEDRIN makes the turn at first following a diving attempt by Monte Vista on Thursday.
2018 EAST COUNTY PREP BASEBALL
EastCountySports.com staff report
SPRING VALLEY  – In a showdown between two of the red-hot top three teams in the Grossmont Valley League, the Steele Canyon Cougars made a statement in an 18-4 win over the visiting Monte Vista Monarchs Thursday afternoon.
Cougar junior BILLY TELLOUS homered drove in four runs and Steele Canyon belted out 23 hits in what looked to be a contentious game early on.
But steady and durable Cougar hurler TREVOR BACK settled in for the long haul to record his fourth complete game of the season and let his teammates' bats do the talks.
"We all played awesome," Tellous said. "We were very aggressive and played good defense, not the best, but with Trevor Back you know your gonna get another opportunity and I think we're starting to click at the right time just before the end of league and the playoffs."
The Cougar offense allowed the players to get loose and be themselves on the bench, eventually giving football linebacking star Tellous the what-for regarding his footwork defensively at first base.
"On the play at first when I tried to keep the ball fair, I was like a football wide receiver trying to get his feet down in bounds," Tellous said. "And also the one where I should've had the guy on the pick and I fell over, I didn't judge the ball right and I messed that one up for my third baseman (ELI PAGE)."
Tellous drove in a pair of runs to help the Cougars take a 4-1 lead after one inning, but Monte Vista rallied right back in the second with three runs to make it a 5-4 Steele lead.
"We got the win so I'm excited because now all that matters is we gotta keep winning until we get to play Valhalla and let them know who the best team in the (Grossmont) Valley is," Tellous said.
Leading 6-4 after 3 1/2 innings, the Cougars scored six in the fourth and four in the fifth to deflated the Monarchs' road effort.
Tellous, who has worked on backspinning shots to left field, hit a line-drive solo shot to left in the fifth inning to put the Cougars ahead 13-4.
"I hit the opposite field shot and I don't really watch the ball that often and off the bat," Tellous said. "I was thinking double and rounding first at full speed my coach said slow down and I realized it was out."
Steele Canyon's DANNY YANEZ, RICHARD PEDRIN, ANTHONY MATA, ELI PAGE, and AARON TAYLOR all drove in runs in the six-run fourth.
Mata's hard single to left scored LUKE ARIAS. The sophomore went 4-for-4 on the afternoon, giving him eight hits over the last three games.
"My approach at the plate was to be aggressive in the zone looking for fastballs," Mata said. "When I saw those pitches that I was looking for I just put a good solid swing on the ball and the rest took care of itself."
Yanez had three hits, including a pair of booming doubles, scoring twice.
"I've been feeling really comfortable at the plate and the hard work is starting to pay off," Yanez said. "Our team is doing great and I know we'll keep it this way."
Pedrin went 3-for-4 and scored three runs, raising his season batting average to .404.
"Monte Vista is always a great competitor," Pedrin said. "Our coach (JESSE EVANS) got everyone extra pumped up before the game. 
"Everybody from the top to the bottom did their job today. We came out and played Cougar baseball which reflected in the score."
Back got the win, as struck out six and walking none.
"Our offense did really well," Back said. :I started to get the feel for my pitches today but it took me until the third inning to be where I wanted to be. I feel like it wasn't my best outing but it was enough to get the win."
While Steele Canyon went with their main man on Thursday, the Monarchs will wait until game two of the two-game set to counter with their star on the mound.
"Trevor Back threw a good game," Monte Vista coach CRAIG NEU said. "He is their ace and he pitched like one today. We have our ace going tomorrow. I fully expect the same type of performance from IVAN (PLAZOLA) tomorrow.
Monte Vista scored three runs in the second inning as freshman ERNIE ARAMBULA and senior JON GULLEY each drove in runs
"We made too many mistakes to win," Monte Vista coach CRAIG NEU said. "They capitalized off of some key errors. I give their hitters credit. Every time our pitchers left a ball up in the zone they crushed it. I tip my cap to Steele. They played better than us today. It is only one game.  We will be ready to play them tomorrow at our place."
The Monarchs got a run in the first inning when Plazola singled for an RBI.
"We swung the bats well," Neu said. "We just couldn't contain Steele Canyon's offense."
Monte Vista's ANDY CANEDO went 3-for-3, while teammate DIEGO SANDOVAL added a pair of hits.
I always focus on putting a good swing on pitches," Canedo said. "I always look to hit the ball hard and help my team to victory but today wasn't a good day. But we are going to come out ready tomorrow to play some ball.
The teams conclude the two-game set on Friday at 4, as the Cougars will face the Monte Vista senior ace.
"We have to bring our A-game tomorrow because the Monarchs will be gunning for us," Pedrin said. "I have a great respect for the Monte Vista team.
"We have to try to get ahead in counts and dictate our own at-bats. This means swinging at fastballs early and often and battling off tough pitches. (Plazola) is a great competitor and I accept his all on the mound at his home field but we are ready and riding a string of strong wins."
After Friday's game, the Monarchs meet Valhalla in a two-game set next week.
"As I told my guys at the beginning of the year, you have to dethrone the champions if you want to win league," Neu said. "It has been no secret, the league title goes through Steele Canyon or Valhalla every year."
SANTANA 6, GRANITE HILLS 5 – TIMMY TISCHER singled home the game-winning run in the bottom of the seventh inning as Santana rallied for four runs over the last two frames to defeat the 12th-ranked Granite Hills, 6-5, in a key Grossmont Hills League game Thursday afternoon.
Tischer, a senior, singled to center on the first pitch of the at-bat, driving in pinch-runner TRISTAN TAYLOR to cap the comeback.
Freshman TYLER GLOWACKI started the winning sequence with a single to left.
"Well, it was a team win," Tischer said. "Many different players made a big impact and our bullpen and bench came in very clutch. But it was a great way to end the week and we are looking to keep this going."
The Sultans improved to 2-3-1 in the GHL, sending the Eagles to .500 in league (2-2), but still just one-game out of first place.
Granite Hills scored three runs in the second inning, as CLAY FORDHAM tripled home a pair of runs for a 2-0 lead.
"First pitch was a four seemer on the outer-third of the plate," Fordham said. "Went with the pitch and drove it over second into the gap. The ball rolled to the wall so it certainly was hit in a good spot but I'm not getting to third base without sprinting the whole way there."
The Eagles took a 4-1 lead in the top of the fourth when BRAD HARRIS singled to center with one out, scoring TK PARKER, who led off the inning with a single.
The Sultans' LANDON WOOD singled home JOSH OEDEWALDT in the bottom of the fourth to bring the Sultans back to within 4-2.
"Great overall team win," Wood said.
However, Harris drove in another run with a single to left, driving in Parker (single) to make it a three-run game again at 5-2.
In the bottom of the sixth inning, however, Santana tied the game with a three-run rally.
Tisched singled to left field with one out, scoring BRANDON GLOWACKI, who led off the inning with a walk.
DAVIN BURROUGHS hit a hard single to center, driving in Tischer.
Moments later, TYLER FITZGERALD (walk) scored on a wild pitch, tying to score at 5-all.
"A couple of pitches could've had better execution to them," said Fordham, who got tagged with the loss. "But my pure stuff felt good. I had a good sinker change and slider working.
"Hats off to Santana. They laid off some good-speeded and scrapped some hits in timely situations. They played good baseball down the stretch and took advantage of mistakes when they needed to.
"Some losses hurt more than others. Just gotta bounce back stronger the next time out."
Critical in the win was the relief effort of Santana junior pitcher RYAN JAGGARD, who pitched 1 2/3 innings of scoreless relief to get the win. He struck the side in the top of the seventh.
"Great team win today," Santana coach RIGO LEDEZMA said. "Wood and Jaggard both pitched great out of the bullpen."
Santana will face the league-leading Grossmont Foothillers in a two-game set next week, while the Eagles host the El Capitan Vaqueros on Friday at 4.
HELIX 4, EL CAPITAN 3 – Helix senior CHRIS PERULESKI earned the win in his first start of the season and sophomore ALONZO RICHARDSON came on to earn the save, as the seventh-ranked Highlanders held off the Vaqueros in a Grossmont Hills League contest in La Mesa.
The Highlanders scored a run in the bottom of the first on an RBI single by BRANDON PETERSON, which drove home Richardson (single).
Helix added two in the fourth on a two-out double to right by DEVIN BAKER, extending the margin to 3-zip.
"My mind at the plate was the let the pitcher come to me and hit a pitch that I wanted, not one that he wanted me to swing at," Baker said. "Also I was looking for a pitch to drive anywhere on the field and was able to come up with that double."
Helix junior CARLOS OQUITA upped the lead to 4-0 in the fifth with a line single to center, scoring Peterson.
The Vaqueros' three-run sixth made things very interesting heading into the final frame.
BLAKE PEYTON had a sacrifice fly to get El Cap on the board, as ANTHONY BENEDETTO (single) came in to score.
El Capitan senior SHAYNE CUNNINGHAM then drove in STEVIE MONTEJANO (double) and AUSTIN BELL (walk) to make it a 4-3 contest.
Peruleski allowed four hits and two runs over 5 1/3 innings, walking one.
"Great defensive plays all around the diamond," Peruluski said. "Hats off to Brandon Peterson with some great plays in key situations. All around great team effort, which led to the win."
Richardson, who had a pair of hits, closed out the Vaqueros with a 1-2-3 seventh on the hill.
"I was happy with CP's first start of the year he was really good," Helix head coach COLE HOLAND said. "And Zo was Zo at the plate and on the mound."
Helix (2-1-1, 14-6) will host Grossmont on Friday in a huge Grossmont Hills League game, while El Capitan will travel to face Granite Hills on Friday. Both starts are at 4.
FOOTHILLS CHRISTIAN 3, TRI-CITY CHRISTIAN 0 – Senior TREVOR SMALLWOOD was terrific once again, as he pitched a four-hit shutout for his first complete game of the season, striking out 10 and walking one, and the Knights moved into first place in the Ocean League by a half-game after sweeping two games from the Eagles this week, including Thursday's road win in Vista.
Foothills Christian would get all the runs it would need in the top of the third with a pair of two out singles by BAILEY LEWIS and Smallwood.
Smallwood leads FCHS with 15 RBI this season. He also improved to 4-2 on the mound, lowering his ERA to 2.41.
"My go-to pitch was my fastball," Smallwood said. "I feel like the team as a whole did very well today. We executed with timely hits and our defense was amazing today."
Foothills played errorless defense, but on the other side, the Eagles committed six errors.
"We had great defense," Foothills Christian coach DAVE LEWIS said.
The Knights added an insurance run in the seventh when freshman TYLER KENNEDY doubled home JALANI BROWN.
Foothills Christian (3-1 Pacific, 14-9 overall) will be in a two-game set with Maranatha Christian next week.
VALHALLA 10, EL CAJON VALLEY 1 – Valhalla remained in the Grossmont Valley League lead by a half-game after easily dismissing the Braves for the second-straight day as sophomore pitcher JOSEPH INGRASSIA allowed one hit over six innings, striking out 10, to earn the win.
This one remained more competitive than Wednesday's one-sided affair, as the Norsemen carried a 5-0 lead into the bottom of the sixth, when they tacked on five more.
Senior COLE HOWARD drove in five runs on the afternoon.
Howard drove in runs on an RBI single in the first, a three-run triple in the third, and an RBI double in the sixth.
Also in the Valhalla sixth inning, JACOB BARNA hammered a two-run triple and TANNER SMITH added an RBI single.
The Braves' PAULO MICHEL got his team on the board with a single to right in the seventh.