FORMER EL CAJON VALLEY STAR WATSON IS UCLA-BOUND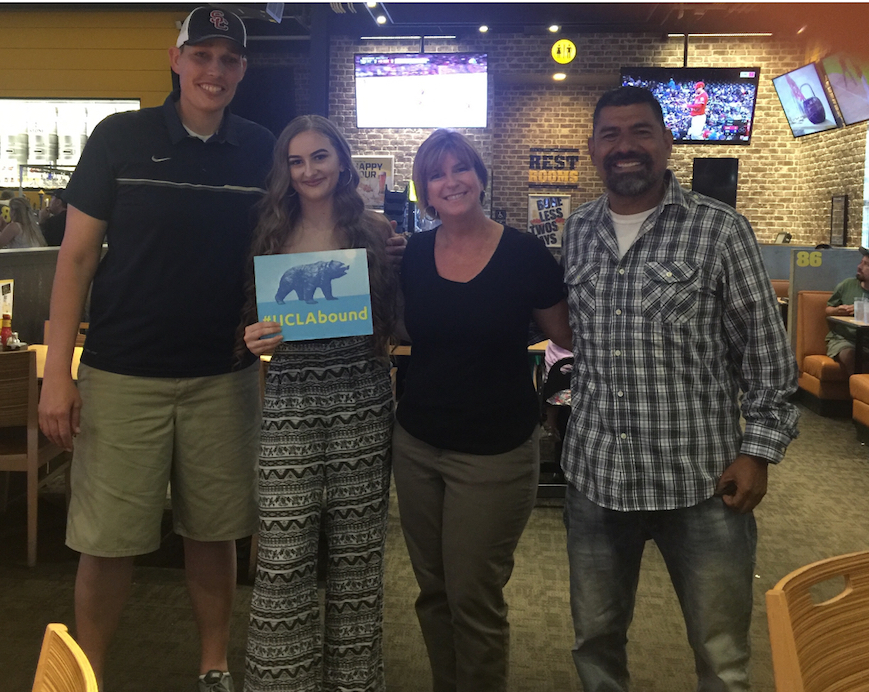 EAST COUNTY PREP BASKETBALL
By Dave Dickens
EastCountySports.com
EL CAJON (5-7- 2018) – It has been just short of 24 hours that former El Cajon Valley basketball star LEANNA WATSON, announced to family and friends at Buffalo Wild Wings in Santee that she had committed academically to the University of California Los Angeles.
Everyone in attendance wasn't expecting this type of surprise, but it was well received and with great excitement. What a joyous occasion for a young athlete and scholar. So many smiles, even proud instructors, past and present gathered at young Leanna's side.
"After I visited UCLA, I didn't side against it, I just wasn't convinced that it was the school for me. At first, I was really nervous and I developed knots in my stomach, thinking about leaving my mother and sister. I could have easily chosen a school in San Diego, USD or SDSU, but after weeks of going back and forth, I came to the realization that I wanted to get out of San Diego County, out of El Cajon, experience something completely different," said Watson
UCLA was the only school that made Leanna excited and enticed her, she knew that it would challenge her and cause her to discover new talents and strengths that have possibly been lying dormant.
"I'm not sure what I want to major in as of yet, but right now I'm leaning towards psychology," said Watson.
We asked Leanna how she felt about being a walk-on.
"I honestly don't know what my chances are when it comes to walking on at UCLA. At this time I'm taking it day by day, and I have visited SDSU and USD, many times before, and also many basketball camps at those schools," Watson said.
Watson had considered community colleges as well, such as, Grossmont and Southwestern, but her main goal was to leave San Diego and start fresh.
"I want to challenge myself and If I had stayed where my roots are, it wouldn't have happened," she added.
Watson will graduate on June 6 from El Cajon Valley High School and currently holds a 4.21 GPA.