GROSSMONT'S JACK HYDE IS USD-BOUND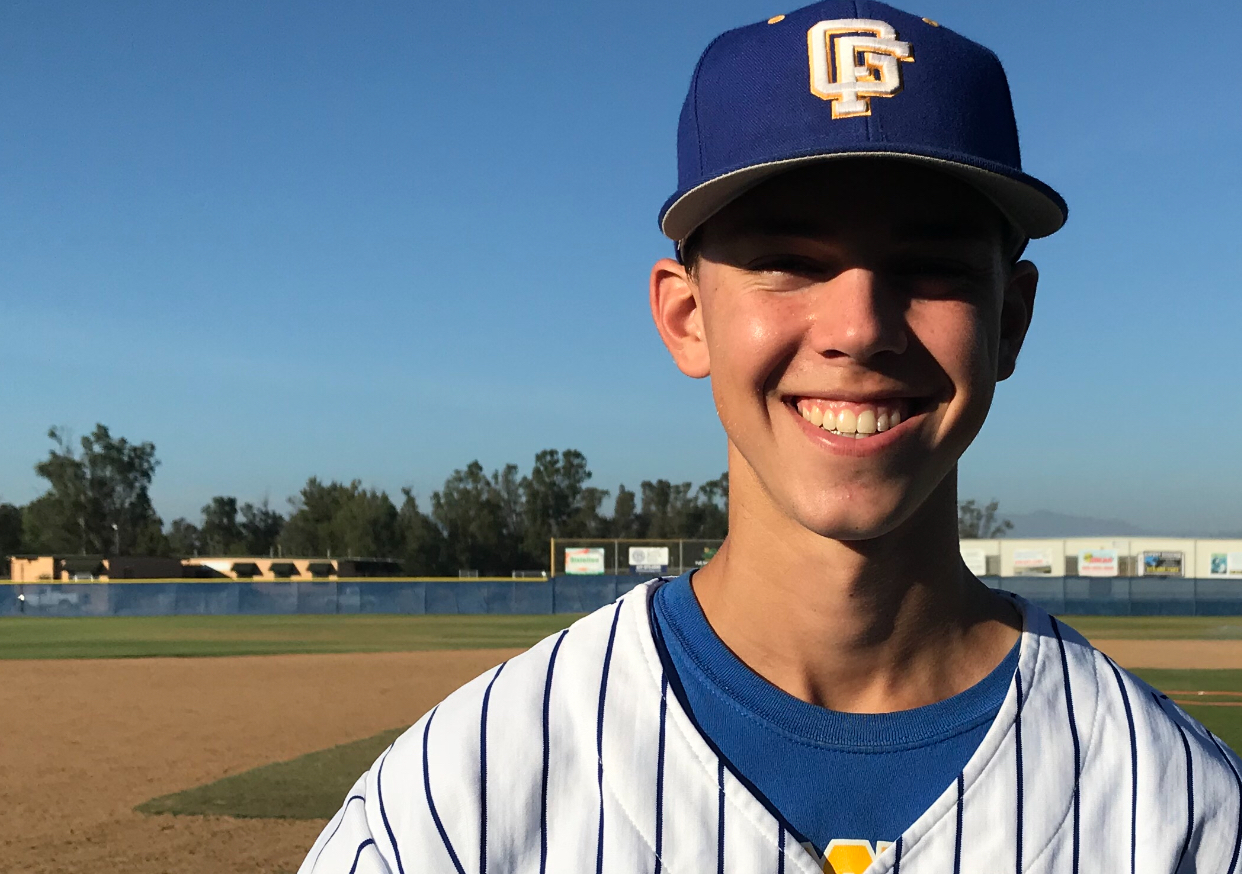 Grossmont senior JACK HYDE
2018 EAST COUNTY PREP BASEBALL
By Dave Dickens
EastCountySports.com
LA MESA (5-7- 2018) – It is official, junior right-hander JACK HYDE has committed to the University of San Diego.
The official news came via Grossmont head coach JORDAN ABRUZZO to EastCountySports.com.
Our staff was just as pleased and excited for this young talented athlete, who is currently the ace of the pitching rotation for the Foothillers.
Jack has been named the Max Preps Player of the Game three times so far this season, not to mention the East County Sports
Athlete of The Week during the third week of this baseball season.
We are all quite sure these are just the beginning of many more awards of outstanding performance.
The week ECS recognized Jack as the Athlete of the Week was for a no-hitter he pitched against nationally-ranked Bishop Gorman at the 67th Lions Tournament. He struck out seven and walked one.
Facing just two over the minimum, he threw 85 pitches, 58 for strikeouts. Hyde lowered his ERA at the time to 1.84.
Jack currently has six wins and a 1.91 ERA in 47 2/3 innings pitched, with 44 strikeouts, and opponents are batting .267 against him.
Although Jack Hyde has chosen USD, several other colleges had shown great interest such as Stanford University, Santa Clara University, UC Irvine, UC Santa Barbara, and even nearby SDSU.
"I visited all of the campuses with the exception of Santa Clara, only due to the fact that they had come in much later," Hyde said. "The scouts showed great interest in my demeanor on the mound and my aggressive pitching style and were mainly excited about my projected future."Said Hyde.
When questioned about his possible major and GPA, Hyde replied, "I am undeclared and my current GPA is 4.4 weighted and 4.0 unweighted."
Jack's average fastball has been clocked at 87 mph, and it tops out at 90.
When questioned after games many times this season about his favorite and most effective pitch, he refers to his slider.
When all of his friends, family, and teammates found out he was committing to the University of San Diego, they were all extremely excited and happy for the young right-hander.
Jack's ultimate landing spot of choice is to end up in the major leagues as just like any serious athlete like himself, it has always been a dream for this talented young man.
When questioned if one of the main reasons of choosing USD was to be close to home?
"Yes it was part of my decision, but in the end I just felt very comfortable and connected to USD," Hyde said.
For the present, Jack Hyde is concerned with helping his Grossmont Foothillers make it to the SDCIF Open Division playoffs, they do have a legitimate chance of doing just that.