Braves, Monarchs part of playoff class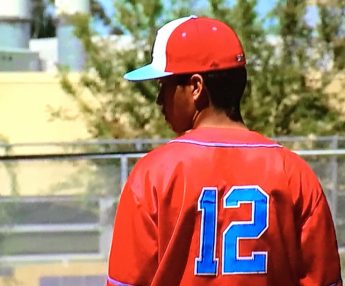 El Cajon Valley junior Greg Sanchez
2018 EAST COUNTY PREP BASEBALL
By Dave Dickens
EastCountySports.com
EL CAJON (5-21-2018) – The SDCIF Division 5 playoffs begin at Vista on Tuesday, as the El Cajon Valley Braves (5-19, 0-14 Grossmont Valley League) take on the Eagles of Tri-City Christian (14-12) at 3:30 pm. The Braves are on a losing skid at the present time of 7 in-a-row since blanking the Rock Academy, 22-0, on April 30.
The Eagles, on the other hand, are 2-2 in the last 4 contests. On paper, the Eagles look to be the favorite,
However, as we all know, the records from the regular season are obsolete, both squads are 0-0.
El Cajon Valley has played in a very tough Grossmont Valley League, and also defeated the non-league teams they were expected to defeat, thus earned them a playoff spot.
"They are a good team on paper and it will be a great challenge for us tomorrow," said Braves Head coach Clifton Thomas. "Our boys are excited and ready for the opportunity
El Cajon Valley has had a very tough season, one thing that the Braves do not lack is work ethic and playing with heart.
They don't have individual superstars, they have the team attitude, and with a few defensive mishaps in each of their losses, have learned, and are capable of winning this contest on the road.
The Eagles, led by sophomore BRADEN KNIGHT, who is hitting .291 with 23 hits and 15 RBI, along with RYAN CURRY, who is hitting.359, with 28 hits and 19 RBI.
On paper, it is assumed that sophomore CHRIS DOYLE (5-5), with an astounding 1.48 ERA, will get the nod for the start on the hill for the Eagles.
For the Braves, pitcher GREG SANCHEZ who is 1-10 but does post a 3.98 ERA, will get the start.
"Greg has been our guy all year, and has definitely earned his opportunity," stated Thomas.
Newcomer to the Braves, who has been a huge asset offensively and defensively, is shortstop CHRISTIAN VASQUEZ, a transfer from the Grossmont Foothillers, and has explained to ECS in prior interviews he couldn't be happier playing for the Braves.
Vasquez also said that he could not ask for a better, more supportive girlfriend, Evelyn. He stated that she has been a true inspiration to his game.
Vasquez is hitting .517 and in just 9 games.
According to coach Thomas, Vasquez is also a great addition in the dugout, along with the always encouraging, JESUS FAVELA.
Let us not also forget, PAULO MICHEL,who is hitting .397, with 27 hits and 20 RBI. He will be key to the Braves' offense succeeding.
"The middle of the lineup is going to have to produce," Thomas said. "Three-, four-, five-, six-(hitters). If they can do that, and Favela and LUIS HUERTA can turn the lineup over, we will come out with the outcome that we want.
"But I think the biggest thing for us is going to be defense. That has been the thorn in our side all year."
Don't count the El Cajon Valley Braves out, they might just prove the computers wrong. I'm going out on a limb, Braves win, 7-6.
Kearny (17-11) at Monte Vista (18-11), 3:30 p.m. – The Komets played their way into the Division IV play-in game with a win on Monday, but that doesn't necessarily leave the rested fifth-seeded Monarchs with the advantage.
Kearny won the Central League with an 11-1 record, so they come in with restored confidence following a season-ending non-league road loss at El Capitan, which snapped the Komets' nine-game win streak.
Monte Vista senior star IVAN PLAZOLA (6-3, 3.04 ERA) will be on the hill, while the Comets should opt for senior Cade Logan (6-0, 2.70 ERA).
"Ivan gives us a great opportunity to win every time he takes the mound," Monte Vista head coach CRAIG NEU said. "We need to play solid defense behind him and execute our plan on offense."
Komet junior JACOB REDONDO, the team's leading hitter with a .489 average (14 doubles), went six innings for the win on Monday in a 7-2 victory over Calipatria.
"The keys to the game are simple," Neu said. "The players need to stay within themselves and play our game. We can play with anyone if we play our game."
The Monarchs are led on offensive by hot-hitting DIEGO SANDOVAL, whose average has climbed over .400.
Junior JON GULLEY (.338) and freshman ANDY CANEDO (.303 avg., 2.56 ERA) have been key members all season for Monte Vista.
"The players are excited for the opportunity to play a home CIF playoff game," Neu said.
The winner advances into the double-elimination portion of the D4 bracket with a game at fourth-seeded Mar Vista on Wednesday.
Valhalla (18-11) at Ramona (18-9, 3:30) – The Grossmont Valley League champion Norsemen were handed no favors in facing the 12th-ranked Bulldogs, champions of the Valley League (11-1), on the road in the Division II play-in game.
It is Valhalla, however, that comes in with the 14-game winning streak, while Ramona has won six-straight.
Ramona has some big-time high school baseball stars in seniors Tristan Stacy and Bryce Roe, and junior Derek Diamond.
The Norsemen can counter, especially on the hill, with senior TANNER SMITH and sophomore JOSEPH INGRASSIA.
Valhalla's bats closed the season on a tear, led by senior JACOB BARBA, junior JONAH ST. CLAIR, and sophomore KYLE CASPER.
A win by the Norsemen would be considered an upset.
El Capitan (9-18) at Sage Creek (13-16) – The Vaqueros face a team with a similar resume heading into today's play-in game in Division II.
The Bobcats finished just 3-12 in the super-rough Avocado West, which includes second-ranked Torrey Pines, seventh-ranked La Costa Canyon, and 13th-ranked Canyon Crest.
El Capitan went 3-9 in the Grossmont Hills League but finished ahead of Valhalla in the San Diego CIF power rankings, going up against opposition labeled as the sixth-toughest circuit in the country before the season began.
The Vaqueros defeated Santana in three of four meetings during the entire '18 season and also own a win over 11th-ranked Granite Hills. El Cap enters the postseason off the non-league win over a hot Kearny team.
Despite the subpar slate, El Capitan boasts plenty of senior experience for the postseason with seniors BLAYKE PEYTON, STEVIE MONTEJANO, SHAYNE CUNNINGHAM and ANTHONY BENEDETTO.
Liberty Charter (9-11) at Calvin Christian (14-6), 3:30 – The 11th-seeded Lions try to outscore you, as the team hit a collective .364, but had a 6.44 ERA during the regular season
Sophomore on-base specialist ELIJAH DURAN is the pride of this lineup, batting .545 this season.
But following him up in the den are junior run-producers VICENTE PEREZ, JOSHUA GASTELUM, ZACHARY SCHWARTZ and ANDY ZATARIAN, all of whom are batting .430 or higher.
The sixth-seeded Crusaders were champions of the Ocean League have three regulars hitting over .500, including senior ZEKE SHOCKLEY (.614).
Calvin could consider saving senior pitcher Bryce Lovisa, which could level the Lions' chances.
The winner will take on third-seeded Calvary Christian on Wednesday.